The smartphone spying app market is awash with services that claim to offer everything under the sun. Marketing gimmicks, coupled with slick imagery and videos can mislead even the best of us. Many people spend a good chunk of their hard-earned money on spying apps and only later realize that nothing works as claimed. A good rule to follow when purchasing a smartphone spying app is to identify the top candidates and then select the one that offers the best value. In this article, we are going to review one such app called XNSPY. We will provide a complete overview of the app by detailing its price tag and compatibility options. We will also evaluate the most prominent features of the service before moving on to how you can install and use it. In the end, we will provide quick pointers on some pros and cons before presenting a summary of our review. Buckle up and let's get started!
XNSPY Smartphone Monitoring app
XNSPY is a highly advanced and feature-packed smartphone spying app that has been a player on the block for longer than most other apps of this category. The core advantage of this app is that sequential updates to the service have ironed out many of the perceived bugs and performance issues. Moreover, customer feedback has allowed the app developers to introduce changes to XNSPY, making it more suitable for daily use. The result is a neat and bug-free service that offers smooth functionality and promises reliability.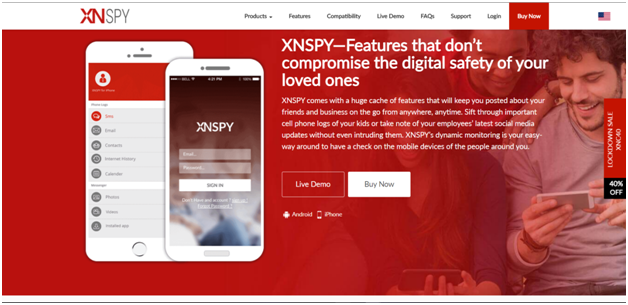 How affordable is it?
Simply put, it is very affordable. XNSPY is the most affordable smartphone spying app you can find. For example, the full-feature version called the premium package costs USD 7.49 for a month-long subscription. The basic version comes with a price tag of USD 4.99 a month but it only offers rudimentary functions. The price for most other apps in this category averages around USD 50 per month, making XNSPY the most affordable option.
What about compatibility?
The service is compatible with both iOS and Android operating systems. XNSPY supports all versions of the former above iOS 6.0 and all Android versions 4.0 and above.
You may be wondering if the XNSPY sacrifices feature in favor of a more affordable price tag, but would you be correct in assuming this? Well, let's take a detailed look at the features provided by the service.
XNSPY features
Take note that the following features are not exhaustive. We do not have space or the time to discuss all the functions available with the app, so we will only focus on the most important ones. Check out the app's website for more details.
The call tracking feature is the most basic function of any smartphone spying app. XNSPY can gather information related to all incoming, outgoing, and missed calls. This data is presented in the call logs where each entry includes the date, time, and call duration. Also, you can record phone conversations and download the recordings for later access. However, you are going to have to wait for the call to end before you can listen to the recordings.
SMS/IM/Social Media monitoring
You can use XNSPY to view all sent or received messages and multimedia files via SMS/MMS and a wide variety of instant messaging and social media apps. Given how such apps now form the bedrock of our communications, this is an indispensable feature. XNSPY can track apps such as Facebook Messenger, WhatsApp, Viber, Skype, Tinder, LINE, Kik, and many others. Take note that it's not just messages that you can access, but photos, videos, or voice notes too.
XNSPY can track the location of the smartphone in real-time. The GPS data is integrated with Google Maps, making it very easy to identify where they are any given moment. XNSPY can record location history as well, enabling you to chart out their routes and locations along with timestamps. This way, you will know where they were, when, and for how long. Similarly, XNSPY also offers the geofencing tool. It is a very useful feature that can be used to mark locations or areas on the map. The app fences the marked areas and informs you the moment they violate the geofence by entering or leaving.
Internet & multimedia activity monitoring
XNSPY can track all internet activities such as web browsing history, bookmarked pages, and sent/received emails. You can also view all photos, videos, and other multimedia content saved on the phone. We think XNSPY lacks in this department because it does not offer a content filtering tool. So if you are concerned about kids accessing inappropriate content, you are going to purchase a separate tool for that.
Remote device management tools
XNSPY's remote device management tools are a set of features that control the functionality of the phone. For example, you can view all the apps installed on the phone and block any app you wish to with a single click. You can also enforce screen-time management rules by remotely locking the phone.
Remote device control tools
The remote device control tools are designed to remotely control the smartphone and gather information. For example, you can turn on the microphone of the device and record its surroundings. You can also take screenshots of device activity and the user will have no idea that this is being done.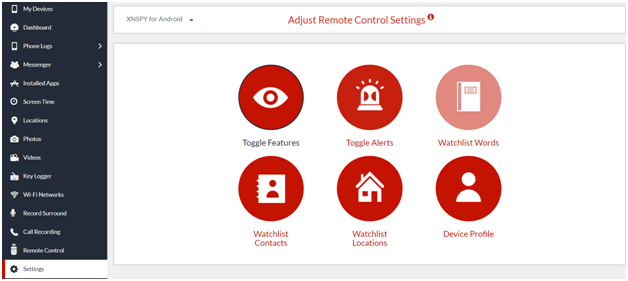 XNSPY's instant alert feature is one of a kind function that acts as a system for early warning. There are three separate lists in which you can add locations, words, or contacts. The app's algorithms will immediately identify if there is a connection between anything on the list and activity on the phone. XNSPY will generate instant alerts for you so you can take decisive action. In short, stay aware of things as they happen and take a back-seat because XNSPY will automate the spying process itself.
As previously mentioned, these are not all the available features and we only focused on those we think are relevant. But the question arises, how do you install XNSPY, and are there any requirements for it? Well, let's resolve this question.
XNSPY installation & use
You need to know the Apple ID and password of the iPhone you want to track and the entire setup uses your computer with iTunes and Xnspy installed on. On the other hand, you need to physically access the Android phone to install XNSPY. Don't sweat it though, because this is only a one-off requirement.
To use any of the features that we have discussed, you are going to have to learn to use the XNSPY control panel. To be honest, the control panel is not the most impressive aspect of the app. It is available on the XNSPY website and accessible after you purchase a subscription. The control panel has a set of menus that list all the aforementioned features. It can be quite confusing at times to discover that some features are not assigned to their proper categories, so this is a drawback of the app that you should keep in mind.
Pros:
Hands-down, it is the most affordable smartphone spying app out there.
XNSPY has a diverse array of features to meet your data collection needs.
The instant alert function is unique and automates the spying process itself, which is kind of cool!
Cons:
You need to purchase a new subscription for each device you want to monitor.
You may have to root or jailbreak the phone to use some features.
The control panel can be a headache to navigate around.
Check out the summary of our review. All the relevant information is available at a glance.
| | | |
| --- | --- | --- |
| XNSPY | Info/feature | Uses |
| Price | USD 4.99 for the basic version; USD 7.49 for the premium version | Check out the app's website for more details on each package |
| Compatibility | All Android phones running above versions after 4.0 | |
| Call monitoring | Call recording and call logs | Useful for parents who want to monitor who their child talks toCall recording is highly sought after for customer support services |
| SMS/IM/Social media | All messages and multimedia files are tracked by XNSPY | Primarily designed for parental use so as to prevent incidents of cyberbullying, sexting, or inappropriate communication |
| Internet activity monitoring | Browsing history, emails, bookmarked pages | Little use for parents because no content filtering tool is availableEmployers can measure productivity |
| GPS Tracking | Real-time location access, GPS history, geofencing | Safety purposesRemote employee management |
| App management/ Multimedia | Pictures, videos, audio, calendar entries, saved contacts, and installed apps | Mostly used by parents for screen-time management and preventing access to inappropriate content |
| Remote control | Remote screenshots, remote data deletion, remote phone lock, remote surround recording | Limited scenarios require these features.Unsuitable for daily use because of intrusiveness. |
| Instant alerts | Available for locations, contacts, and words/phrases | Extremely useful for parents in almost all circumstancesSuitable for those seeking a laid-back but alert approach to monitoring |