In this post of Green Hat Expert, we shall discuss that how to Get Ahrefs Premium account free in 2018.
How to Get Ahrefs Premium Account Free in 2018
In this modern age, everyone needs SEO tools whether he is a blogger or internet marketer. So that he can track keywords and keyword position on all search engines especially Google. If you get Ahrefs Standard account free, you can create reports of keywords and you can also generate keywords ideas for your client. Additionally, you can also track backlinks of your competitors as well.
As everyone in the online market knows that there are a number of SEO tools available online but they are not free of cost. Therefore, everyone has to pay a plenty of money in order to get a subscription. Ahrefs is one of the best SEO tools in this age.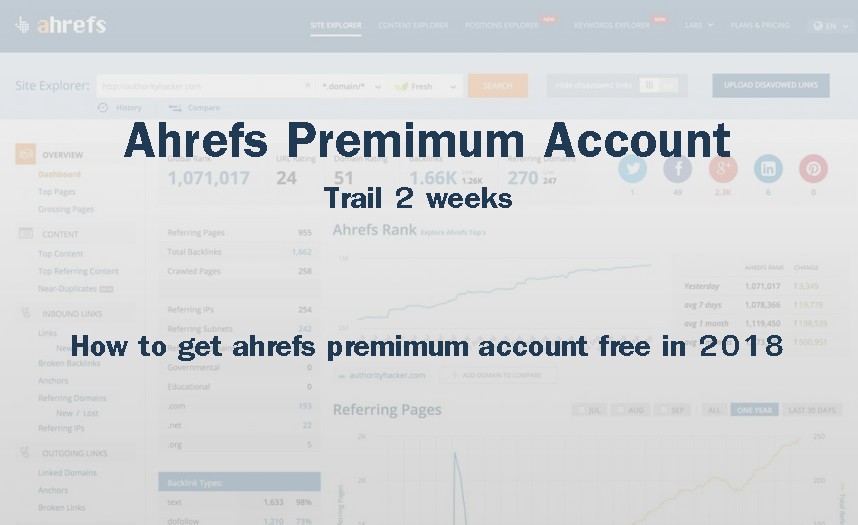 One can easily sign up a free account whenever he wants but now you cannot use those tools free. Last year, you were able to use them for five times a day. This guide will show you that how to get Ahrefs Premium account free in 2018 for two weeks. The method is simple and you need two things.
Requirements
1: A verified Paypal account: you do not need balance for this purpose.
2: An email account: we prefer Gmail.
How to get Ahrefs Premium Account – Standard Package for Free 2018
1: We are of the view that you already have a Paypal account. If you do not possess one, kindly create a new one for premium Ahrefs account.
2: Now go to Ahrefs Website, now go to the start free trial button which you can see on the right hand side, in the upper corner. You can also see the sign-up box as well.
3: After doing so, kindly enter your email address of Gmail then you need to accept the terms and condition in order to continue.
4: After completing three steps, you need to fill the form which asks your name and address. You need to provide the address which you have provided to your Paypal account.
5: In the next step, you have to select Paypal as your payment option then submit your form.
6: it will redirect you to the payment page and you need to use an empty card. Whether it is Payoneer card or credit card then click the submit button.
That is all, now you have got your free Ahrefs premium account in 2018. Additionally, you can also use this trick again and again.
Tips: How to create Ahrefs premium account free in 2018 After expiry of 2 weeks
As you know that this trick will work only for two weeks. Now follow these tips to create Ahrefs Premium account again free.
1: First of all, you know that we can add thousands of email to our Paypal account. So create an extra email from Gmail and link this email to your Paypal account.
2: Secondly, you have to come up with a new email account every time.
Things to Remember
1: You should not have any credit or balance left on your Paypal or debit/credit card which is linked to your Paypal account. Otherwise, they will charge you 179$ after the expiry of 14 days.
2: Kindly cancel your premium Ahrefs subscription on the 14th day. This instruction is for those people who have balance in their Paypal or debit or credit card.