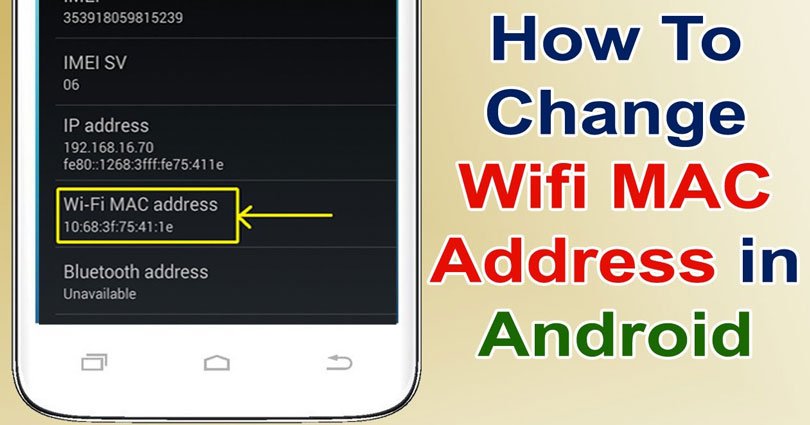 How to Change Wifi MAC Address in Android – Spoof Wifi Mac Address in Smartphone
In this post, you will learn how to replace or change Wifi Mac address in Android device. The purpose of this mac address is to show our identity when we connect to wifi corners to be safe. It is because we use the Mac address which is default Mac address of the android device or smartphone that we are using. Generally, we use Wifi in order to save the packet data that we currently have. In addition, Wifi connection is also reliable and fast and has been used around the globe. Before changing the Mac address of your Wifi in Android phone, you need to create a backup of your previous Wifi mac address for safety measures.
If you use PC/Computer or laptop, there is no doubt in saying that a plenty of change Wifi mac address of computer and laptop. You need to know how to change it. Then also know how to change Mac address of your Android phone. The question is, is it possible? Yes, it is.
Before we start following the instructions or steps to replace or change the Mac address in Android, it is beneficial that you know what is the purpose of changing the Mac address.
Generally, a number of people change the Mac address to be able to go to a specific network, after joining the network successfully, one can use these networks with ease and free. So it is a good news that android users can also replace the Mac address now.
About the requirements.
You need to root your device. Check this To root your device How to Root All Android Mobile with KingoApp [Jellybean ,Kitkat, Lollipop, Mashmellow, Nougat
Busybox installed.
Mac address that needs to be changed.
 Also Read:
How to Spoof or Change Wifi MAC Address in Android
Backup Old Wifi Mac Address For Safety:
Step 1. First of all, go to Settings, Then press the WiFi.
Step 2. Then view the advanced settings
Step 3. Scroll down and see IP used, and WiFi MAC address.
Step 4. Screenshot wifi mac address for precaution(Safety).
It is a complicated task to change Wifi Mac address, follow the instructions below. First of all, you need to make sure that android device has diroot, if not diroot it will not be able to replace the Mac address Wifi.
Changing WiFi MAC address in Any Android Device.
Step 1. Install Busybox advance app, you can get it from Playstore
(App link)
Step 2. Install terminal emulator, with the help of a terminal emulator, you can run a command that will be used on android devices
(app link)
Step 3. Open the Terminal app and type the following command
$ Su [ENTER]
$ Busybox iplink show eth0 [ENTER] ( in order to see wifi mac address)
Step 4. Then enter the following command.
$ Busybox ifconfig eth0 hw ether XX: XX: XX: XX: XX: XX[ENTER]. (article  XX: XX: XX: XX: XX: XX  above, the contents of such 76-D0-2D-42-9E-83 , up to want to change the mac address her as anything)
Note: Remove *[Enter]* While typing in terminal
That is it. This is how you will change Wifi Mac address in Android successfully and replace the old one with new.
Do not forget to share this post.
Arsalan Rauf is an entrepreneur, freelancer, creative writer, and also a fountainhead of Green Hat Expert. Additionally, he is also an eminent researcher of Blogging, SEO, Internet Marketing, Social Media, premium accounts, codes, links, tips and tricks, etc.