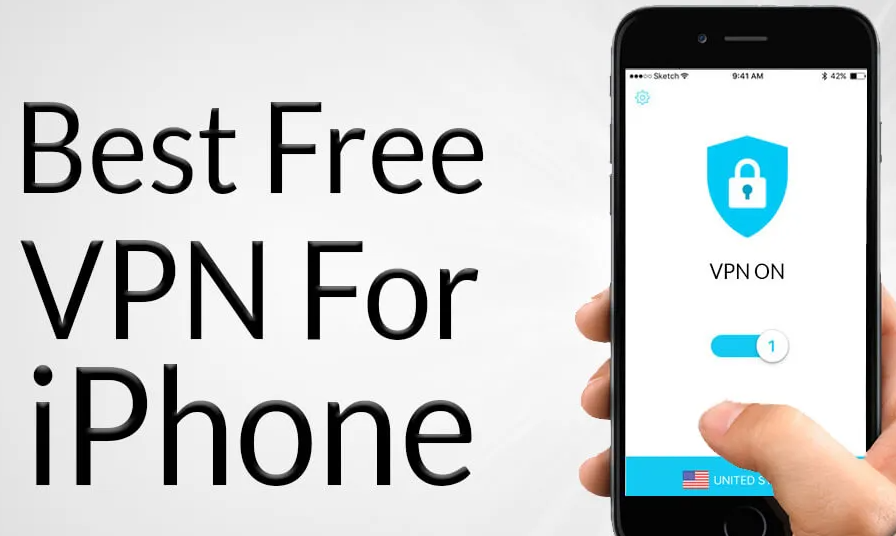 VPN aka virtual private network are helpful tools to protect your privacy. Their objective is to keep your identity anonymous online and you can browse the web safely even on Wifi networks. In addition, it gets rid of regional restrictions on sites, and also allows you to get access to blocked content. If you are looking for the best VPN for iPhone, this guide will help you.
Here is a list of free VPNs for iPhone that you can use:
1. Hotspot Shield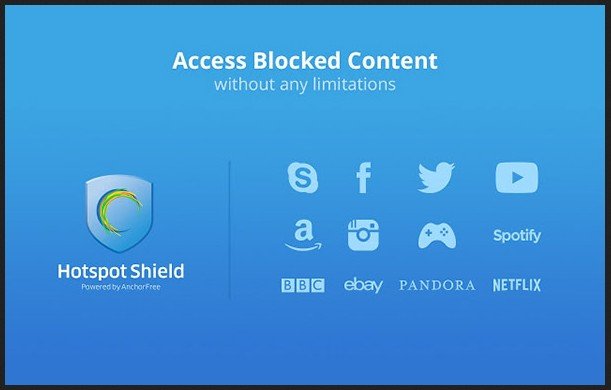 Hotspot Shield is an iOS VPN app that has got high ratings in the Play store. After launching it, it will ask you to sign up then sign in. This step is not imperative, you can skip it if you want to. The application connects the VPN to a US location by default. You cannot change this location in the free version. If you want to use additional or premium features of Hotspot Shield such as unlimited streaming data, changing locations etc. Then you need to get the Elite version of this VPN by performing an in-app purchase. After purchasing the Elite version, the application will also provide an option to restore your purchase. So it is up to you whether you use the free version or Elite version.
Download Hotspot Shield from the App Store
2. Betternet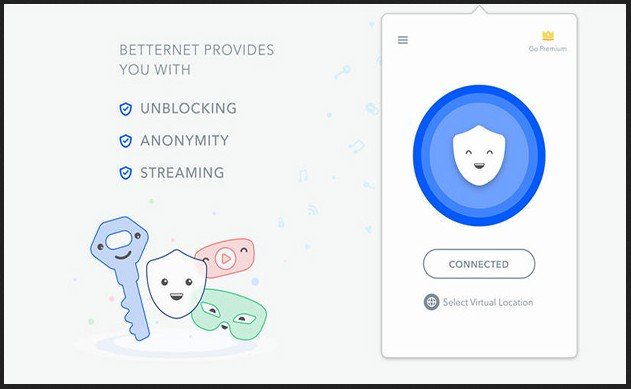 Betternet is another free VPN app for iPhone and it is easy to use. In addition, it has also received positive ratings on the play store as well. The app is available in free as well as the paid versions. The free version allows you to select from 8 cities available in the USA. Other countries are not available in the free version, the premium version will allow you to use the other countries. It also gives in-app purchases. Premium subscription comes with additional or premium features including high quality support, faster connection etc. This VPN is one of the easiest VPNs that are available on the App store.
Download Betternet from the App Store
3. VPN in Touch
VPN in Touch is another best VPN for iPhone users. The first annoying thing about this VPN is that, you cannot start using it without signing up. However, registration is an easy process in any app. After signing up, it will take you to the main interface where you will see a number of locations to choose from. It also has enabled data-savings option. The application offers free premium subscription for 6 days. After usage of 6 days, you have to extend the plan. It is another app which you should give a try. It also has ad blocker.
Download VPN in Touch from the App Store (Available in free and premium version)
4. TunnelBear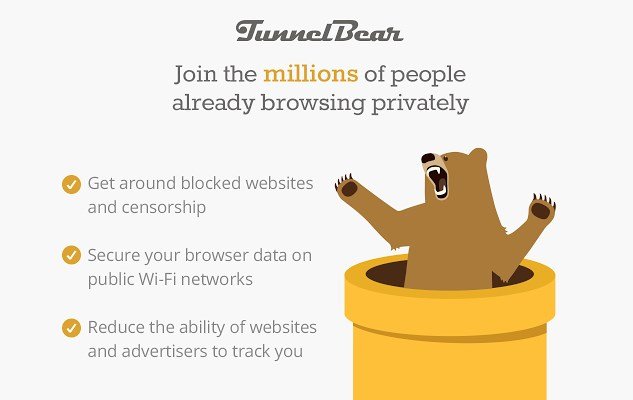 TunnelBear is one of the top VPNs for iPhone. It is a well-known application that enables you to connect to a VPN and browse the web securely. It provides a number of locations so it is your decision to select the desired location and get started. The free plan gives 500 MB data per month for one user. Additionally, it also offers 1 GB data if you tweet at the TunnelBear handle. It has countries including USA, Switzerland and Sweden and many others.
Download TunnelBear from the App Store
5. VPN by SurfEasy
SurfEasy VPN is one of the best VPNs available on App store with highest ratings. It shows that it is a good VPN. The app itself selects the best server location available but you can choose the location as you wish. By default, the server can be selected by VPN itself.
There are plenty of countries available to select in this VPN app. It provides the limit of 250 MB data and you can increase it by completing the rewards in the application. It includes rating of the app, confirm your email address and so on. It does not need enough time to acquire more data so you can get it with ease. In addition, one can upgrade the plan to get unlimited data plan. You can do it from the "upgrades' tab.
Download SurfEasy VPN from the App Store
6. VPN Proxy by Seed4.Me
VPN proxy is another useful VPN for iOS devices to protect your search content online, to go through restricted sites and content on the web. It offers an easy interface to follow, select your desired location you want to use while browsing. After doing so, it will ask you to install a VPN profile to enable VPN access to application. It is the best option for you if you do not like any other VPN in this list. The process of installation can take place in a browser by using a website, agree the terms and conditions. After doing so, you will be able to use VPN proxy by seed4.me and protect your online privacy with ease.
Download VPN Proxy by seed4.me from the App Store
Related Read: Best VPN for Google Chrome
7. VPN Master Free
VPN Master free is easy to use and you can check it on your iPhone. In addition, the interface is ideal for you because it works fast. The app has the ability to connect you to the fastest location available for higher speeds and this setting is available in it by default. However, the locations or countries can be changed from the given locations in the application. The free version provides seven different locations in the app. If you want to access more locations, you need to unlock VIP version. VIP service of this VPN will cost you 2.99$ per month.
Download VPN Master from the App Store (Free and VIP service)
8. Opera VPN
Opera is one of the prominent browsers but it also has a VPN service for iOS. The VPN of Opera is entirely free of cost but it does not have plenty of locations to browse the web. After installation of the application, create a profile and start surfing the internet without any issue. VPN will connect you to the closes region to get the best speed and stable connection by default. However, you can select the location of your own choice out of 5 available locations. It gives you two tabs including stats and settings. Settings tab allows you to enable or disable the VPN connection. The stats page will show you the statistics that how many trackers Opera VPN has blocked for your browsing.
Download Opera VPN from the App Store
9. KeepSolid VPN Unlimited
It is another VPN application that is made by Keep Solid. iPhone users can use it. In addition, it needs sign in process using an existing ID of KeepSolid or you have to make a new one. After doing so, you will be able to connect it to the server of VPN. Additionally, you can also select your Gmail account or Facebook ID to do it. After registering an account, you can access to KeepSolid VPN Unlimited servers. The user has to perform an in-app purchase in order to get the advantages of paid membership. There are a number of locations for you to consider and it is certain that you will find an ideal one. Even the application will also help you to find the perfect one.
Download KeepSolid VPN from the App Store (Free and Paid)
10. Free VPN HexaTech
Free VPN HexaTech is another VPN application that completes your desired task. It is the best VPN app for iPhone without registration, it means it does not require any registration to use the services, connection is fast and the process is also easy. With the tap of a button you can get started, it provides optimum level performance while connecting you to VPN. The free version comes with ads and you cannot change the location. However, you can get the premium version by subscribing to the membership, using the in-app purchase method. It will allow you to use the fastest servers, removal of ads, unlimited data too.
Download HexaTech from the App Store (Free and Paid)
11. Daily VPN
Daily VPN has the ability to fulfill your needs as it is replete with flexible features. Firstly, this tool offers freemium that makes it unique from other arch-rivals in the market. Secondly, the browsing of websites can be done anonymously without consuming too much bandwidth. As far as the servers of Daily VPN are concerned, it comes with more than 100 servers across the world. Lastly, if you ever think that the free mode is not sufficient for you, you can always upgrade to the premium version that costs $12.99 per month to unlock more servers and ads-free.
The Good:
It is freemium
More than 100 servers in about 20 countries
Not Good:
The app stops sometimes because of ads in free version
Download from the iPhone App Store (Free, Premium costs $69.99/year – cheaper plans available)
12. Larva VPN
Larva VPN is another best VPN for iPhone with a simple user interface and easy features, Larva may be the lead. Notably, the best feature of this app is that it does not need any registration to get access. Just open the application, connect the preferred area and you are good to go. In addition, it features streaming servers in more or less 40 countries around the globe and the proxies will help you to browse the internet with ease and satisfaction. There are other features that can also attract you towards this VPN are blocking of advertisement and phishing sites. Furthermore, it also helps you to reduce the usage of bandwidth.
The Good:
Ideal geo-streaming servers available in more than 40 countries
Saves bandwidth
No logs VPN
Not Good:
Some users have reported the downtime in connecting
Download from the App Store (Free, Premium version costs $3.49/month or $24.99/year)
Use These Best Free iPhone VPNs to Secure Your Online Privacy
You can access the websites using a VPN but generally, they slow down the speed and the website loads slowly, so it is recommended to use good VPNs. They also help you to access the restricted sites, VPNs are replete with advantages when it comes to using them to browse the web. If you are very conscious of your privacy, you should use the best VPN for iPhone, if you cannot afford one, go for the free iPhone VPN app for you. Is there any VPN we are missing? Leave the name in the comment below.
What's Next
Want to see VPN Chrome Extensions? Click Here to see our detailed guide.
Arsalan Rauf is an entrepreneur, freelancer, creative writer, and also a fountainhead of Green Hat Expert. Additionally, he is also an eminent researcher of Blogging, SEO, Internet Marketing, Social Media, premium accounts, codes, links, tips and tricks, etc.