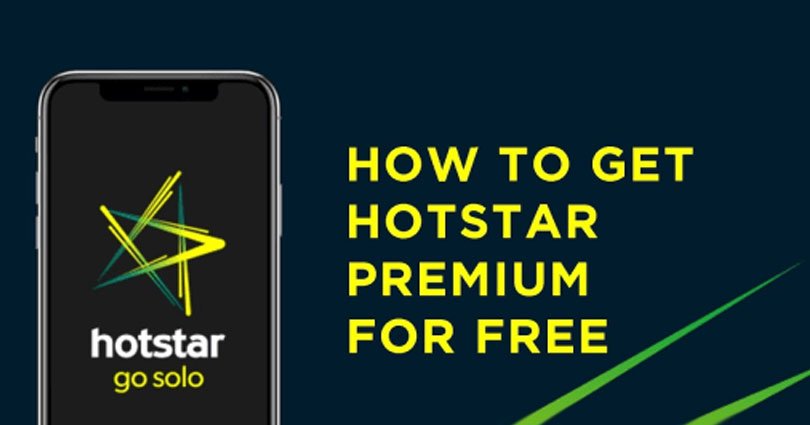 Free Hotstar Premium Account Username and Password 2023
Hotstar Premium account Free: Do you play sports?
A sports lover who wants to watch live matches on mobile free of cost?
If you are finding the solution then you are at the right place.
According to the research, 85% of the population of India want to get an App or any website that allow them to enjoy the live sport. Here is a solution for your problem that is, Hotstar Premium account.
It is a platform where you can enjoy Cricket, Tennis, Football all matches and also live streaming and all other sports that come under the banner of the premium of hotstar. Hotstar came into existence in 2015. This application is a Netflix of India there are plenty of shows and web-series are available. They add several shows on a daily basis which attracts the attention of people. It also connects the users with the app as well.
Must Check:
Due to the popularity of the app, the users are also increasing exponentially. It is happening because the company wants to earn the money and they have got through in their plan. So they have offered a different plan for other users by adding different features. It is a new way of enjoyment because they have come up with a plenty of web series and shows for premium members. The team has also included live matches and at times, some sports channel on TV shows late than hotstar. To get this feature, you need free hotstar premium account username and password 2023 on your phone.
There are two Plans for the User
#1 Hotstar Premium (999rs Yearly/ 199rs Monthly): This plan consists of all shows and web series which are available in the premium banner and which will come in the future.
#2 Hotstar All Sports (299rs yearly): This plan allows the users to watch and enjoy all types of sport live for one Year.
How to get Hotstar Premium for Free?
The tips and tricks available below are full proof and used by my team and give 100% success rate in opening hotstar premium account free. There is a different method to get access to premium account like finding user id and password who have current activation of premium account. It can be done by using a Virtual Credit Card, Jio Sim Card or with the help of third party application and so on as available below:-
Must Check:
METHOD #1 Bugmeout website Get ID and PASSWORD
To get access to the premium account on Hotstar one must have the Login id and Password of someone who previously purchased this plan. There are several different websites that enable the user to access some of these username ids and password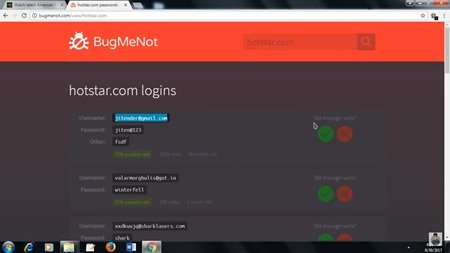 Direct go to bugmenot
Page open here asking for the website on which you want to login and password.
Type in the search bar "Hotstar.com" As you enter, the result will be shown
account id and passwords on which the premium is available already.
This website gives several such ids and password for hotstar and another website including Netflix, Amazon Prime and other sites where paid subscription is required.
Proof:-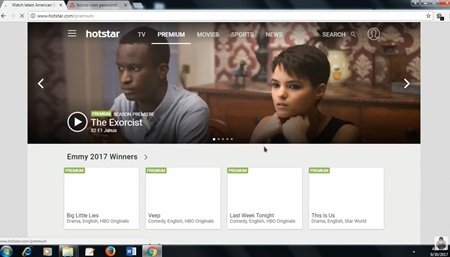 METHOD #2 BY USING JIO Television APP
Now when the Jio came it brought change in the whole India, the number of masses using internet increase dramatically. Jio has also introduced a number of services for customers.
Talking of Jio?
Must Check:
Jio music is for listening to music, jio chat for chatting, jio TV to watch your tv shows on your Android and so on. Jio is providing their users a free hostar premium account username and password 2023.
How to use jio to get hotstar premium Account India Using Jio sim
First of all, open jio TV app, search for some TV shows of Star Plus and click on that
It will redirect you to the hotstar application or if you don't have the app then in play store to download it.
Download the app if not downloaded, open the hotstar app again by the previous method (using jio TV)
Hotstar login screen will ask you to log in, log in with jio number OR Simply skip login it will automatically log in with jio.
As jio account login on other jio apps you just want to skip jio apps it will login on its own using your number.
Must Check
METHOD #3 USING VIRTUAL CREDIT CARD/ DEBIT CARD
The third method to use or get hotstar premium account free is with the help of virtual credit card. There are a number of applications that give free trial for one month or two but to get Hotstar premium account username and password 2023, you have to provide credit card details. Then they will give you a free trial.
After free trial ends it automatically charge you money.
But for some users, it is one of the very great methods to get premium-free for couple of months. Some use free virtual credit card to get access to such content.
How can I get this Hostar premium for free
Open hotstar on your Android and sign up with new email and add all information required.
Now search for any premium banner available, click on it. Now the app redirects you to premium plan page where you see the all the plans.
But no problem, for the new user they give a free trial for a month or two, but you have to provide your credit card detail to them.
So what you need to do is, click on a free trial and fill out the credit card detail By Zeta App
Open, Google Play store search for the term "Zeta app" and download
sign in there and add 10rs to the wallet
Now you can get access to the Virtual credit card from here
Give this detail in Hotstar trial and pay 10 INRs to zeta app once and you will get premium account for 2 months free
After two months of sign up, come up the new Gmail account and again get a free trial for two months with the help of ZETA APP or any app which give you virtual credit card.
METHOD #4 USING SAVED COOKIES – Hotstar Premium Account Cookies
Using cookies is one of the ways to get free Hotstar premium account, several found this method a difficult one but it is as simple as other methods. To perform this task follow the below instructions:
Open Chrome Browser on PC or Laptop and search for the term "Web developer extension".
Click on the first link and then on "Add it to Chrome", activate the Chrome extension.
Now open hotstar website and using the web extension delete the cookies of the site and add new cookies
New Cookies are the one which contains Hotstar Premium account Activate Search for it on the web there are many available on the dark web for free of cost.
Must Check
METHOD #5 USING THIRD PARTY APP (VIDEIODER)
Using third-party application is the best way to get premium shows. To perform this task, follow the instructions below:
directly download the videloder apk by clicking on the below button
Open the application, the interface is very simple you need to locate the hotstar logo there, click here
You see the hotstar website, search for any premium content, click on it
It will ask you for the premium account but no problem a small button at the bottom appears to click on it, the processing starts.
Download windows will open and will ask you the quality you want, click on any one and download premium content for free of cost.
METHOD #6 Hotstar Premium Account Username and Password
If the previous methods are not working then you can use the free hotstar premium account list below. In addition, you can also leave your comments in the comment section to get the latest free hotstar premium account username and password in 2023.
I have given you the Hotstar Premium Account with one-year subscription plan activated. So if they are not working then leave the comment in the comment section.
Free Hotstar Premium Account List
User ID Password
tatianaazzarola@gmail.com gdrehyfb
Paulbecker3@gmail.com Doreen
gfhyhruddhy@gmail.com Gdfgeesdre
Downloadjohny@gmail.com bibor9873
ACCOUNT:- ranjannaik67509@gmail.com PASSWORD:-9796plmko
ACCOUNT:-807347dujnkmnhjtts@gmail.com PASSWORD:-bnmjg685
ACCOUNT:-Paulbecker377@gmail.com PASSWORD:- Doreen123##
ACCOUNT:-prabina12367@gmail.com PASSWORD:- uparmunda123
ACCOUNT:-bigahrdh546@gmail.com PASSWORD:- mamata7896@
ACCOUNT:-behera675@gmail.com PASSWORD:- naktideul098
ACCOUNT:-bhkmlhf6843@gmail.com PASSWORD:- uhrgdkhmlrtm975
ACCOUNT:-naktideul897@gmail.com PASSWORD:- misslina##
ACCOUNT:-pradhandhananjaya@gmail.com PASSWORD:-ranjitsahu
NOTE: All above tips and tricks are checked manually and in working condition before uploading the post but as all the mention tricks are not fully legal some of the above is brought down by Hotstar, so try every trick and comment about the trick which is currently not working below to help other.
My Opinion
For sport loving person like me, who never want to miss a single match it is best to purchase a premium legally without trying for different tricks or tips the reason is simple, as it only cost 200 rs for a year it a great deal. But for internet lovers who always want to see new series and shows its better to try one of the above links as 999 rs is more.
Related Searches:
hotstar premium account username and password
hotstar premium account
Hotstar premium for free
Arsalan Rauf is an entrepreneur, freelancer, creative writer, and also a fountainhead of Green Hat Expert. Additionally, he is also an eminent researcher of Blogging, SEO, Internet Marketing, Social Media, premium accounts, codes, links, tips and tricks, etc.