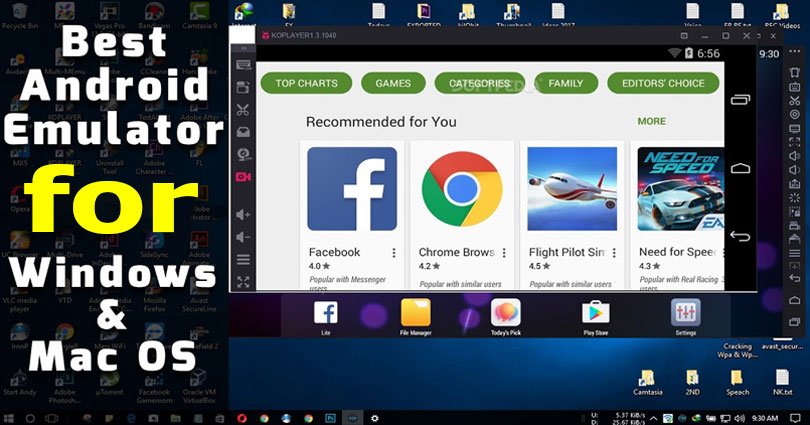 10 Best Android Emulators for PC Windows 10/7/8/8.1, Mac
Free Android Emulators for PC: Hello readers! As you know that there are a plenty of applications which are not officially available for PC or Laptop. But due to the development of technology, many users want to use or install these apps on their laptop or PC.
Looking for Best Android Android Emulator for PC?
If yes, then you are at the right place.
It is because there are several Andriod emulators which allow your Laptops or PC to install these apps on your PC. So in this post, I shall discuss the best free Android emulators for PC, Laptop. These are the best android emulator for Windows 10, Windows 8 & 8.1, Windows 7, Windows XP, Windows Vista, Mac in 32-bit and 64-bit versions.
What is an Android Emulator?
Android emulator is a software that allows you to install Android applications on your PC and Laptop. There are a number of reasons to download Android emulator before you start the installation of an Android app on your Laptop/PC. Many users want to enjoy gaming on their Laptop and PC. They find it comfortable while playing games with keyboard and mouse. So you need to select the right emulator for your PC and laptop.
LIST OF TOP 10 BEST ANDROID EMULATORS FOR PC/LAPTOP  – WINDOWS 7/8/8.1/10
Here is my list of Free Android Emulators for PC Windows 10, 7, 8.1, 8, PC/Laptop List.
MEmu
KoPlayer
Andyroid
WindRoy
GenyMotion
YouWave
Remix OS Player
I shall explain the features and details of these 10 Android emulators for Windows 7, 8, 8.1, 10.
Popular Android Emulator for PC – NOX App Player: NOX App Player is one of the best Android Emulators accessible to your PC/Laptop. You can get the best user experience by using this emulator. It is replete with features to help the gamers to play games.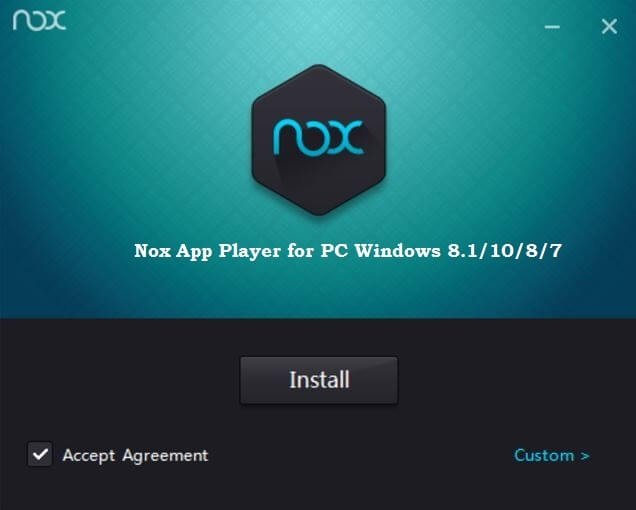 Features:
It is free of cost anyone can get it from Google Play Store.
The features of this emulator are stable and reliable.
It is capable of assigning 'swipe right'.
You can have one click root hide/unhide like enable or disable root.
It has an ability to specify the CPU Processor & Ram size (that is perfect for gamers).
NOX App Player gives Keyboard mapping for touch input (which show the areas where touch is to be simulated.
It contains an inbuilt GPS Emulation which you can play GPS related games such as Pokémon Go directly inside the game.
You can also use Gamepad to enjoy games on NOX App Player.
MY Free ANDROID EMULATORS FOR PC WINDOWS LIST – BLUESTACKS IS THE BEST
Bluestacks is one of the most famous emulators in this list of all Android emulators. PC/Laptop users are more likely to use this Android app player or Android emulator. Many users like it because it has unique features and one-click installation. It is available for both Windows as well as for Mac operating systems.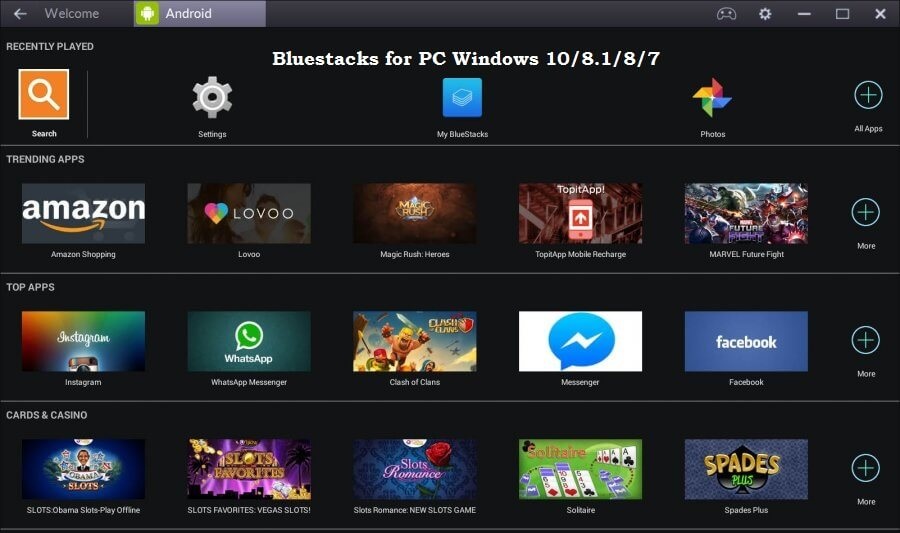 Features:
It is available for free (only certain regions).
One-click Installation (online installer and Offline installer are present).
It enables you to install all applications for your PC/Laptop.
Also, you can easily install 3rd party APK files.
You can run all Android apps without any external Virtual Desktop Application.
Live Streaming of your Gameplay also accessible.
Inbuilt Pay store.
Best Android Emulator for Windows 10, 7 – MEmu: Memu is a forthcoming Android emulator for Windows 10. The owner of this emulator is Microvirt Co. Ltd. It has the ability to support many hardware configurations and there is no compatibility issue. It supports AMD and Intel chipsets. Memu is an alternative to all the system user who plays games. You can run multiple instances at one time and it also supports Kit Kat, Android Jelly Bean and Lollipop.

Features:
It is available for free.
No compatibility issues.
It has Touch emulation which allows you to play Android game on your PC/Laptop using Keyboard, Mouse or even Joystick.
Supports multiple Instances at one time.
MY FAVORITE ANDROID EMULATOR FOR PC – KO PLAYER
KO Player is a newly developed free android emulator for PC/Laptops. It pays attention to productive gaming. It also contains built-in Google Play store in it. KO Player also supports adaptable resolution that allows you to view HD videos on Netflix and YouTube and so on.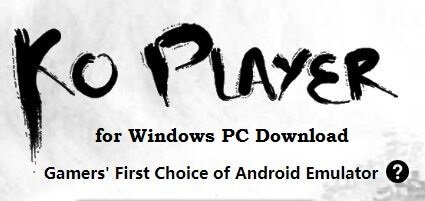 Features:
It enables you to use Keyboard mapping to emulate a controller.
KO Player is available for free.
It does not give any fit issues until your system configurations are small.
You can upload the games whenever you want.
It enables you to run with multiple accounts.
You can record your android emulation and save the video.
Your system should contain good RAM and good Graphics Memory.
Free Emulator for PC, Windows – Andyroid (Andy OS): Andyroid is next emulator available in my list which is also free of cost and available in Google play store. It consists of unique features that allow you to control your games using your smartphone. Now it is AKA Andy OS.
Features:
It is available for free.
First emulator that allows you to control the game using your smartphones.
It is based on the Oracle Virtual Box.
It does not give any compatibility issues, and your system does not slow down.
Andy Os enables you to play games on Big Screen.
FREE EMULATOR FOR PC, LAPTOP, WINDOWS – WINDROY
WindRoy is unique emulator if we compare it to other emulator present in the list because it runs on Windows Kernel. It does not need any external Virtual box like other Emulators. You need to remember that when you install WindRoy install it where there is no space. It performs well in the older version of Windows.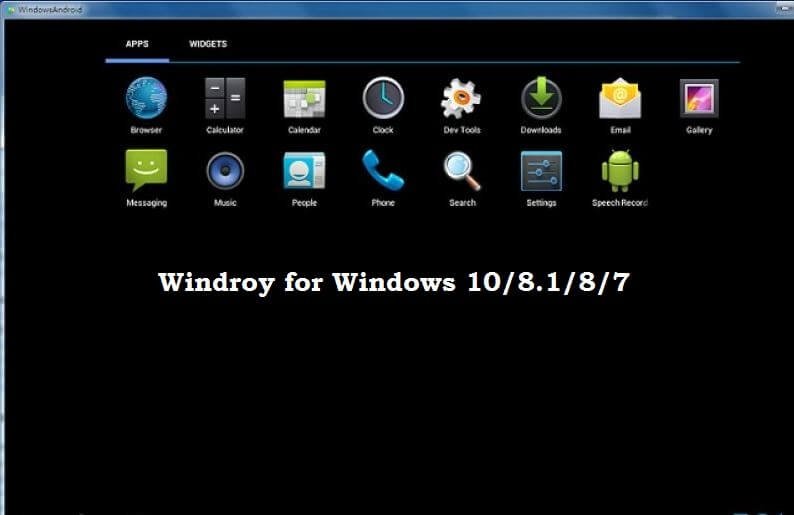 Features :
It is mainly made for gaming and productivity.
You can able to run office apps smoothly using this emulator.
Game support is less reliable on this emulator.
Free Working Emulator for Windows 10 – GenyMotion: Every Android emulator is not made only for a gamer but also for personal use. Many of them are made for professional and development purpose. GennyMotion is made for developers to analyze or test their games and apps on different devices.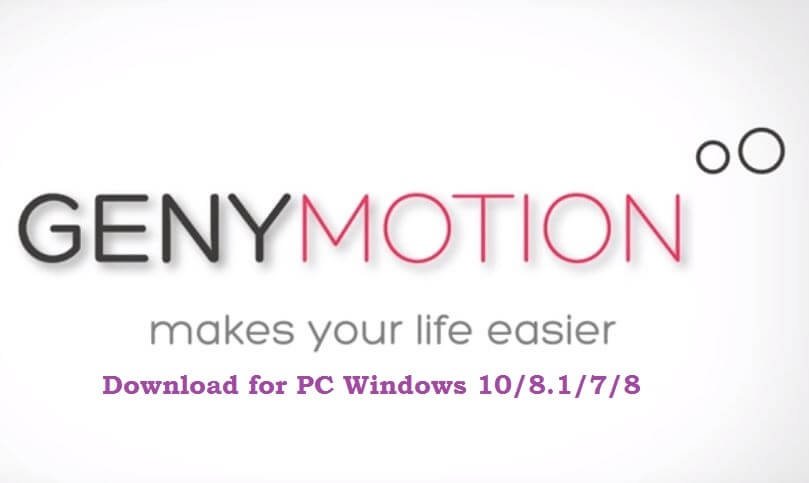 Features :
It is available for free and also has paid options.
They give their service for free for personal use.
It is built on x86 Architecture, and hence it is faster than many Emulators when you compare it with another.
GennyMotion contains advanced features like OpenGL and has hardware acceleration support.
FREE EMULATOR FOR WINDOWS 10/7/8/8.1 – DROID 4X
Droid 4X is another best Android Emulator for PC. You can use it to enjoy exciting apps which are available in Google play store. It is similar to Andy OS. There is a balance between its features and its lag free operations.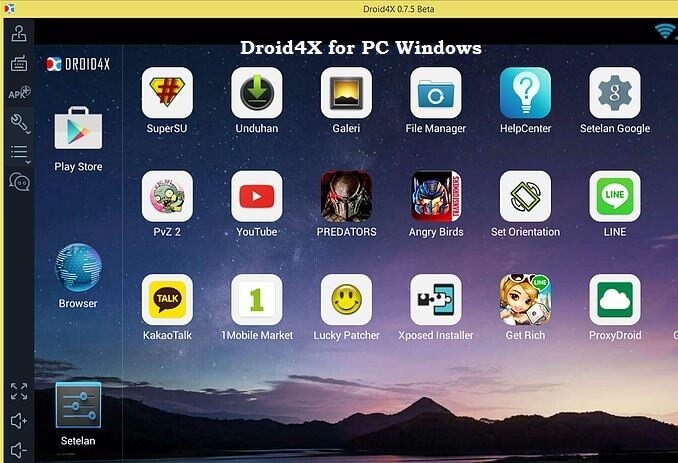 Features:
It is available for free.
It is made for gaming and productivity.
Droid 4X runs on both Windows and Mac Operating System.
It comes with Pre-rooted installed Play Store.
Droid 4X is very fast, and it enables you to set up your keyboard as a controller.
Android Emulators for PC – YouWave: YouWave is the oldest Android emulator which is available in Google play store but it is not the first. It does not get updated for years. There are two versions = free and premium version. The free version contains adds and they irritate the users while playing. The free version uses Ice Cream sandwich. In 2016, it was updated and it is good enough for light gaming and productivity.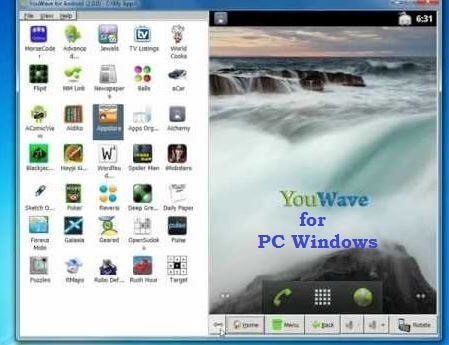 Features:
It has two versions Free and Premium.
The cost of Premium version is $29.99 (no ads available in it).
The installation process is easy.
It supports Windows and Mac OS.
The major drawback being a lack of support and apps which consist of closed APIs will not work in YouWave.
COST  FREE ANDROID EMULATORS FOR PC, WINDOWS – REMIX OS PLAYER
Remix OS Player is another Android emulator for Laptop and PC but it is new in the market. It is the only emulator that is functional on Android Marshmallow whereas other runs on Android Kit Kat and Lollipop. A number of users are using it and it supports dual booting capability. It is for Windows PC and Laptop.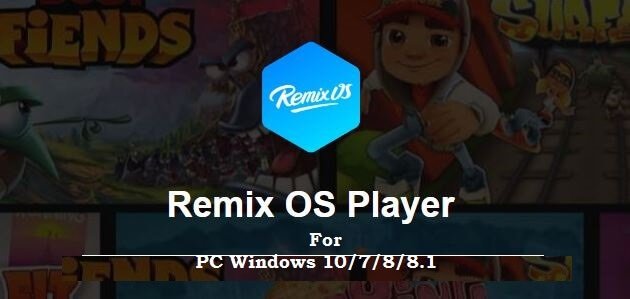 Features:
It is available for free.
It contains a user-friendly interface for gaming and productivity.
Default installs Google Play Store.
It does not support AMD CPUs.
It supports keyboard mapping and you can you keyboard and mouse while playing games.
It is a bug-free emulator and can run any game on your PC/Laptop.
Summary of Best Android Emulators for PC: You can also make your own emulator and you need to download Virtual Box for this procedure. The next step is to download an image from x86.org. You need to follow step by step guide and get it from any web source because it is complicated to create a new one.
I hope that you liked the post on Best Android Emulators for PC, Windows, Laptop or Top Free Android Emulators for PC or Laptop. Most of them are compatible with Windows 8, 7, 10 and XP. Leave your comment if you are having an issue.
Do not forget to share this post.
Arsalan Rauf is an entrepreneur, freelancer, creative writer, and also a fountainhead of Green Hat Expert. Additionally, he is also an eminent researcher of Blogging, SEO, Internet Marketing, Social Media, premium accounts, codes, links, tips and tricks, etc.