Get Ahrefs Free Premium Account in 2023 (100% Working)
There are a number of bloggers who need this premium tool and search for it. They search how to get ahrefs premium account free or without paying money. If you are one of them then this post is only for you.
So readers, this post will show you how to get ahrefs premium account for free in 2023 and it is 100% working. Free ahrefs premium account ID and Password costs 399$ is also free. Read my whole post to get it and do not skip any part.
The bloggers who use this premium tool, they use it to analyze backlinks, do keyword research and for other SEO features. A number of renowned people also recommend it, such as Neil Patel and Brean Dean. They are of the view that it is one of the best tool to analyze backlinks.
I also consider using this premium tool because it gives you accurate information about your competitor and his backlinks. There are some other tools too such as Semrush for keyword research but this tool is unshakeable. It will give you a complete overview of backlinks including do follow, no follow, edu, gov and comments link etc.
Must read:
How to Get Ahrefs Premium Account For Free
The Ahrefs tool is very beneficial if you are a newbie in blogging field. As a beginner, they cannot pay money to get such type of premium tool. That is why I am writing this post to help to such type of blogger. Let's see how can you get Ahrefs free Premium Account.
Step-1
Open the latest version of your chrome browser, if you have not the latest version then Install chrome on your laptop or computer. You can use below link
Step-2
Install the flickover 1 extension on your computer or laptop .This is the most important one
Step-3
Install the flickover 2 extension on your Google Chrome Browser.
Step-4
After installing the both extensions on your Google Chrome browser go to the Ahrefs free premium account (ID& Password) and save the username (email) and password.
Free Ahrefs Accounts (Username and Password)
Email: EmillyCarvalhoPinto@jourrapide.com
Password: Nei3huu7
Email: PauloSousaAlmeida@jourrapide.com
Password: xooSohw8
Email:-narendrakusahoo96@gmail.com
Password:-Kedar1###
Note:- Don't try to click forget password because it will regenerate the password and will send to mobile number. The password will be changed . If you will repeat this process that again and again then Aherf free premium account id will block by the flikover team. so I request you to use the id carefully. If the account is not working then register on flikover and buy ahrefs premium pack just use 7$/-
Step-5
Now visit the flickover login page and put the email ID and password which you have got earlier
step-4.
Step-6
A new flickover dashboard will open and it will show you a number of tools there but only click on Ahrefs tool icon.
Step-7
On the next screen "click here to access Ahrefs"
Step-8
If you will do this step by step then you will get ahrefs premium account for free lifetime.
How to Get Ahrefs Accounts @ Low Cost?
Ahrefs Shared Account
Now you can also get shared accounts of Ahrefs online. There are a number of sites which are providing premium SEO tools @ low rate including Alexa, Grammarly, Keywords Everywhere and so on. It includes keyword research tools, content writing and so on.
When you buy these accounts, you get all these tools @ reasonable price per month. It means that you can buy multiple tools in a group.
Benefits of Purchasing Shared Account
Diversity of tools
You get many tools at low cost.
Immediate access to pro/premium features.
Ideal for people who are newbies or do not have enough budget.
How to Get Ahrefs Premium Account Cookies 2023?
There are several websites online that are giving away Ahrefs premium cookies free, so find those sites and get started.
How to Use Ahrefs Premium Cookies?
The premium cookies of Ahrefs are easy to use, we are going to share the method below that how to use them.
First of all, install a cookie editor extension from the chrome web store
Download Ahrefs premium account cookies and visit the official website of Ahrefs
Delete all the existing cookies in the extension and import the downloaded one
After doing so, just refresh the page and you are all set.
How to Get Ahrefs Account at Cheap Price?
There are two methods to get Ahrefs at a cheap rate, one is already given by Ahrefs.
Option 1:
Ahrefs offers a trial account that provides full access to both accounts, it depends on you which one you choose.
It offers four types of accounts:
Lite 99$ per month
Standard $179 per month (popular one)
Advanced $399 per month
Agency $999 per month
As far as the advanced and agency-level accounts are concerned, they are not used at individual levels, they are for team members or agencies who use such tools.
The lite and standard plan can be used using this Ahrefs trial trick at low cost of $7.
If you want to have a look at your competitors, we prefer you choose the standard version as it comes with more projects and tracked keywords options and the price is same guess how much, $7 only for 7 days.
Option 2:
There are several websites that offer cheap seo tools, if you want to access more projects and features of Ahrefs, you should consider using this feature.
Features of Ahrefs free Premium account
There is a number of features available on the Ahrefs advance account, , these are available below
| | |
| --- | --- |
| Campaigns | 3 |
| Tracked keywords | 4000 |
| Update frequency | Everyday |
| Domains per day | 250 |
| URL per Day | 2000 |
| Rows per report | 50,000 |
| Backlink index report | 5 million |
| Ranking Positions | Top 100 |
| Competing domains / pages | Top50 |
| content report per day | 500 |
| keyword list | 50 |
| Alert new & lost backlink | daily update |
Conclusion
In this post, I have shared the flickover ahrefs premium account free. The below post was written last year, but that method is not working now. I have updated this post for your sake so you can get ahrefs free premium account in 2023.
If you want to ask anything then do not hesitate to ask anything.
The Below Method is Outdated.
How to Get Ahrefs Free Accounts
In this modern age, everyone needs SEO tools whether he is a blogger or internet marketer. So that he can track keywords and keyword position on all search engines especially Google. If you get Ahrefs Standard account free, you can create reports of keywords and you can also generate keywords ideas for your client. Additionally, you can also track backlinks of your competitors as well.
As everyone in the online market knows that there are a number of SEO tools available online but they are not free of cost. Therefore, everyone has to pay a plenty of money in order to get a subscription. Ahrefs is one of the best SEO tools in this age.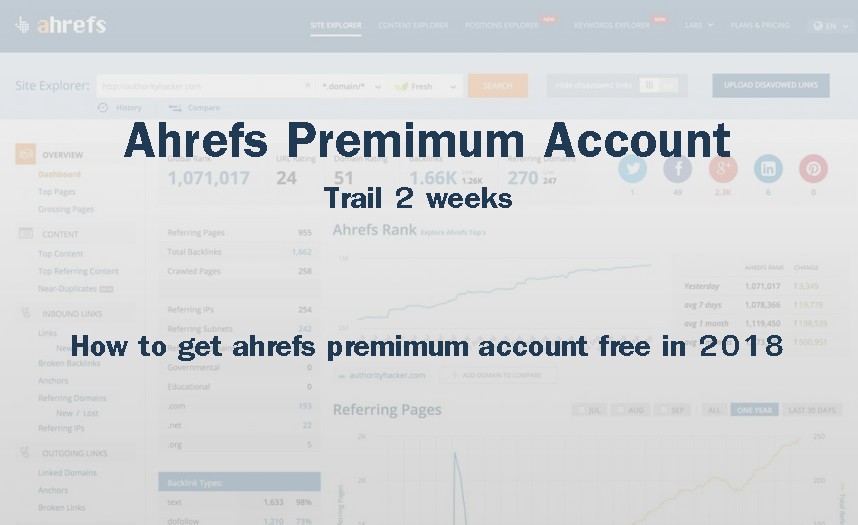 One can easily sign up a free account whenever he wants but now you cannot use those tools free. Last year, you were able to use them for five times a day. This guide will show you that how to get Ahrefs Premium account free for two weeks. The method is simple and you need two things.
Requirements
1: A verified Paypal account: you do not need balance for this purpose.
2: An email account: we prefer Gmail.
How to get Ahrefs Premium Account – Standard Package for Free
1: We are of the view that you already have a Paypal account. If you do not possess one, kindly create a new one for premium Ahrefs account.
2: Now go to Ahrefs Website, now go to the start free trial button which you can see on the right hand side, in the upper corner. You can also see the sign-up box as well.
3: After doing so, kindly enter your email address of Gmail then you need to accept the terms and condition in order to continue.
4: After completing three steps, you need to fill the form which asks your name and address. You need to provide the address which you have provided to your Paypal account.
5: In the next step, you have to select Paypal as your payment option then submit your form.
6: it will redirect you to the payment page and you need to use an empty card. Whether it is Payoneer card or credit card then click the submit button.
That is all, now you have got your free Ahrefs premium account. Additionally, you can also use this trick again and again.
Tips: How to create Ahrefs premium account free After expiry of 2 weeks
As you know that this trick will work only for two weeks. Now follow these tips to create Ahrefs Premium account again free.
1: First of all, you know that we can add thousands of email to our Paypal account. So create an extra email from Gmail and link this email to your Paypal account.
2: Secondly, you have to come up with a new email account every time.
Things to Remember
1: You should not have any credit or balance left on your Paypal or debit/credit card which is linked to your Paypal account. Otherwise, they will charge you 179$ after the expiry of 14 days.
2: Kindly cancel your premium Ahrefs subscription on the 14th day. This instruction is for those people who have balance in their Paypal or debit or credit card.
If the trick is not working, You can also buy ahrefs from Ahrefs Group Buy at a cheap rate.
Further Reading
Alternatives to Keywords Everywhere
Arsalan Rauf is an entrepreneur, freelancer, creative writer, and also a fountainhead of Green Hat Expert. Additionally, he is also an eminent researcher of Blogging, SEO, Internet Marketing, Social Media, premium accounts, codes, links, tips and tricks, etc.