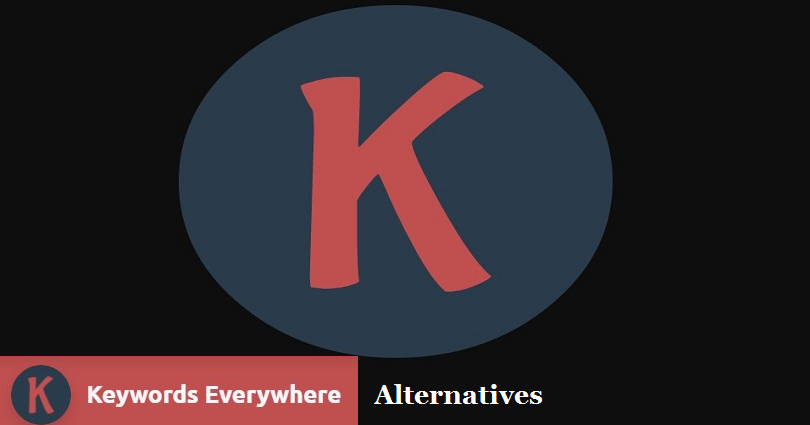 When you want to do research for keywords, the name "Keywords Everywhere" clicks your mind. When you want to do SEO you focus on keywords and you need proper research to find keywords. It is one of the best tools to research keywords.
This extension was working free until 1st October 2019, now it is a paid tool or extension. You have to buy credits to get started with your research. SEO strategy depends on keyword research, its volume and its competition.
You may be finding ways to keywords everywhere crack to get free credits after knowing about keywords everywhere not working but you do not need to do this if there are tools like Keywords everywhere are available.
If you are a beginner, you may want to use a free tool to do your keyword research. The number of searches determines the amount of traffic you will get on that keyword. In this post, I am going to discuss the top Keywords Everywhere alternatives. They are alternative to this site and working very well.
Let's go through the list of the best alternatives of "Keywords Everywhere" to get the right keyword and its search volume.
14 Best Alternative of Keywords Everywhere You Should Try
1. UberSuggest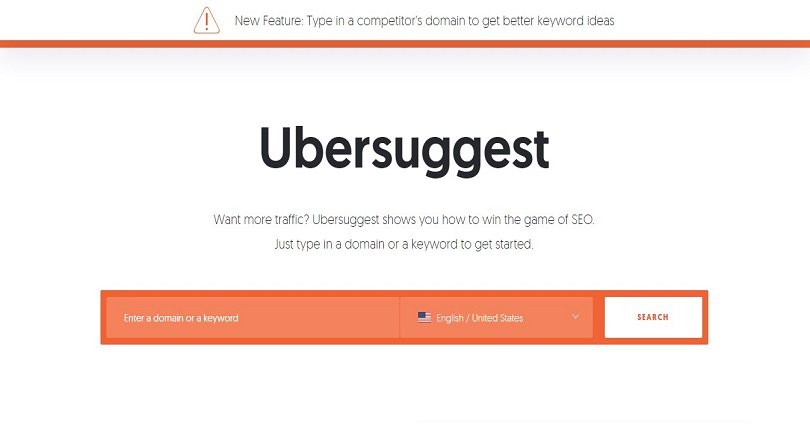 Ubersuggest is an ideal choice for you when you want to perform a keyword research. Thanks to Neil Patel who launched this tool for SEO industry to find the low competition and high interest keywords. I personally give preference to this tool and I have used it so I highly recommend it.
Want to know more about Ubersuggest?
Read my detailed review:
It stands at top of the list if you are looking for sites like Keywords Everywhere.
Features:
Keyword Overview
Keyword Ideas
SEO difficulty of that keyword
Paid difficulty of that keyword
CPC (Cost per Click)
Keyword Ideas
Keyword Suggestions
Related Keywords
Questions or Queries relevant to those keywords
Search volume of your keyword
Content Ideas for your keyword
Export your keywords
In addition, apart from keyword research, you can also spy on your competitor's keywords too. Top pages of your competitor's website, its backlinks, and keywords he ranks for.
How to use it:
Go to https://neilpatel.com/ubersuggest
Enter the desired keyword in the search bar
It's done. Now you can see all the data you want.
Note: After February 2020 update, you cannot use all the features free of cost so you may also want to see Ubersuggest alternatives.
2. Google Keyword Planner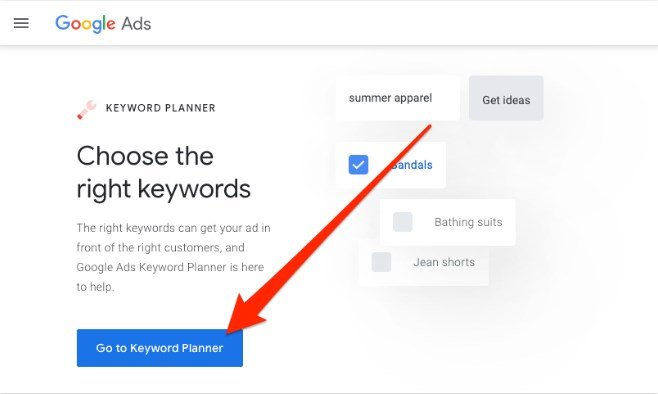 Google keyword planner is the 2nd alternative to Keywords Everywhere Extension and it is also famous in SEO industry. This tool is owned by Google itself and it filters the keywords for your website. Google is the name of trust that is why it is well known.
It is easy to use and you can produce result-oriented and useful content.
It has 2 advantages; firstly, you can find the new keywords, you can get the search volume of that keyword too.
Secondly, it also shows you the competition of that keyword along with the monthly searches of that particular keyword.
How to use Google Keyword Planner?
Firstly, log into your Google ads account.
Click the tools icon that is available on the upper right corner.
Select keyword planner available under planning.
In the find new keyword area, type your keyword or related site URL and hit enter.
Now, press the get started button to get a list of relevant keywords.
3. KWFinder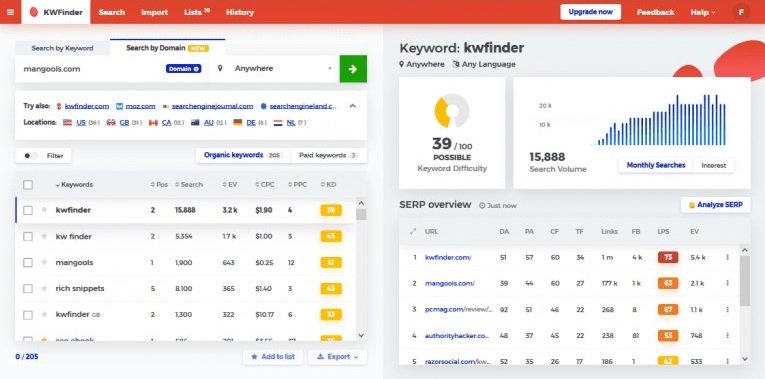 It is another free Keywords Everywhere alternative that helps you to get instant results. This tool is recommended by Brian Dean (SEO expert @ backlinko). This tool is available in free as well as in the premium version. You can use KWFinder by Mangools for free but it allows you three searches per day.
Features of KWFinder:
Finds hidden long tail keywords for you
Finds competitor's keywords
Local keyword research
Keyword Planner alternative
Search volume and keyword metrics
SERP Analysis
SEO metrics
The most accurate keyword difficulty
Google suggest keyword source
Organize keywords in a list shape
Import keywords in bulk
Filter keywords which are not profitable
How to Use KWFinder?
First of all, you have to create an account to access it.
Enter keywords you want to search for SEO to increase your traffic.
Specify the location and language if you want (optional).
Hit enter and a number of keywords will be shown on your screen.
Analyze the data to know about your keyword, its difficulty level and ranking factors.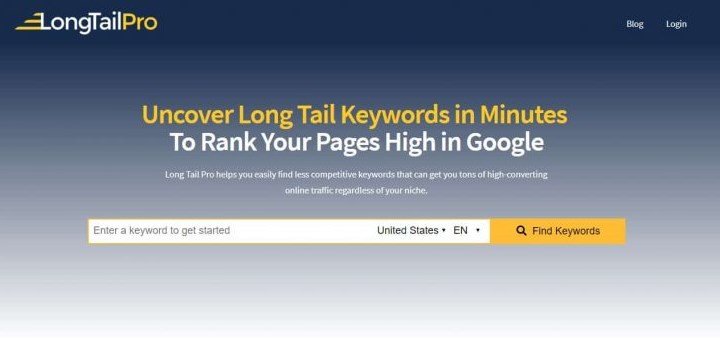 The name of this keyword research tool indicates that it gives you long tail keywords for SEO. It is another famous tool which can be used as an alternative to Keywords Everywhere. It provides accurate search traffic information along with difficulty analysis.
Features of LongTailPro:
Provides hundreds of long tail keyword suggestions
Competitor analysis based on 13 metrics
Determine keyword profitability
Measures keyword competitiveness
Tools to spy your competitors
So, just enter the keyword to get the related long tail terms to do your SEO in a better way. Get the report of your competitor's keywords and see what is working for them.

Moz's keyword explorer allows you to perform 10 searches per month for free. It has a user-friendly interface that helps you to understand this tool with ease.
Features of Moz Explorer:
Explore by site
Finds seed keywords
Explore by keywords to get related suggestions
SERP analysis
Performance metrics
Creates list of your keywords to manage them by metrics
SERP features
How to get started?
Go to the website https://moz.com/explorer
Now enter URL of a site or enter a keyword to search what you want.
Create Moz account to do it.
Email will be sent and you have to verify it.
Now you can enjoy the suggestions and keyword analysis.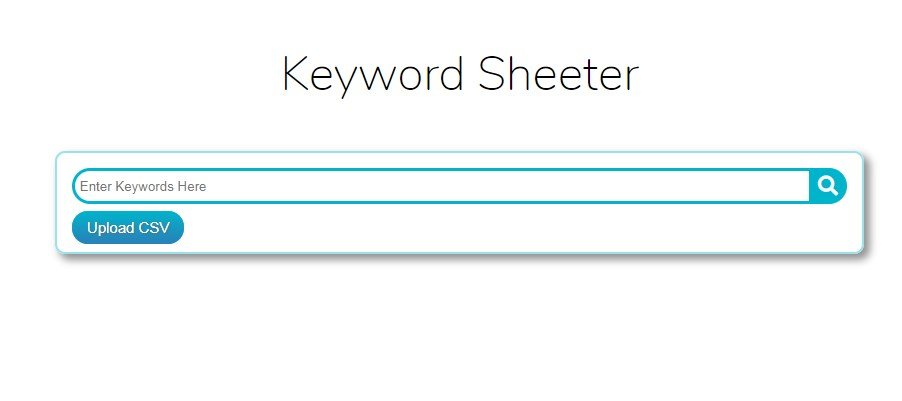 It is also one of the best Keywords Everywhere alternatives that gives you bulk keyword ideas. Now they have moved their website to Keywordsheeter.com.
Enter a seed keyword and press sheet keywords.
That's it. Your work has just begun.
You need to know that it has the ability to generate plenty of keywords suggestions.
You just enter the term and it will not stop sh!tting the keywords.
Cons:
It does not give you search volumes
Trends data is not available.
Pros:
Gives you positive and negative filters.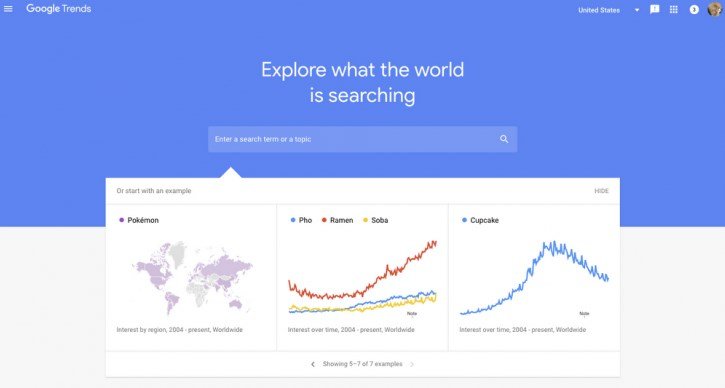 It is another tool by Google that can help you to find new keywords that are trending in search engines.
First of all, search for a particular keyword and then go through the trend of your search and its related terms.
Secondly, it also allows you to go through the popularity of your keyword whether it is getting popular or its trend is going down.
Also Read: Best Free VPN Extensions for Chrome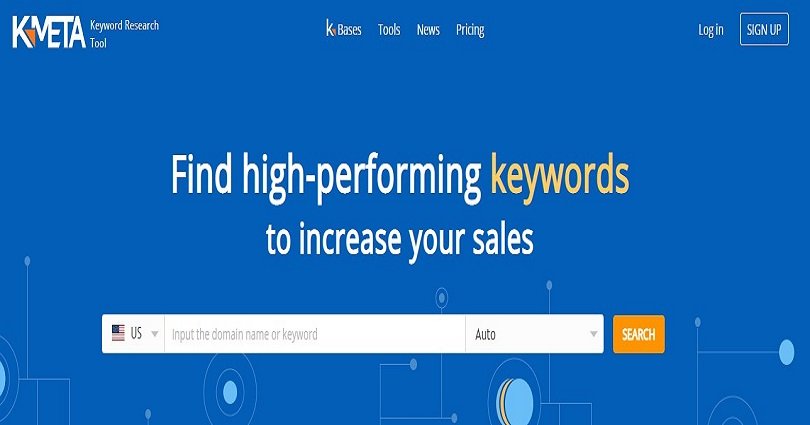 It is another keyword research tool like Keywords Everywhere which allows you to find high-performing keywords to increase your traffic.
You need to put the domain or keyword to get the results. It offers free as well as premium versions.
You are here because you want to use the free version of that tool. So, I tell you what will you get in free version.
Free Version Offers:
20 results per report
20 reports per day
150 keywords metrics per day
50 bulk domain search per day
You can export data in CSV
Overall Features:
Keywords Overview
Related keywords
Search engine suggestions
Phrase match
Bulk keyword research
Domain overview
Ads research
Shows the trends, CPC, average monthly searches and competition of your keyword
Offers two countries search USA and India
So, enter the keyword in search bar to get the results and reports of your query.
9. Google Search Console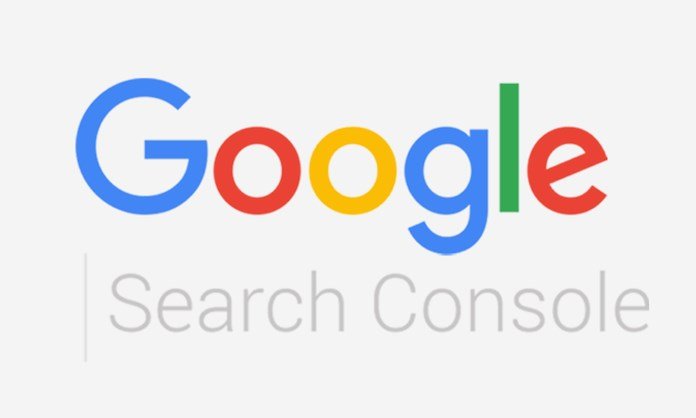 Google's another tool which is unmatchable. It is better than Keywords Everywhere because it helps you to find new keywords to target for your site.
Features of Google Search Console:
Find new keywords to target
Shows your existing keywords you rank for
Free of cost and gives you accurate reports
Shows queries you get the most clicks in the past 4-6 hours
Shows impressions, CTR and average position of your keywords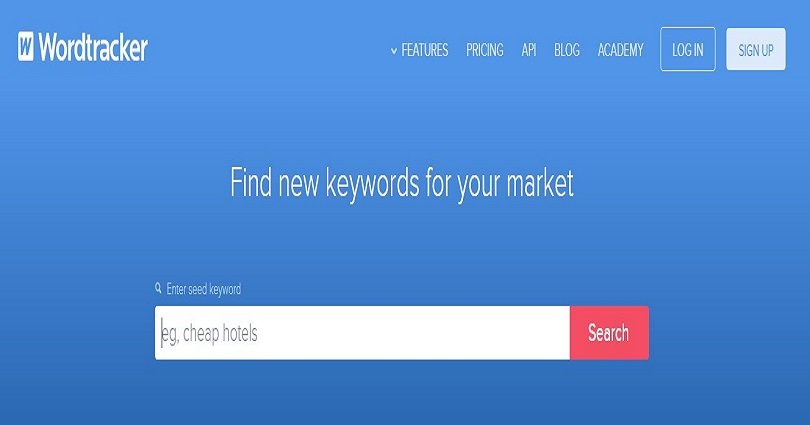 WordTracker is replete with cool features which can replace Keywords Everywhere like extensions.
This tool also offers free keyword research. In addition, you can also get 7 day free trial of that tool to get the premium features.
Features of WordTracker:
Finds new keywords for you
Niche explorer to explore trending niches
Discover your competitor's keywords
Get custom reports to get the top keywords
Enter seed keyword and get the related keywords from their database.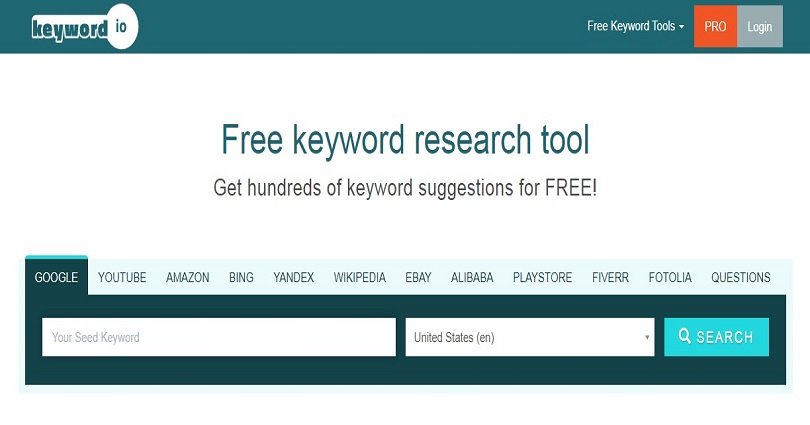 Keyword.io builds the keyword research in a list form. You can use this tool with or without signing up. It is entirely your own choice.
It is also known as the best alternative to Google Keyword planner. Additionally, it is a keywords everywhere alternative for YouTube because you can generate keywords for YouTube too.
Features of Keyword.io
Google Keyword Planner Alternative
Get hundreds of keywords suggestion free
Various countries to search
So, it not only searches keywords from Google but also from other famous sites like Amazon. It means that it can be used as a keyword research tool for those sites as well.
How good is that?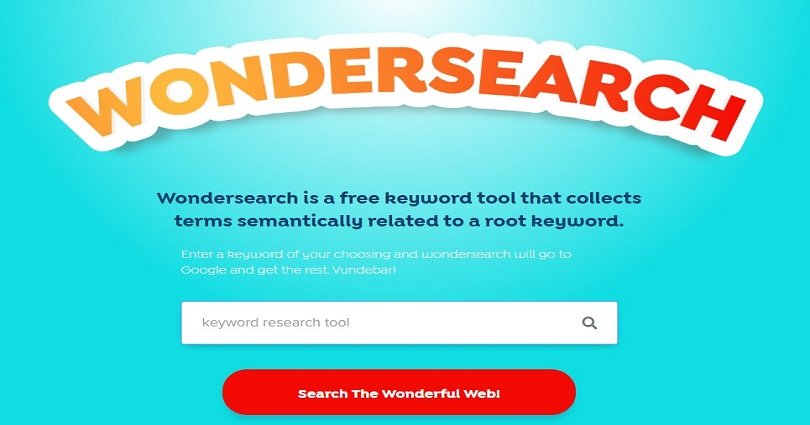 It is a tool that grabs semantically related keywords of your main keyword.
When you enter your keyword it searches keywords from Google that people also ask and people also search for results along with average monthly searches, CPC, the competitiveness of ads.
You can download them in CSV to filter them.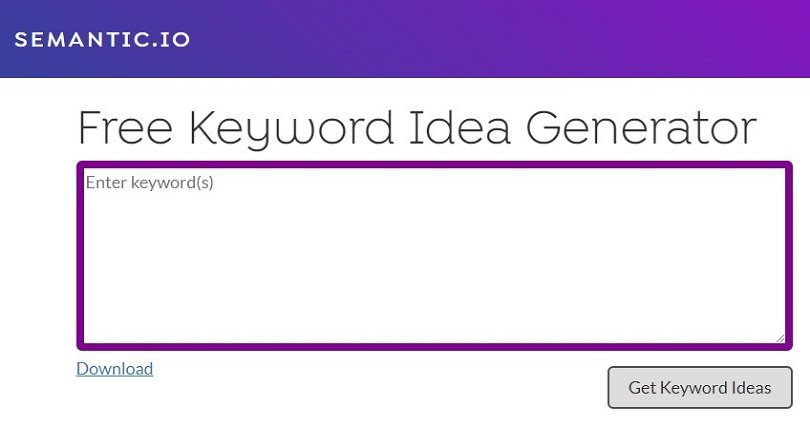 Semantic is an io domain that generates free keywords along with positive and negative modifiers.
Enter the keyword and generate ideas and keywords list by pressing the get keyword ideas button.
When you get the keywords, press the download button to download your research.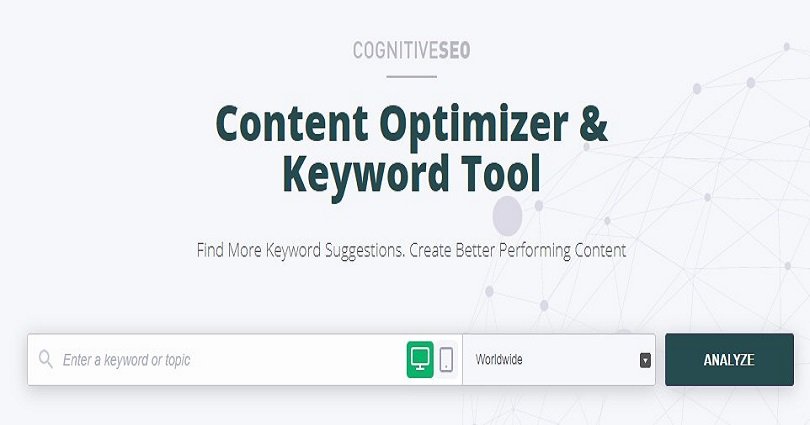 It also ranks in the top Keywords Everywhere Alternatives list.
This tool not only does keyword research but also provides assistance in your content.
Features of this tool:
Keyword research
Content assistance
Ranking analysis
Content optimization
Generate keywords of your own site
Final Words
That is it for this post. I hope that you get what you want.
In my opinion, if you ask me, I shall prefer using Ubersuggest Tool.
It is an ideal alternative for Keywords Everywhere extension and I hope that you find it helpful.
Am I missing anything?
Do not forget to share it in the comment section.
Arsalan Rauf is an entrepreneur, freelancer, creative writer, and also a fountainhead of Green Hat Expert. Additionally, he is also an eminent researcher of Blogging, SEO, Internet Marketing, Social Media, premium accounts, codes, links, tips and tricks, etc.