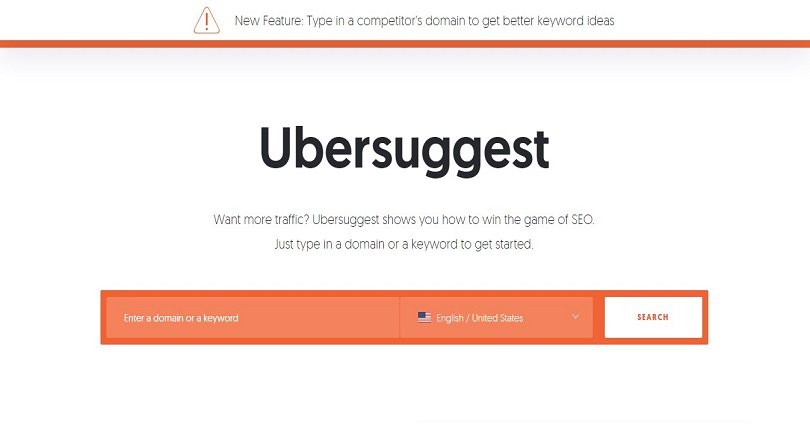 Ubersuggest Review 2022 – Free Keyword Suggestion Tool by Neil Patel
Do you know that there is a new keyword research tool in the market?
If no, why not take a look at it.
Firstly, it seldom happens that you find a new tool in the market.
Secondly, most of the keyword research tools are not free of cost but do not worry newbies it is free of cost.
Ubersuggest is a new tool which is available free of cost on Neil Patel's website.
If you have not used it for SEO and content marketing, it is the right time to update your keyword research tools list.
I personally use it for SEO and find related keywords for my terms.
Apart from free keyword research tools, there are big fish in the market like SEMrush, Moz, and Ahrefs which are paid.
UberSuggest is the best free tool that you should consider while doing SEO of your website or content.
This keyword research tool was declining but Neil Patel has turned the tables so you can get the most out of it.
He not only acquired it but also launched it on his own website therefore, it has become a part of his website.
The updated version of UberSuggest gets the suggestions from Google Suggest and Google Keyword Planner that is the reason it is rising among the bloggers, SEO experts, content marketers.
So, it is in improved shape isn't it?
I have been using it for more than two months and I could not stop myself from praising it.
Let's see the features of this tool which is free of cost and schway.
1: Collects Data from Google Keyword Planner
The first feature that Ubersuggest offers is the volume data that it derives from Google keyword planner.
Google Keyword Planner is no longer available free of cost, you have to run a campaign to get keyword ideas and volume data. It is surprising in nature but it is surprising in a good way.
So if you are searching for keyword research tools which fulfill your needs. Ubersuggest does it free of cost and in a convenient manner.
Ubersuggest also pulls data from Google Keyword planner but if we compare it with Google keyword planner. I highly recommend this tool due to its user-friendly interface.
Ubersuggest also provides CPC (cost per click), search volume, search engine difficulty and paid difficulty.
It is all the basic information you need for a keyword which is available there.
Furthermore, this keyword suggestion tool also shows you the percentage of your chance to rank in the top 20 results of Google.
Google SERPs are also there which show domain score, estimated visits to that ranked domain and social media shares.
Keyword also gives you suggestions to add it in your content to get more traffic which is another positive element.
2: Ubersuggest Filters:
This tool also offers filters to narrow down your research and helps you to find the suitable keyword for your SEO.
It includes search volume where you can put numbers to limit it down according to your choice.
Furthermore, you can also select the range of paid difficulty and set the range from minimum to maximum. Same is the case with CPC (cost per click) and SEO difficulty.
Lastly, you can also include and exclude keywords which you want to include and exclude. You can also apply those settings and reset them to default whenever you want.
Want to save the keywords data to your drive? Do not worry, it also gives you an option to export the file to your computer.
3: Suggestions from Google Suggest
Finding good and easy long tail keywords to rank is one of the burning questions for modern SEO and content marketers.
The search engine of Google is becoming smarter and smarter, therefore, SEO friendly content is not everything. You need to write a quality content which encompasses all the questions and answers your viewers are looking for.
Answering queries is one of the best ways to rank for Google Voice Search and it also sends a signal to Google about relevance.
For example, I want to do SEO and looking for answers to my questions, my possible questions are:
How to do SEO of Website?
How to Increase traffic of my website this year?
How to do Free SEO?
And so on.
Any blogger can write good content on this topic but writing content is not a hard nut to crack.
Firstly, your task is to find the related questions and answer the questions.
When you search for term like "SEO" in the keyword research tools, you will get massively related keywords.
If we look back, old Ubersuggest would give you keywords suggestions that include SEO and other bunch of words. For example:
SEO 2021
SEO 2022
SEO trends
SEO tips
How to solve this issue in the first place? The first way is to get a paid tool. For example, you use Ahrefs, and type the term "SEO" and it will give you a bunch of keywords.
You can also visit Google to get suggestions provided by it. If you want to write content on SEO then you need to visit Google and type the term "SEO" and wait.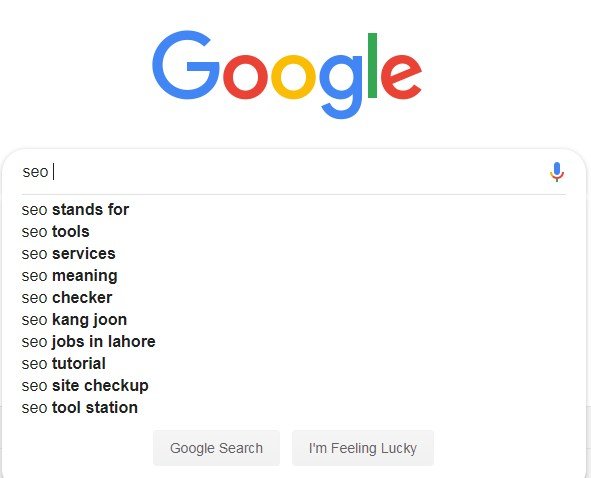 Here you get ideas for waiting for a while.
After hitting the enter, I also scroll down and look at the end to get more suggestions. According to Google, these terms are related to SEO term.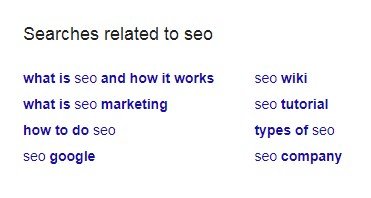 Those are good tips to write content, but they have drawbacks.
Moz is not free of cost. Most of the users/bloggers cannot afford it.
Using Google's suggestions need enough time.
In this situation, Ubersuggest comes handy and solves your problem of finding long tail keywords.
So you get everything at once place. It gives you keyword difficulty not only as search engine ranking but also as paid listings.
When you start using it, you come to know it is easy to use and you can get what you want. I personally use it and recommend it.
Ubersuggest not only gets data from Google Keyword planner but also gives you suggestions from Google aka LSI keywords.
Currently, it is in good hands and improved from the previous version. In a nutshell, Ubersuggest does all the work for you free which you expect from a premium keyword research tool.
It solves all the problem with ease.
4: Simple User Interface
Ubersuggest has the simplest and easiest interface. Just enter the term and hit enter and you are there. It gives you all the data within a couple of seconds.
You can use filters to exclude phrases from your keyword to get whatever results you want.
It is very easy to use that you do not need any demo or video to guide you. Still, there are a number of videos available on YouTube if you want to learn something.
It is available in various languages, just choose your desired language and click the search button.
5: Analyzing Your Competition
The search bar will allow you to type the domain of the competitor and analyze its traffic as well as the keywords he is getting traffic from or ranking for.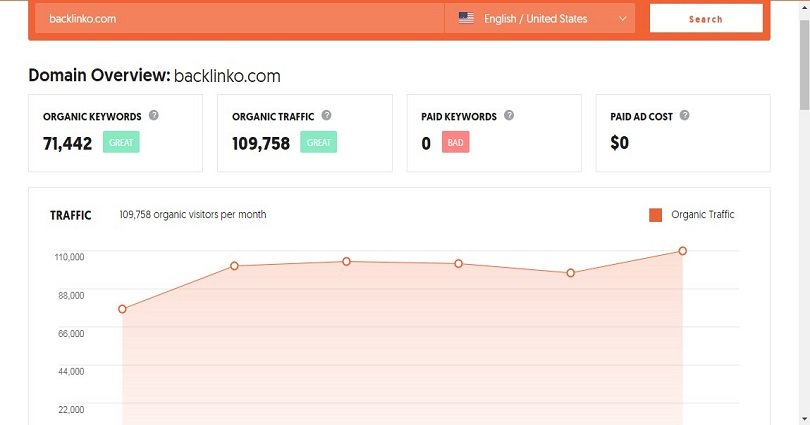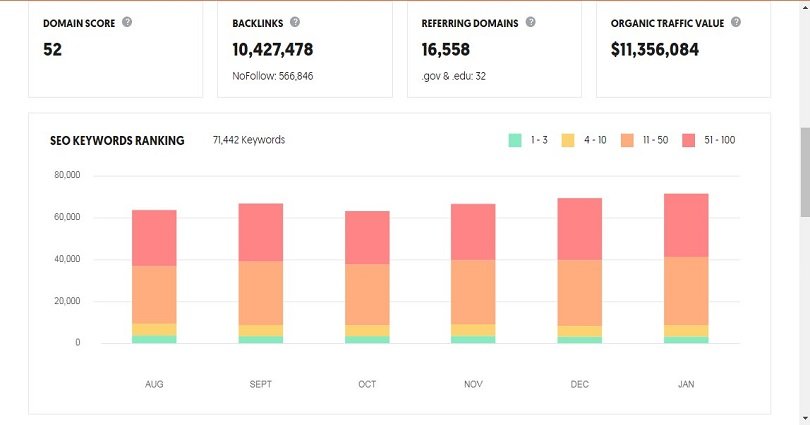 Scroll down to get more insights, it allows you to see the best performing pages, the social shares of that URL, and the targeting countries.
You can also see the backlink profile of that site when you visit the "Backlinks" tab and put the domain there to get the overview.
This feature also helps you to locate the referral links of your competitor from where he/she gets the links.
It can also be used to analyze your site too.
6: Covers SEO Difficulty & SERP Analysis
Assessment of your competition is a part and parcel when it comes to dealing with the keywords you are trying to rank for. Therefore, this keyword tool analyzes your competition as well.
You will come across the SEO difficulty of those keywords whenever they are shown in the tool.
It is a metric they have developed in order to let you know whether it is a hard or easy keyword for you.
Other SEO tools also use this metric (keyword difficulty score) to identify the nature of the keyword, it can be used to determine the competition.
In most cases, the tool shows the accurate difficulty score.
Apart from the difficulty checker, it also has SERP analyzer to make it more productive.
This way you can get a bird's eye view of your competitor.
All the metrics offered by Ubersuggest are helpful and that makes it one of the best SEO tools in the market. In many ways, it is an ideal tool and I personally recommend and use this tool due to this enormous data.
SEO Audit…
Site audit option is also added to do the SEO audit of your site.
Ubersuggest will give you a lot of helpful insights in audit:
Your ranked keywords
Backlinks profile
Errors you need to fix on your site
The issue is that it does not guide you how to fix that specific issue.
Ubersuggest As A Tool
In back days, it was free but now it is extremely cheap as compared with other alternatives in the market.
But still it works as a free tool but there is a limitation. Overall, it is a good tool and I personally use it.
The advanced SEO filters are also available for keywords, it will not charge much for it.
How schway is that?
It is a gift for newbies, bloggers and content marketers. For me, it is replete with pros. It is also an alternative to keywords everywhere.
Am I missing something? Tell me in the comments.
Do not forget to share this post and also share your experience of using it.
Arsalan Rauf is an entrepreneur, freelancer, creative writer, and also a fountainhead of Green Hat Expert. Additionally, he is also an eminent researcher of Blogging, SEO, Internet Marketing, Social Media, premium accounts, codes, links, tips and tricks, etc.