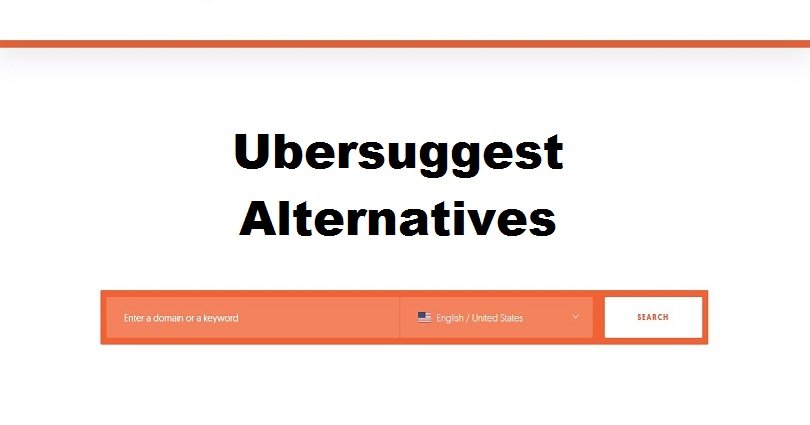 Ubersuggest Alternatives – Free & Paid
If you are searching for Ubersuggest alternatives it means that you know about Ubersuggest features. It was a free keyword research tool for bloggers and other online newbs.
Ubersuggest was generating over a million searches whenever you search a term. Unfortunately, now Uber suggest is not suggesting unlimited keywords. In short, it is not a free tool anymore.
If you want to do unlimited searches using the tool, you have to become a paid member of the tool. They charge on a monthly basis but still, there is no Ubersuggest affiliate program.
Do not worry, I am going to share the best alternatives to Ubersuggest in this post which are the best SEO keyword tools for finding the best keywords.
Regardless of your niche, the tools will provide you short and long-tail keywords.
Many bloggers may be searching for sites like Ubersuggest and they also search which is the best free alternative to Ubersuggest?
That is why you are here too to find the best keyword tool which is free and accurate.
Right?
You may be trying too hard to rank the keywords which are difficult to rank in search engines because of high competition and a number of high authority sites are available on those keywords.
In addition, if no one is searching about that topic in the search engines.
These keyword research tools will help you to solve both your problems.
This post will let you know how I have used all the keywords related to this post with the help of these research tools.
After going through this post, you will know how to use Ubersuggest, the updates and features of Ubersuggest and Ubersuggest alternatives.
In addition, I am going to answer this question as well "Is Ubersuggest accurate?"
What is Ubersuggest?
Ubersuggest was a free keyword research tool for SEO, it includes keyword searches, keyword difficulty and backlinks analysis and keyword difficulty etc.
Neil Patel Ubersuggest is not a free tool anymore.
The question arises that Why is Neil Patel charging for Ubersuggest?
It is because he wants to maintain the quality of the tool and it needs money to keep it update and the servers to keep running.
In February 2020, this tool is charging money. In order to use all the features of Ubersuggest, you have to pay 10$ per month.
Go to this URL to use this tool: https://neilpatel.com/ubersuggest/
Related Topic
Neil Patel has launched a number of versions of Ubersuggest
Ubersuggest 2.0
Ubersuggest 3.0
Ubersuggest 4.0
Ubersuggest 5.0
Ubersuggest 6.0
Ubersuggest 7.0
7.0 is the latest version of Ubersuggest keyword tool. People are also searching for Ubersuggest io which is not functional now.
Features of Ubersuggest:
Keyword Overview
Keyword Ideas
SEO difficulty of that keyword
Paid difficulty of that keyword
CPC (Cost per Click)
Keyword Ideas
Keyword Suggestions
Related Keywords
Questions or Queries relevant to those keywords
Search volume of your keyword
Content Ideas for your keyword
Export your keywords
Alternatives to Ubersuggest
Since this tool has started charging money to use the full features, therefore, alternatives to Ubersuggest are necessary for newbies.
1. Keyword Surfer Extension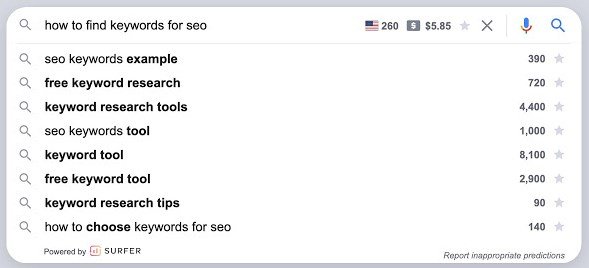 Keyword surfer is a new and 100% free extension for keyword research. It allows you to get the volumes while you enter the terms in Google search engine.
Chrome extensions like Keyword Surfer and Keywords everywhere allow you to get the keyword data where you need it. Yes, it is right in the search engine.
The users can get the data while browsing in Google chrome.

Features of Keyword Surfer:
Search volume
Related searches
Backlinks
Similar keywords
Traffic and on-page data
Set a preferred location for your searches
Clipboard for keyword research
Datasets from 70 countries
2. Keywords Everywhere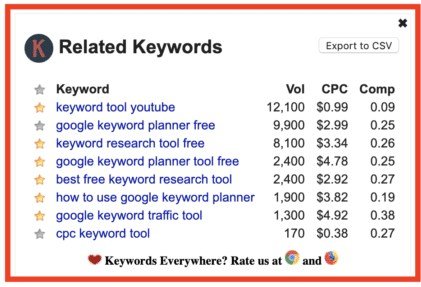 Important Update: "This extension was working free until 1st October 2019, now it is a paid tool or extension. You have to buy credits to get started with your research"
Keywords Everywhere is another Google Chrome free keyword research tool and browser extension which you can add on Firefox as well as on Google Chrome.
Newbs need a free keyword research tool to get started and this is an ideal one.
It shows you the CPC aka cost per click, monthly search volume of your keyword, keyword difficulty and the competition. The data is available while searching for the terms in Google.
You can filter the high volume search terms with good cost per click and low competition.

Related post:
3. WMS Everywhere
WMS Everywhere is another tool similar to Keywords everywhere extension and it is also free of cost. Unlike KE, it does not need a key after the installation.
Features of WMS Everywhere:
Keyword Volume
CPC (cost per click)
People also searched for
Related keywords more or less 8 keywords
Preferred location in country settings
So, it is an ideal free Ubersuggest alternative for your keyword volume, CPC and related keywords selection.

4. SEMrush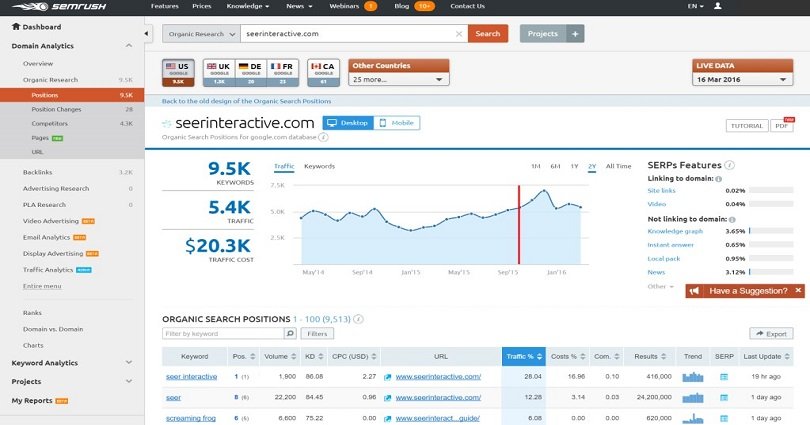 SEMrush is replete with features and it is undoubtedly one of the top alternatives of Ubersuggest for keyword research.
It allows you 10 searches for free on monthly basis.
Ubersuggest vs SEMrush:
Recently, Ubersuggest was asking for sign up using Gmail to see more results. Now, it is charging more or less 10$ if you are doing more than 5 queries. Whereas SEMrush is more costly, they allow 10 queries for one month and the pricing begins at 99$ per month.
5. KWFinder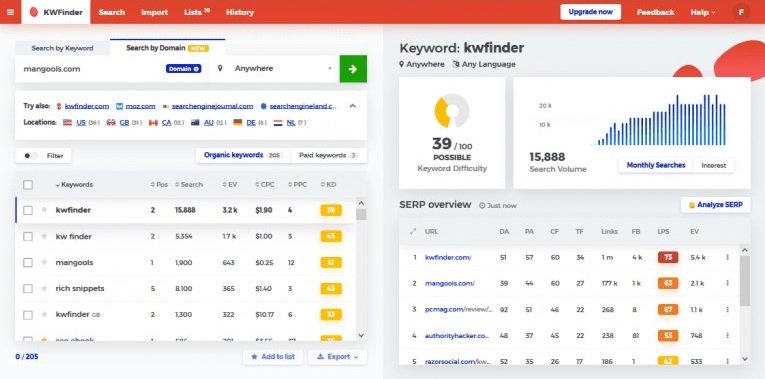 Is Ubersuggest Accurate?
Yes, it is. I have used the same queries to identify it.
You can choose a keyword to see the comparison, Ubersuggest vs KWFinder, which one is better.
Whenever you search a term in both keyword research tools there may be a slight difference in the search volume.
URL to access this tool https://app.kwfinder.com/.
KWFinder vs Ubersuggest
Pricing:
KWFinder allows you to do keyword research for a limited time.
The paid version of KWFinder will cost you 300$ on yearly basis, it means if you pay them the whole amount of the year.
Whereas, Ubersuggest costs 10$ a month so 120$ for the whole year, still costing less than KWFinder.
6. MozBar
MozBar is another Ubersuggest alternative.
Moz tool allows you to get the keyword suggestions as well as the sites ranking for those keywords in the top 10. It means that you can also spy on your competitors too.
Moz is a company and MozBar is the tool they developed.
To reach Moz, go to https://moz.com/.
To download the MozBar from Chrome store, go to the Chrome Web Store.

Moz vs SEMrush
Which one is your favorite?
After doing a lot of research, I came to know that most of the people give preference to Moz over SEMrush.
Pricing:
Moz provides you only 10 keyword searches per month for free. Unlimited searches required premium or paid version and it costs 99$ per month.
7. Google Keyword Planner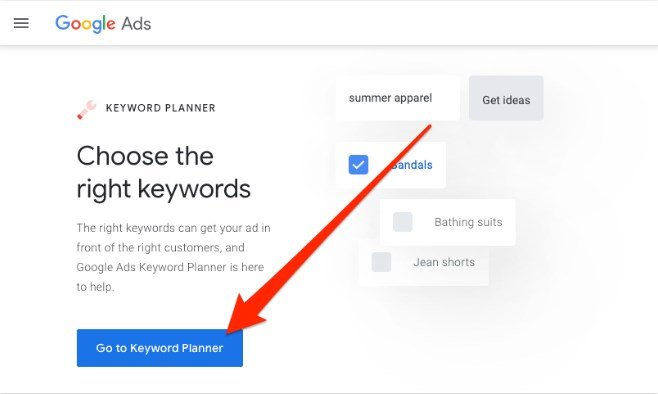 Google keyword planner is a free tool that you can use for keyword research or keyword planning.
URL to access: https://ads.google.com/home/tools/keyword-planner/.
Click Go to Keyword Planner.
Click Discover New Keywords.
I have been using Google Keyword planner like Ubersuggest, KWFinder and Keywords Everywhere.
Unlike Keywords Everywhere chrome extension, it is a web based tool to access.
Google keyword planner is also easier to use.
It also provides you keyword research tips for additional help.
It means that you can also get long-tail keywords for your content like Ubersuggest.
How good is that?
Google Keyword Planner not only provides you data about your keyword and suggests long-tail keywords that you can use as additional focus keywords for your piece of content.
Pricing:
Google Keyword Planner is free of cost so it is an ideal choice for beginners.
8. Ahrefs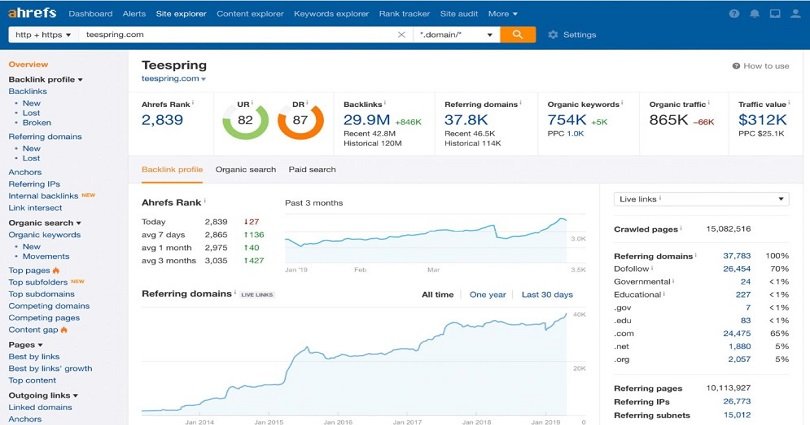 Ahrefs is not free of cost, it is a premier SEO keyword tool but it is more reliable than tools like Ubersuggest.
At times, I personally use this tool for new keywords. The tool is famous among the newbie and experts.
Ahrefs is accurate and gives you real time data.
URL to access Ahrefs: https://ahrefs.com/.
Ubersuggest vs Ahrefs:
Pricing:
Ahrefs pricing: Like Moz, Ahrefs pricing starts from 99$ per month.
Ubersuggest pricing: The price of Ubersuggest is $10. per month without limitations or free version of Ubersuggest allows only 5 queries per day.
Related post:
9. Soovle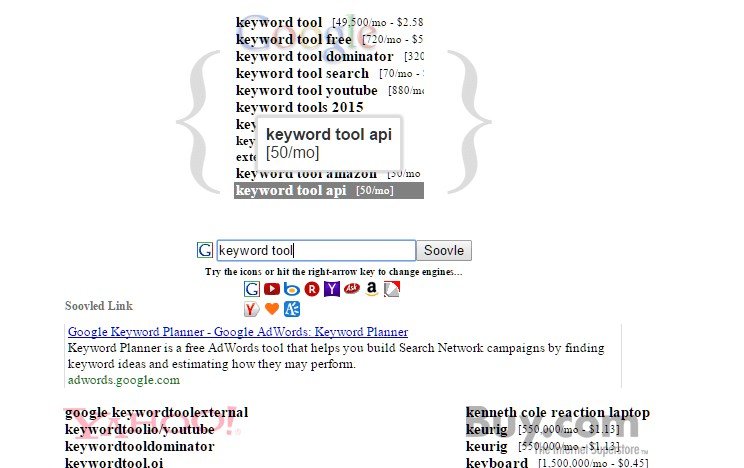 Soovle is another Ubersuggest alternative where you can do your research of keywords.
Enter the seed keyword in the search bar of the tool.
Choose your preferred search engine from Google, Bing or YouTube etc.
The default settings are using Google, but it is not a limited tool.
It gives you access to many other search engines.
URL to access this tool: https://soovle.com.
The list of keywords will be long, you may have to scroll down.
It does not require a registration process like Ubersuggest sign up process.
Just enter the keyword and you are ready to get a list of long tail terms.
Pricing: Soovle is also a free tool like Keywords Everywhere, Keyword Surfer. It is one of the best Ubersuggest alternatives.
10. Keyword Tool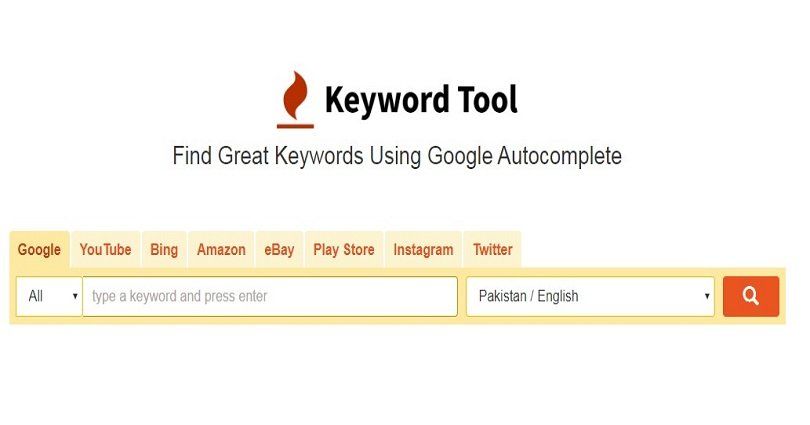 The headline of this tool is #1 Google Keyword Planner alternative.
You do not have to sign up or sign in.
It is easy to use. Just enter your head term and see what long term keywords it generates for you.
It also supports social media sites like Instagram and Twitter.
Keyword Tool can come up with 750 keywords suggestions for every search.
It also offers paid version.
The free version does not provide search volume, competition, difficulty and other data for your keyword.
However, you can choose the keywords and put them in sites like Ubersuggest that I mentioned in this post. Free tools can give you these metrics like search volume, keyword difficulty and competition of that keyword.
URL to access the tool: https://keywordtool.io/.
Pricing:
The free version provides keywords only. Additional data can be accessed after purchasing the pro membership.
Keyword Tool Pro starts from 69$ per month.
11. Jaaxy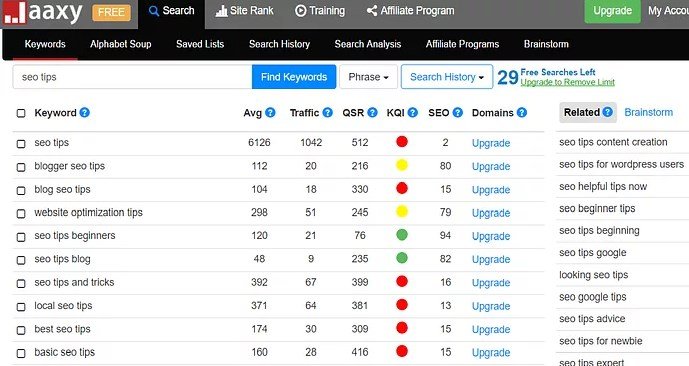 Jaaxy is another keyword suggestion tool that allows you to browse 30 queries for free.
Unlike other tools, it requires registration. The user has to make an account to use his 30 free searches.
Put in the keyword you want to search.
As it allows 30 searches, it also shows the counter along with search bar.
You will be able to see that you have N/A searches left.
It will generate keyword searches, keyword difficulty and related keywords for brainstorming.
There are two types of list you will be getting one under the keyword and the second one is under related keywords.
Pricing:
Jaaxy is free for up to 30 searches.
The premium plan starts from 49$ per month.
12. SEOQuake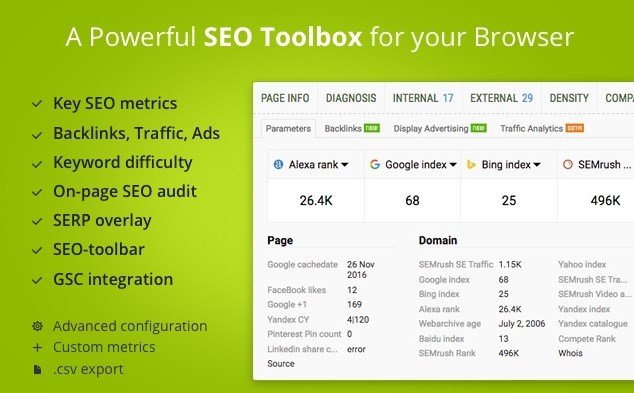 SEOQuake is another SEO tool for keyword research available in the form of Google Chrome extension.
Install SEOQuake from extensions of Chrome.
You can use it to find the keyword data for your desired keyword.
This tool provides you search volume of the keyword, CPC and competition of that keyword.
Pricing:
SEOQuake is a Google chrome extension and it is free.

13. Rank Math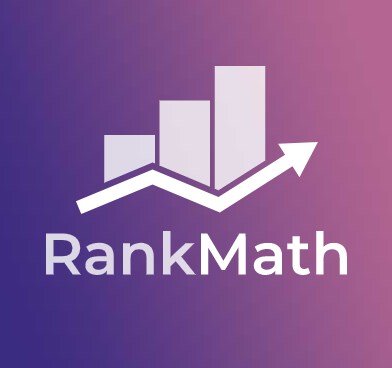 Rank Math is basically not an SEO tool but it does have the quality to process keyword ideas.
This tool will show the keywords and suggestions for your content and keyword.
After searching the keyword in the tool, it will give you more recommendations about your keyword or I can say related keywords to focus. It means that if you are running out of keywords for your content, it will help you.
It will not be showing you the keyword volume, so your task is to select one of the sites, tools or chrome extension from Ubersuggest alternatives list to get the search volume and competition. You need an extra tool to do the work.
Conclusion: Ubersuggest and Ubersuggest Alternatives
Do you want to generate more content and traffic for your blog?
If yes, you need Ubersuggest, if you are tight on budget, you can choose one of the tools like Ubersuggest.
I am sure that there are more than 13 alternatives of Ubersuggest, but these are the best I have got for you.
Do not forget to share this post with your friends to let them know about the substitute.
What is your favorite keyword research tool?
Am I missing any tool like Ubersuggest?
Leave your answer in the comment section.
What's Next
My Response is on My Own Website
Arsalan Rauf is an entrepreneur, freelancer, creative writer, and also a fountainhead of Green Hat Expert. Additionally, he is also an eminent researcher of Blogging, SEO, Internet Marketing, Social Media, premium accounts, codes, links, tips and tricks, etc.