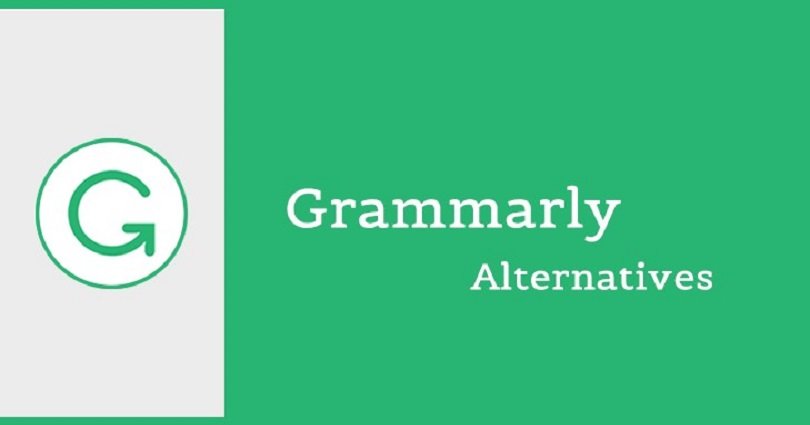 Do you know that grammatical mistakes can affect your website ranking, popularity, and your personality?
Although minor mistakes are negligible but writing error free articles should be in your extreme efforts.
If you are a non-native English speaker, identifying and correcting the grammatical errors is a hard nut to crack unless getting the help of others.
Most people depend on the MS office, but it is only useful for spelling mistakes not for grammatical and other faults while Grammarly is an advanced tool with plenty of features. But it's costly plans may force you to find a Grammarly alternative.
You may also like to read: Best WordPress Hosting Providers
Before we begin, you should know that Grammarly enables you to choose between British/American English, check plagiarism, offers several writing styles, suggestions for vocabulary enrichment, find grammar & punctuation mistakes and much more.
Why Grammarly is Better Than Others?
Grammarly is one of the advanced, modern, ideal and perfect tools which have multiple functionalities at one place and right now, there is not a single tool good enough in the market to conquer it. Though there are plenty of services, Grammarly's advanced algorithm acts like a charm and recommend all the possible mistakes within a few seconds after examining the content. So, give it a TRY again and get 7-day FREE trial.
It gets rid of grammar, spelling, and punctuation errors.
It recommends related words for commonly used phrases/words to enhance vocabulary.
Instantly checks plagiarism to keep you away from duplicate content.
Helps you to improve sentence structure with examples.
So whatever the reason for searching the alternatives to Grammarly, whether it is the cost or the quality or something else here I am going to give you the list of the top 20 best Grammarly alternatives.
20 Best Grammarly Alternatives in 2023
1. ProWritingAid (Free & Paid)
ProWritingAid is an awesome Grammarly alternative when your primary concern is the cost. It is replete with features which is available in both free and premium versions. You can integrate it into your browser with ease so that to analyze the errors in the text when typing in Gmail, WordPress, Facebook, and Twitter, etc. In addition, it easily can be incorporated with MS Office and Google Docs. For developers, they also offer API access so that developers can add it in their app. There is no desktop app for free users.
Like Grammarly, they offer a number of writing styles including general, business and academic, blog post, etc. You can choose from the US, UK, and general English language style. Using ProWritingAid is easy and simple. After installing the extension, you will see a small icon that occurs whenever you are in the text editor of any website. Now just move your mouse cursor over the icon and choose the option whatever you want to test like grammar, overused words, style, clichés, and Redundancies, etc.
If you do not want to perform any installation then just go to Pro Writing Aid and sign up. What makes this tool a close alternative to Grammarly is that it can do 25 types of tests on your text such as sentence structure, grammar, pronouns & length, transition and vague words and so on. Their writing style feature is very helpful that revising the words and improving the readability level.
Thesaurus option highlights the words and by moving the mouse cursor you can choose from the list of alternative words. The tool is available at very cheap rates and just cost $50 for a yearly subscription. In addition, if you need lifetime subscription then it is available in just $175.
The plans are available with 14 days money back guarantee. They do not have any translator, but in my opinion generally, it's not considered an essential component in a proofreading tool. Although they give plagiarism checker as well but it will cost you some additional amount. ProWritingAid is an awesome tool with plenty of features and surely worth your money.
2. WhiteSmoke (Paid)
WhiteSmoke is another very useful English writing and proofreading tool. It highlights the grammar as well as punctuation, spell checking and writing style recommendations. It is available for all type of devices such as Windows, Mac, web browsers, iOS, and Android platforms. The software consists of more than 100 writing templates including Condolences, Resumes, Thank you, Reports and cover letters and many more.
WhiteSmoke translator is constructed on the Statistical Machine Translation and displays the translation with the highest probability of being accurate. They support more or less 55 languages. The program indicates the words, and by hovering your mouse cursor, you can see the recommendations and suggestions for grammar and punctuation. It checks the 16 areas of the sentence including Tense, Fragments, Incorrect Punctuation and Dangling Modifiers, etc.
The tool gives an explanation that why the word is being highlighted and also give the example on how to deal with that word. It also gives a vast list of thesaurus which is perfect for building up the vocabulary and finding the alternative word which is used plenty of times in your content. In addition, it also defines the selected word.
WhiteSmoke also allows the user to find out that if the text is plagiarized or not. This is very effective if you hire some online writers for your site. The company developed an add-on which enables the users while writing in MS Office, Outlook, or other text editing boxes. WhiteSmoke marks the mistakes by Red (for misspell) and green (for grammar) and gray (for repetition) of words.
Additionally, they also give video learning tutorials related to prepositions, noun, pronouns, auxiliary verbs, etc which is one of the cool things. To get any kind of help, you can Call or send them an email. The price of Whitesmoke is $6.66/month for "Essential" plan and $10/month for "Premium".
The company has 48-hour refund policy for plans which are valid for less than 31 days while the other plans have 31 days full refund policy. WhiteSmoke is a magnificent tool for English writing solution, but they only offer 4 days trial which is also not enough. In my opinion, Ginger is more compatible in terms of usability and reliability as compared with Whitesmoke.
3. Ginger (Free & Paid)
Ginger is another quite majestic tool for the bloggers, students and teachers, because of its efficient outcomes. Ginger provides features at greater convenience and it is available for Windows, iOS, Android, Google Chrome, Safari and Mac platforms. You can use this proofreading tool while typing in the editing boxes including WordPress or simply go to their website and paste the document. It even helps you when you use the search bar of the websites such as YouTube.
Ginger detects the grammatical errors instantly and highlights them. When you move the mouse over the highlighted word, then it will give the suggestion for correction. And if you want to approve all recommendations at once then just click on "Approve all" to do it. Like the Grammarly, in Ginger, you have the option to either select British or the American English.
Ginger also translates your content into 40 languages such as Chinese, French, Urdu, Hindi, Arabic and Russian. In addition, you can search the definition of your words using the dictionary and rephrase your sentences for the variety of structure. Additionally, you can also build a personal dictionary so that the program did not show grammatical errors for those words when you use them next time. Text reader is another unique Ginger feature which is helpful for learning pronunciation, but this feature is available only in the premium version.
It offers two versions including free and premium. In the free version, you will not be able to access some features like errors analysis report, text reader and unlimited grammar checking. I recommend that you should install its browser extension instead of using their site. It is due to the fact that it will analyze limited words when you use their site.
If you compare it with Grammarly, Grammarly costs you 11.66$ per month while Ginger costs 7.49$ per month (40% less amount). Ginger is one of the best alternatives to Grammarly for Mac and other users but it is devoid of plagiarism tool which can help you to avoid duplicate content. In addition, when you use their definition or synonyms feature, it will open in a new tab instead of opening it in the same tab. It is an irritating factor.
Jetpack is a WordPress plugin that is another alternative to Grammarly. If you are a user of WordPress then you may have this plugin already. It is because it has additional features as well including improving your security, tracks your website traffic, free themes and so on. Proofreading feature of Jetpack works the same as after the deadline. For WordPress users or bloggers, it comes handy when you need a proofreading tool. The user can use it in the post editor instead of visiting any other site to check English after pasting your content.
After the installation of Jetpack, you will come across an icon of ABC . You can click on it after writing or pasting the content. It will begin scanning the errors and will mark the words in three colors; red, green and blue lines. The red line shows that your word is misspelled or misused; green displays the grammar mistakes while blue gives you the hint for writing styles. In addition, it also gives you an explanation for the mistakes.
You can do the configuration of Jetpack proofreading tool by visiting Users= Your Profile. Just tick the boxes of the features you want to use. The main features are detecting the overused, passive voice, complex and wordiness phrases.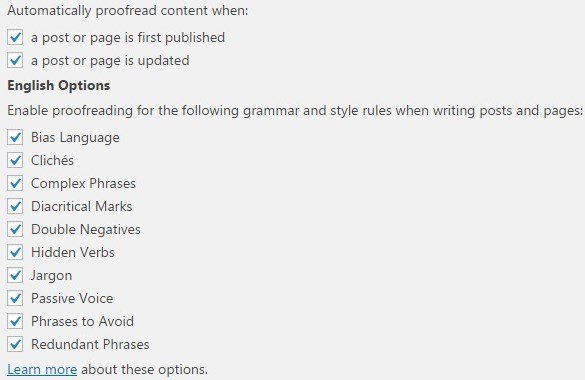 In addition, the tool has the ability to proofread the content or posts composed in English, German, Spanish, Portuguese and French.
It is simple to use and you can use all the features of proofreading without paying even a single cent. But it lacks some of the major features. You cannot write the personal dictionary, therefore, it will identify the misused words written other than English. Furthermore, it does now allow you to select from the US, UK and Canadian English styles. In my opinion, it is not as good as Grammarly or Ginger but it is a free tool that allows you to improve your writing skills.
PaperRater pays attention to computer algorithm which is known as Grendel. Currently, they do not have any desktop version or extension of this tool. You have to visit their Grammar Check and proofreader to put the text you want to check in the box and get the report. It will underline misspelled words and also underline the grammar errors. The below picture displays the features of PaperRater.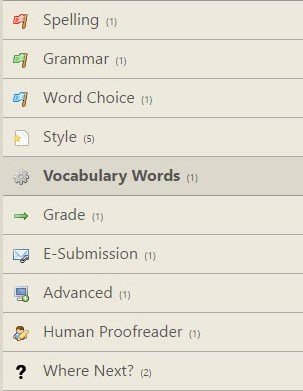 As you know that online publishers publish a lot of content every year. So it is necessary to publish the original data. PaperRater also has plagiarism checker like Grammarly. But the free version will show the percentage of plagiarized content. You cannot locate the unoriginal lines or content without getting the pain subscription. It is available with the proofreader tool which means you need to paste the text in plagiarism checker separately.
It also features Vocabulary builder. You need to enter the word in it and they will provide you the definition with many examples of sentences to get the gist of the word.
PaperRater is also like Grammarly but the free version consists of limitations. It does not allow you to import files and also limited to 5 pages. Additionally, their proofreader is also a bit complex. Their software is cheap for a premium subscription but it is not the ideal choice, therefore, you cannot rely on it.
Slick Write is another alternative to Grammarly and it is replete with features. First of all, you can write your content in their editor or just paste the text there. Now click the check from the sidebar. The tool will mention many elements from your paragraphs including passive voice, redundant sentences, adverbs, transition words and common starting words.
The cool feature of this Grammarly alternative is that it consists of plenty of integrated options. When you choose a word, a popup occurs at the bottom where you can find the relevant words, wordfinder (thesaurus) or the dictionary definition. In addition, it has Google and Wikipedia options to get additional information.
Readability is another important factor in writing an article. If an article is difficult to read is useless for readers or information seekers. Slick Writer sentence structure feature enables you to increase the readability of your content. It will display the complex and lengthy sentences. As a content writer, you may know about Flow. SlickWrite offers graphical details about sentence length, word length, and structural flow so that the user can alter the flow rate with ease.
You can configure it within a few seconds, just go to the settings and tick/check the boxes for what type of issues you want to identify in your content. The best feature of this web-based proofreading software is its statistics. It provides an in-depth analysis of your article with the addition of statistics of words and phrases. Currently, they do not have any premium version or premium plan, so you can enjoy it free of cost.
It is an awesome tool that has plenty of rules which you can enable or disable according to your choice. But it is lacking convenience. Grammarly allows you to do one click correction where you need to click on the suggestion for correction. It means that Slick Write is ideal for only detecting errors. If you are not a native English speaker, I recommend you use a correction tool like Grammarly that provides easiness for correction.
Read more:
When you go through the list of the best 10 alternatives to Grammarly, 1Checker is also there due to its flexible nature. It offers an online version and also Windows version that allows you to install it on your Windows or Mac. It can be integrated with Microsoft Word and Outlook. 1Checker acts on the natural language processing system which is a mixture of artificial language and computer science.
When you hit the "Review", it will display the stats with percentages of spelling, grammar and other mistakes. This tool simply highlights the errors and provides the tips below words. Furthermore, it also shows the explanation of the flagged words available on the sidebar. If you do not want to review the errors then click apply all and the automatic correction will apply.
1Checker also gives a number of templates related to communication and business. Just choose the template and fill in the blanks occur at the left side. They will generate a fine copy of the document automatically. It also has the translator powered by Google and Bing which allows you to translate the words and phrases quickly.
1Checker is free of cost like Grammarly free version to find the basic errors. It will help you to avoid wordiness, structural changes and spelling errors. In a nutshell, it is a worthy software because it costs you nothing.
Online Correction is another Grammarly alternative that saves you from the embarrassment of spelling and grammatical mistakes. It analyzes the articles carefully and finds out the mistakes. Wrong words are available in different colors, therefore, making corrections is an easy task. The tool also gives the suggested words.
OnlineCorrection finds style, grammar, spelling, duplication of words and punctuation in your content. It means that you cannot find the originality of the content. In addition, they do not have a premium version of this tool as well.
Apart from the English correction feature, it is also available in multiple languages which is an additional feature of this tool. This software will proofread any content written in French, German, Italian, Spanish, Portuguese, Polish and Russian.
It is also simple to use to proofread your content before you publish or present it to anyone. It can be a significant option if you are looking for free Grammarly alternatives in 2023. In addition, it does not require any sign up process as well.
The main focus of this tool is on increasing the readability of the post. It offers an online version and desktop version app. In order to use the desktop version, you need to pay 19.99$. Furthermore, it can be used in WordPress too. They also provide the readability grade.
When you paste the text, this tool highlights the phrases with the help of different colors. Hemingway also tells you which sentence is difficult to read and also gives you recommendations to simplify the words. It also has plenty of options including bold, headings, italic, bullets and links inserting etc. Unlike Grammarly editor which does not allow you to insert the links even if you paste the text with links.
The tool also indicates the passive voice from the content. In my opinion, Hemingway is not an ideal tool for grammatical problems/errors.
Although, it helps you to increase the readability of your content. So I recommend that first, you use an advanced tool like Grammarly to get rid of grammatical errors and then pass the content through Hemingway. In this way, it will get rid of grammatical mistakes and also be written in a way that is easy to read.
If you are looking for Grammarly alternative which is web-based then Reverso is your choice. Reverso has a Chrome extension for chrome users but they do not have a desktop, Android or iOS application. To use the online version, you need to go to Reverso and paste the content. This tool may not find the advanced mistakes but good for finding basic errors.
So what makes it similar to Grammarly?
It contains conjugate, dictionary and synonyms options. To use these options, you need to select the text and then select the option. It is good for you if you do not want to open websites to search the synonyms and definition of the specific words.
Reverso supports multiple languages like OnlineCorrection that means it can translate your content into any language which they support including Russian, Arabic, French and German etc. If you want to polish your grammar skills then you need to go through their well-organized knowledge base where they have guide about tenses, verbs, adverbs, prepositions, articles, and so on. They also cover many topics on French Grammar rules as well.
You must install their Chrome extension in your Google Chrome if you face language problems while reading the content. After the installation of extension, double click on the words written on any web page in order to translate them into 11 different languages. In the same way, you can translate the sentences.
In my personal experience, Reverso can be used for making a variety of sentences but for proofreading it is not an ideal choice. In addition, there is another problem with this tool that it can only check 600 characters. So if you are facing the language differences then you can use it.
11. Grammar Check (Free)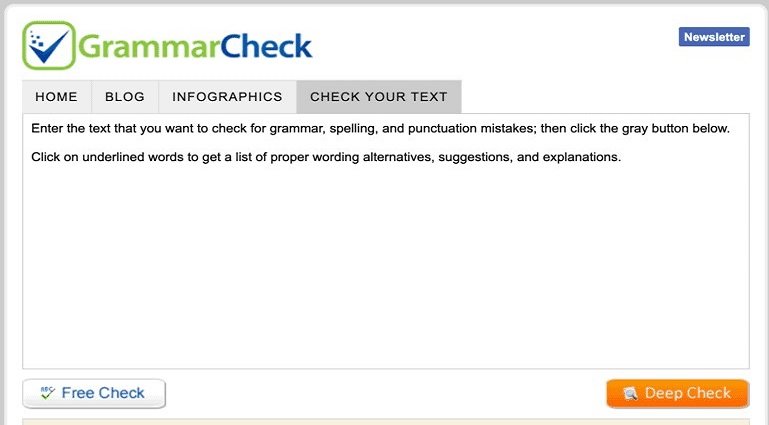 This is another tool that is one of the sites like Grammarly and it allows you to type the text in the editor and the free check button is available to get started. After pressing the button, you can see the grammar and spelling errors in your writing.
Features of Grammar Check
Free to use.
Very straightforward and easy to use.
Best Suited for: Students.
Pricing: Free.
URL to Visit: https://www.grammarcheck.net/
12. Writer (Free and Premium)
Writer is powered by an AI and it is similar to Grammarly, it gives you access to it as an online editor and the chrome extension is also available for it. This tool gets rid of spelling and grammatical errors in your writings and also gives solutions to correct them. It provides synonyms in order to add clarity to your piece of content.
In addition, if your team consists of large number of writers, it also makes sure to provide the same writing style.
Notably, it also has a plagiarism checker to make sure your content is not copied or plagiarized, the enterprise plan only has this facility.
Features of Writer
Word processor and editing tool
Grammar and spell-checker
Style guides
Chrome extension is available. Also, Google Docs
Pricing
Grammar check tool of Writer can be used free of cost, it enables you to catch the grammar and typing mistakes. It also gives suggestions to improve your writing aka content. you can purchase the starter plan at $11 per month, per person, you can save more money if you go for the yearly subscription, $99 per year. The premium account comes with premium feature and gives more insights as compared with the free version. The enterprise plan is ideal for team work.
URL to visit: https://writer.com/grammar-checker/
13. AutoCrit (Freemium)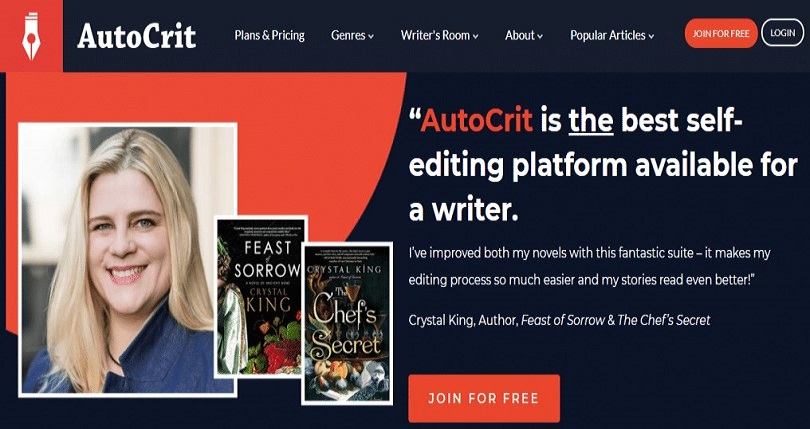 It is designed for writers who write novels and books. Therefore, it provides useful suggestions for improving word choice, dialogue and pacing, and very important one, style checker.
This tool has the ability to consider things such as variations and repetitiveness in sentence length, how many times characters exclaimed or waved or said anything. It focuses on literary expressions, gives you alternatives, how you can come up with amazing writings that can work well against bestsellers.
In a nutshell, it is a creative writing tool but it cannot identify the passive voice like Grammarly, but it is worth mentioning for professional writers.
Features of AutoCrit
Improves the writing style
Get rid of spelling and punctuation mistakes
Compare your book against bestsellers or niche related people
Pricing
It can be used free of cost, the text limit is not available on online application and the online editor checks the repetition, adverbs and readability level of your text. The price of paid plan is $30 per month and the annual plan costs $297 a year. The pro AutoCrit plan offers free recommendations for improvements, vocabulary suggestions are also available.
URL to Visit: https://www.autocrit.com
14. Writefull (Free and Paid)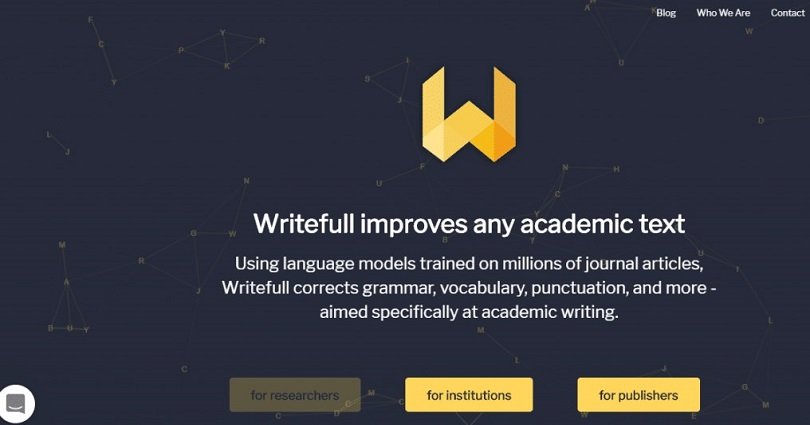 Writefull offers improvements in academic text, the language it uses designed from a number of journal articles to deliver grammatically correct, and clear pieces of content. Additionally, it also helps you to improve the readability level. If you want to write an article in another language, this tool has language translation capabilities too.
It is a software that can be used as a keyboard shortcut and compatible with most word processing and email apps. Unluckily, currently, it is not available on a mobile yet keeping in view the usage of androids, it has limits. It will be beneficial if they would have a mobile version to help the people to translate the foreign language.
Features of WriteFull
An ideal application for academics only
Filled with impressive language library
Compatible with Word and Overleaf
Pricing
It offers a free plan for the users to test it. The premium and individual plan of Writefull are also offered by them, the individual plan costs $15.37 per month and drops to $5.46 when you choose the annual plan instead of monthly plan. The institutional plan is more costly.
URL to Visit: https://writefull.com
15. Readable (Free and Premium)
It is a tool that shows the writers how easy is your content to read. It is a mixture of Flesch Reading Ease algorithm, Lensear-Write formula and CEFR to improve the readability.
There are a number of ways to make your text readable including importing the documents, pasting the content in the text area and scan the entire web page etc. There is no downloading requires for this grammarly alternative as it is web based. It can also identify grammatical errors with its advanced algorithm.
However, it also have some cons, firstly, it does not allow you to save multiple versions of your content. You need to copy-paste these versions into separated word processor or text documents, it does not come with file-sharing feature.
The free version of this tool is sufficient for you if you are a blogger or copywriter, it will make the text more readable. There is no reason you should pay for its limited features.
Features of Readable
Can work with all devices
Lacks the functionality of grammar tools
Pricing
The amateur and professional writer can get access to it using $4 per month to create a good piece of content.
URL to Visit: https://readable.com
16. Sapling (Freemium)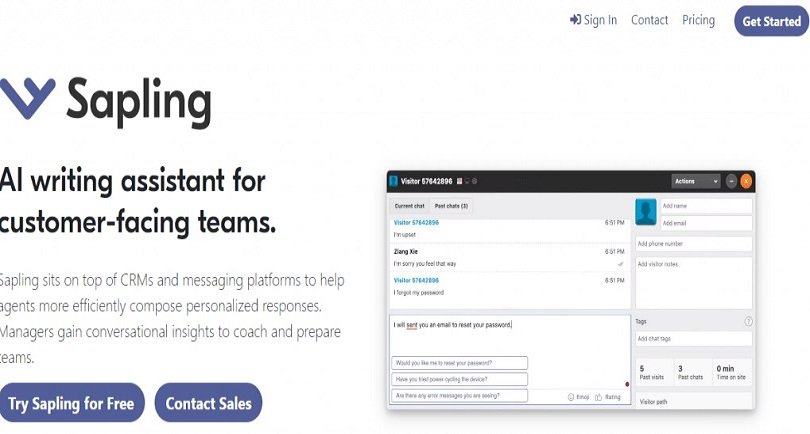 It is an AI writing assistant that is designed for the sake of customer support or sales teams. It enables them to compose better emails, social media posts and so on.
The artificial intelligence supported by this tool allows it to correct the grammatical errors as well as spelling errors to make the sentence correct. The more you use it, the more it learns about the writing style you type in.
It has an extension that is compatible with different web browsers especially Google Chrome and Firefox. It can be a suitable tool for email and chats but it is not good when it comes to write blog posts.
Features of Sapling
It is designed with AI
Catches spelling and grammatical mistakes
Pricing
`Sapling contains three plans including free, pro and enterprise plan. The free one is available to test it and the pro plan costs $25 per month, enterprise plan is available for team purpose. Additional features are added to this tool in the paid plans.
URL to Visit: https://sapling.ai
17. Sentence Checkup (Free)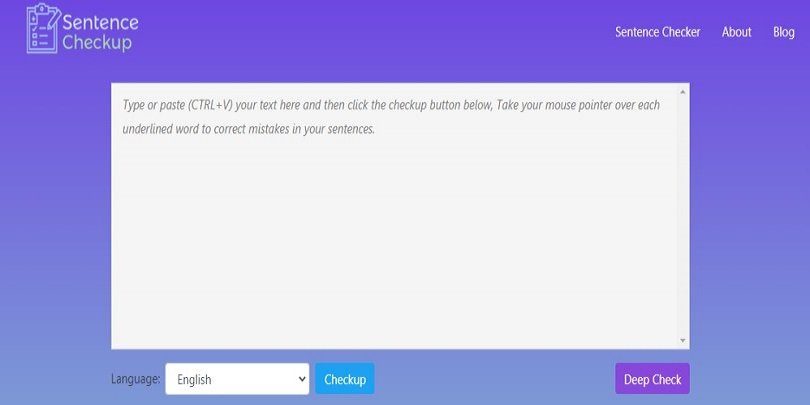 Sentence Checkup does not need any installation and downloading, it only has a text box, a dropdown menu for your content, with a checkup button to analyze the content in a few seconds.
It also detects the run-on sentences and improves the readability level of the content with suggestions to improve the sentence. Spelling mistakes can also be identified.
Unluckily, it does not have an offline version and does not have mobile version as well, to access the tool, you need an internet connection and a PC or laptop.
Features of Sentence Checkup
It's free and an online tool
URL to Visit: https://sentencecheckup.com
This tool is based on open-source language technology in which the help is done through artificial intelligence to eradicate the errors from the writings and come up with smart recommendations.
Features of Tool
Contextual Spell Checking
Advanced Style Checking
Intelligent Grammar Checking
Good
It enables you to write better
Can be used for personal work
Available for WordPress for blogging
Not Good
It is another grammar checker to help you so you can compose your work in a better way.
This online tutor has the ability to check spellings, grammar, count words, paraphrase, punctuation check, vocabulary and sentence check and so on.
Features of Virtual Writing Tutor
Speech Recognition
Text to Speech
Download your text in MP3 format
Download content as a document file
Essay Tests and checker
IELTS speaking and writing exam preparation
Paraphrase checker
Good
The interface is very easy to use, type, speak or copy-paste the text and you are good to get started.
Free of cost
Free Membership
Not Good
Plagiarism checker is not included
Spell Check 24 is another useful online free site that functions as Grammarly. It helps you to check the spellings, grammar and advanced style checking etc. The tool covers more than 20 languages around the world to check your text.
Spell Check 24 Features
Spell checking
Grammar checking
Analyze Readability
Analyze Word density
Filler word analysis
Good
Text can be saved to cloud
Text can be used to create PDF
Not Good Annoying ads
Conclusion
To conclude this topic, in my opinion, ProWritingAid and WhiteSmoke are the best Grammarly Alternatives in 2023.
But personally, I recommend you Grammarly because I am personally using it. It is the most advanced tool which can detect more than 400 grammatical mistakes and also improves your vocabulary. Additionally, the user interface of Grammarly is the most friendly as compared with any other tool in the industry.
Am I missing any Grammarly Alternative?
If yes, do not hesitate to share it in the comment section and also let me know about your tool to correct your errors/mistakes.
Arsalan Rauf is an entrepreneur, freelancer, creative writer, and also a fountainhead of Green Hat Expert. Additionally, he is also an eminent researcher of Blogging, SEO, Internet Marketing, Social Media, premium accounts, codes, links, tips and tricks, etc.