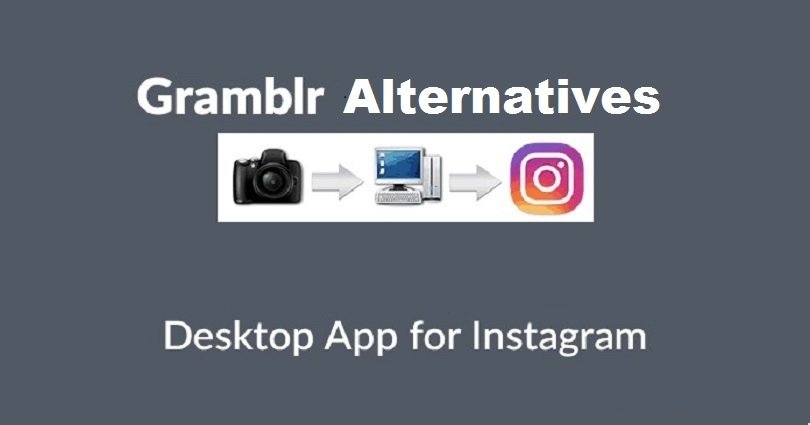 Gramblr is not working now. So that is why I am writing this guide.
If you are looking for alternatives to Gramblr, you are in the right place.
What is Gramblr?
Gramblr is a desktop software that allows you to upload images/pictures and videos to your Instagram account. In order to perform this task, you do not require an android application.
It came into existence in 2008 and it supports the windows operating system and Mac. So Gramblr is currently unavailable, which is why you are finding alternatives.
The tool was providing free Instagram likes free of cost.
12 Best Gramblr Alternatives That Work in 2023
Flume is the best alternative to Gramblr. It brings the world of Instagram to your desktop computer. The pro version of this app allows you to upload videos and photos directly.
Features of Flume:
Offers multiple accounts: Add as many accounts as you want
Insights and promotions: The user can see the stats of followers and posts if he/she is using Instagram business profile.
Direct messaging
Activity: The user can see the latest activities by getting desktop notifications
Photo focus
Better search
Explore popular content
Translations for international followers
Available in 25+ languages
It is the top marketing platform for Instagram. This is a simple way to plan, schedule and analyzes your visual marketing on Instagram, Twitter, Pinterest and Facebook.
Features of Later:
Plan posts of the whole week within 20 minutes.
Visual content calendar.
Plan your feed with drag and drop.
Auto publishes features is available for business profiles of Instagram.
It is 100% safe.
Instagram partner.
Import media from anywhere including Google drive and Dropbox etc.
Search and find your content in a jiffy.
Switch Instagram accounts with ease.
Analyze content performance.
3. Grum
It is another site to manage your social media account that is, Instagram from the web. This site will help you to post your Instagram posts from your PC/computer or Laptop. It is a freemium tool that offers free as well as paid/premium version.
It requires a registration process to use this service.
How to register an account?
Click here to reach the registration process.
Enter email and password.
You need a coupon code to sign up for this website.
Grum Coupon Codes
3 days free Trial Coupon code for Grum
Use it as another Gramblr for Instagram and schedule Instagram posts from a computer. You can use this tool for Mac to upload photos and videos.
Features of GetUplet:
Upload directly to Instagram
Bulk Instagram uploader
Upload multiple high resolution photos
Edit pictures
It is a free Gramblr alternative as well as it is a Google Chrome extension. It allows the users to upload photos and create posts directly from computer that is why it's name is Desktop for Instagram.
Features of Desktop for Instagram:
Upload photo from your PC
Full screen mode is available
Play Instagram videos in full screen
No download limitations
It is trusted by 49,000+ users
It is another site like Gramblr that allows you to schedule your Instagram posts. It is also available in free and paid versions. The user has to schedule the post and they will take care of the rest.
Features of Postedo:
Less time spent on repetitive work
Organized in one place
It adds the first comment automatically after posting the photo
Everything is secured
Shows photo in a grid
No annoying reminders
User interface is friendly
Offers first hand help
It is another freemium alternative to boost your organic growth of Instagram. This tool handles your activities to increase your impact on social media. In addition, it also offers auto-like, auto-follow, auto-unfollow, auto-viewing stories and auto-comment features.
Features of IGAssistant:
Audience targeting to target the users who may like your content
Complete automation
Safe to use
No download is required
3 days free trial
24/7 customer services
Can manage Unlimited accounts
You can manage your activities anytime and anywhere
8. AiSchedul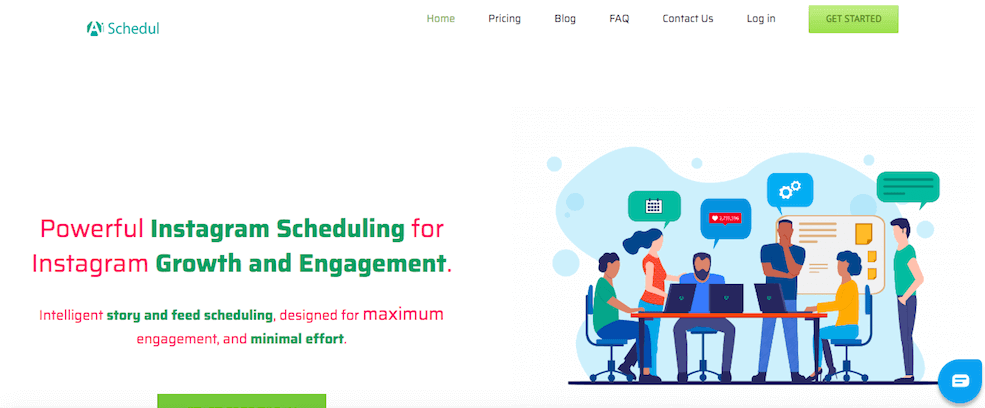 It is another free app that allows you to upload images on your Instagram. The app is capable of creating highly engaging and astonishing Instagram stories with minimum work.
Features of AiSchedul:
You can schedule many Insta posts and for days and Weeks to come.
It also features posting on multiple accounts with a common platform.
The name itself indicates the scheduler, you can schedule and repost your stories in an easy and effortless manner.
It also helps you to tag people, along with Geo-Tags support.
The tool is designed with an advanced feature of Hashtag that searches hashtags, it can be used to engage yourself with others.
Lastly, It also supports automated replies to the comments on your Instagram account.
AiShedul is replete with features that altar Gramblr, so it is another handpicked choice by us.
Website to access this app: aischedul.com
9. Ramme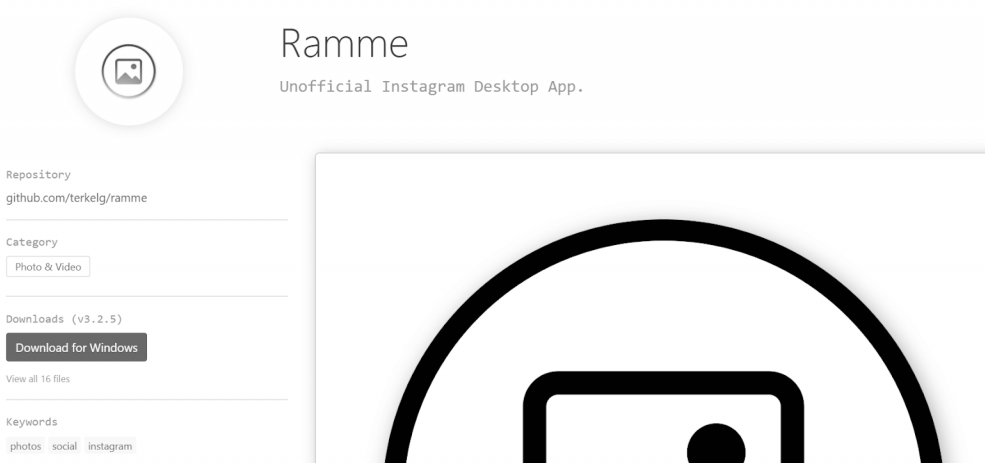 It is another top-notch Gramblr alternative, this lightweight app is beneficial for those people who do not want to compromise the quality of the image.
Features of Ramme:
It is an ideal choice for influencers who can't afford to compromise the image quality
Ramme is replete with features that serve multiple purposes including upload images, creating Insta stories, sending direct messages, and so on.
It is a user-friendly tool that makes it easy to use.
The tool is not heavy, so you cannot be disturbed by using this Gramblr alternative for windows.
It is the matter of seconds to upload images by using it, just simply click on the "-" sign and start using it.
Download from this URL: https://www.softpedia.com/get/Internet/Other-Internet-Related/Ramme.shtml
10. Deskgram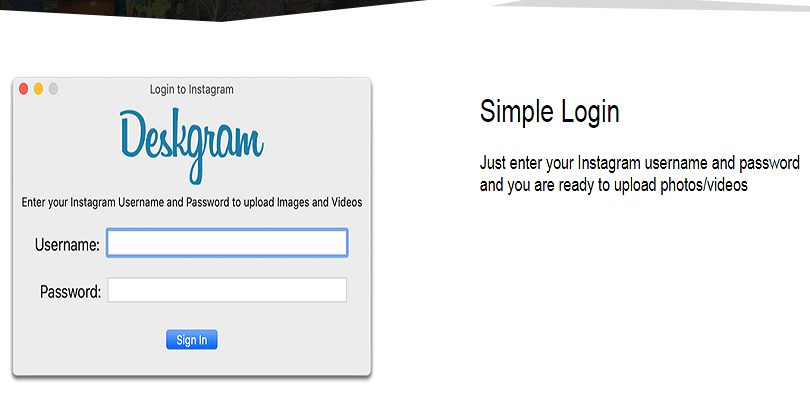 Deskgram is another growing app that can allow you to upload videos as well as photos from computer and Mac operating systems.
Features of Deskgram
You can promote your brand by uploading high quality photos
There is no installation require to use it
Drag and drop feature to make it easy to use
Hash tag feature to use in your posts
Simple login interface that needs your username and password and you are good
Access Deskgram: Deskgram.co
11. Windows Instagram App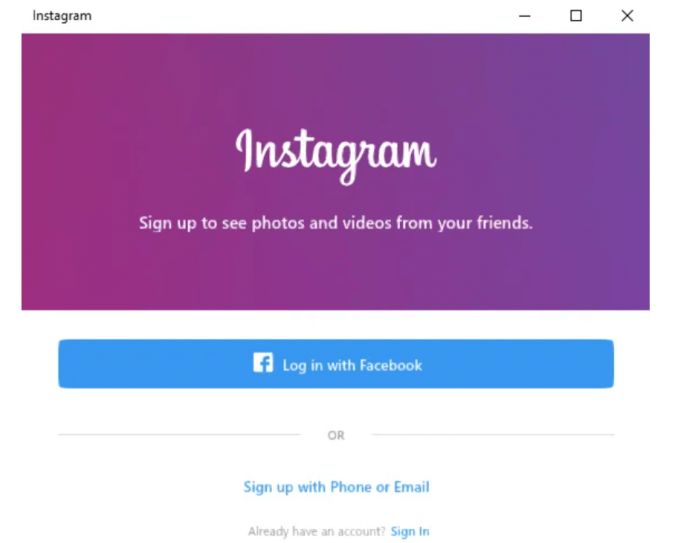 If you are using Windows 10, there is a great chance that you are due to updates, you can access this Gramblr like tool. Microsoft store allows you to download free of cost from its store and it is also lightweight.
Features Of Windows Instagram App:
Windows Instagram application gives you access to your messages directly, you can also view recent likes
Adding images to your Instagram account is child's play for you, directly from your PC, you can upload it. Just right-click on the App icon and choose the New Post option to upload.
You can use desktop camera to get a picture or from photo gallery to upload the picture
12. BlueStacks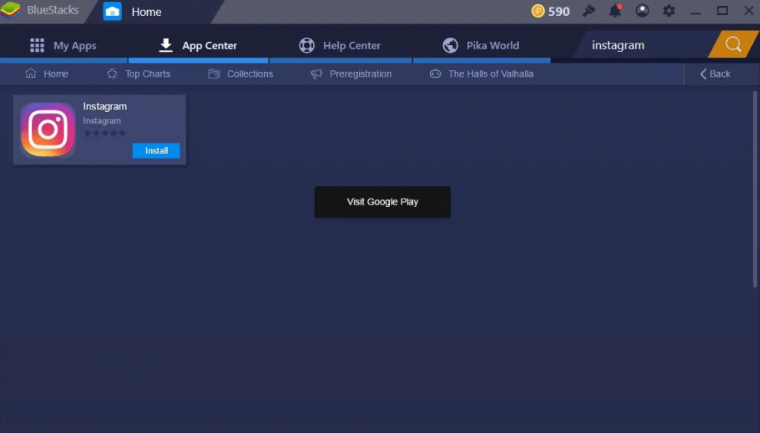 Do you use Bluestacks on your PC or Windows? If yes, it can also be used to promote your Instagram posts. It is compatible with Mac and PC/Laptop, you can download it free of cost. Sign up to create an account and start using your Instagram account without any inconvenience.
Final Words
I hope that I have listed all the Gramblr alternatives to date. Gramblr is not working, it may be possible that they have shut it down. So this is a list where you can find sites like Gramblr to post Instagram stories on PC. If you are having Gramblr 404 not found error, then you can use these tools.
If you liked the post, do not forget to share it with others.
Further Reading
How to Find People On Instagram
Tips to See Private Instagram Without Following
Tricks to Create Unlimited Instagram Accounts
Arsalan Rauf is an entrepreneur, freelancer, creative writer, and also a fountainhead of Green Hat Expert. Additionally, he is also an eminent researcher of Blogging, SEO, Internet Marketing, Social Media, premium accounts, codes, links, tips and tricks, etc.