The web browser can be used to download private YouTube videos. This is the safest way to download video directly from the server of YouTube. It is fast and secure method.
The best part is a web browser is a tool that is easily available to download videos from YouTube. You do not need an additional add-on or software to get the job done. Furthermore, this free web browser will also save you from annoying ads. If you can watch the private YouTube video, whether it is your own video or someone else's, you can try the below methods to download private videos on YouTube.
METHOD 1: DOWNLOAD PRIVATE YOUTUBE VIDEO USING DEVELOPER TOOLS
All of the internet browsers that contains a network developer tools will do it. However, the Google Chrome browser will not allow you to download YouTube videos from the platform. It is a hard nut to crack to find a Chrome Extension that downloads videos from YouTube as well. Therefore, I suggest you use Firefox.
The first main thing to consider is that you have the access to watch the private YouTube video. Once you get access to the video or the owner gives you permission, you can follow the below steps to download it.
Step 1: Firstly, open the private YouTube video watch page, then right click and select inspect element.
Step 2: Click on network and then choose Media under the network tool in the developer tools. After doing it, you will come across only the HTTP requests made to media files such as audio and video files. If you do not see them refresh/reload the page.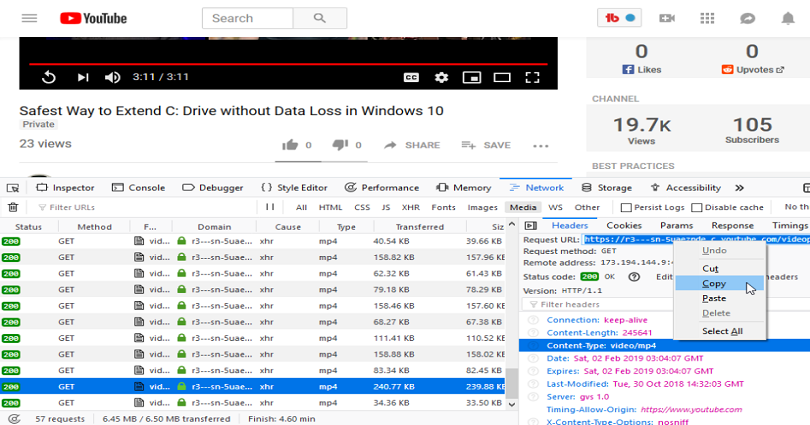 Step 3: You need to click on each link to see the content type, the content may show "audio/mp4" or "video/mp4" etc. To download the video, you need to find the link with "video/mp4" type of content.
Note: if You see the webm rather than MP4, you need to type "about:config" in the address bar and hit Enter. After pressing Enter, search for "webm" and locate "media.mediasource.webm.audio.enabled" and change its value to false.
Step 4: Copy and paste the link in the URL bar and remove the range parameter in the query string and hit Enter.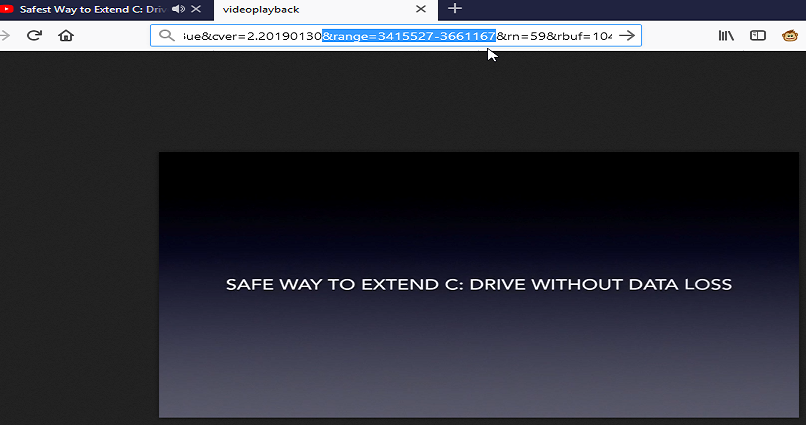 Step 5: When the audio or video load, right-click there and choose "Save As" to download private YouTube video.
When you will download it, the video will be without sound. To put the audio and video together, you need to use media editor for this purpose. If you want to download YouTube private videos with audio included, move on to the next method.
This method can be used to download any type of videos from YouTube such as copyright protected videos.
METHOD 2: HOW to DOWNLOAD UNLISTED YOUTUBE VIDEO WITH FIREFOX ADD-ON
Download Private Video on YouTube with Firefox Add-on
If you want to avoid the headache to put the video and audio together, you need to get a Firefox add-on that is, Video Downloader Professional. It is available on the Firefox browser because Google does not allow you to download videos from YouTube and restricts all the extensions from doing it.
You can save private YouTube videos with ease using this Firefox extension. You can simply go to the video of YouTube and click on the icon of this Firefox extension. It will display a few download options along with different video qualities. Select the desired video quality and download the video.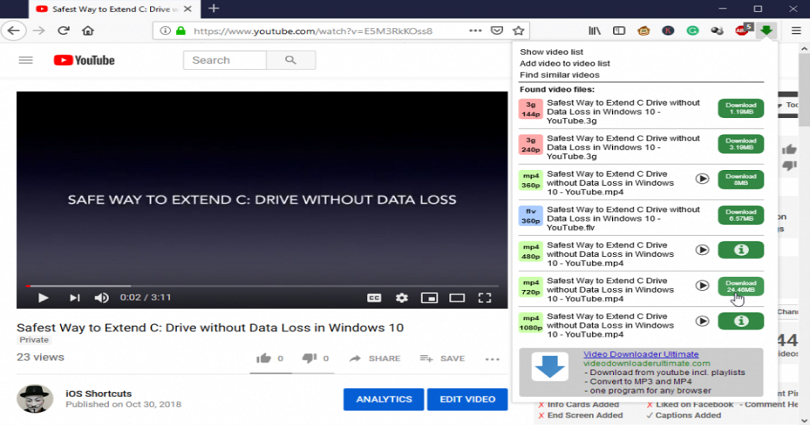 You may be familiar with the fact that YouTube saves audio and video separately and it can be of more than 1080p that is why this add-on will enable you to download videos of up to 720p.
METHOD 3: DOWNLOAD YOUTUBE PRIVATE VIDEOS IN 4K RESOLUTION
You may find a number of YouTube downloaders on the web to save the public YouTube videos, but a few only allow you to download private YouTube videos. 4K Video downloader is one of them that allows you to download private videos of others and from your own channel and other channels you have access to.
You need to follow these steps to download private YouTube videos to your PC/Computer:
1. First of all, download and install 4K video downloader
2. Follow these steps Click tools> Preferences from the menu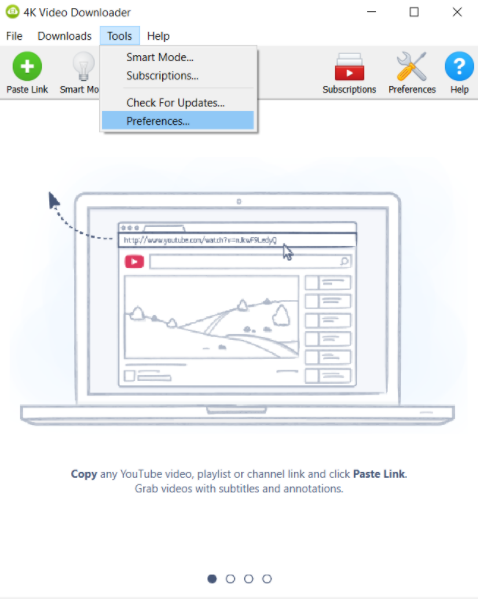 3. Now, click Log in.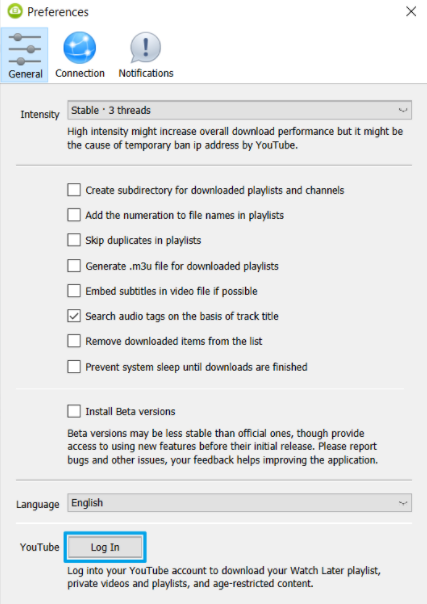 4. Enter your YouTube account details in an opened window
5. After logging in, you will come across "Logged as (your account name)" in the settings interface.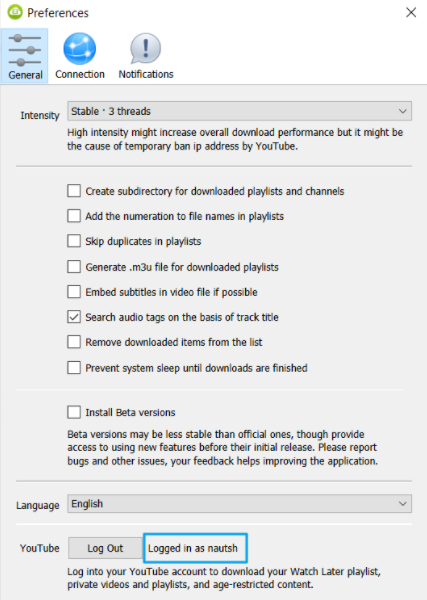 6. The next step is to copy the link of the private video you want to download, further, you can also watch the video in browser from your YouTube account.
7. Now, paste the link in a 4K video downloader.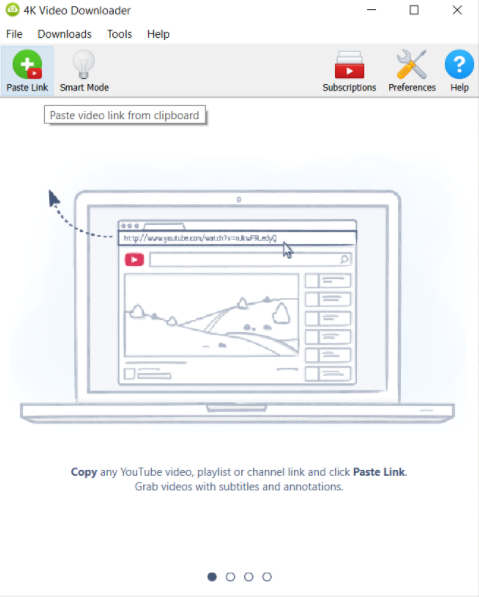 8. Now, choose the format and video quality as per your choice.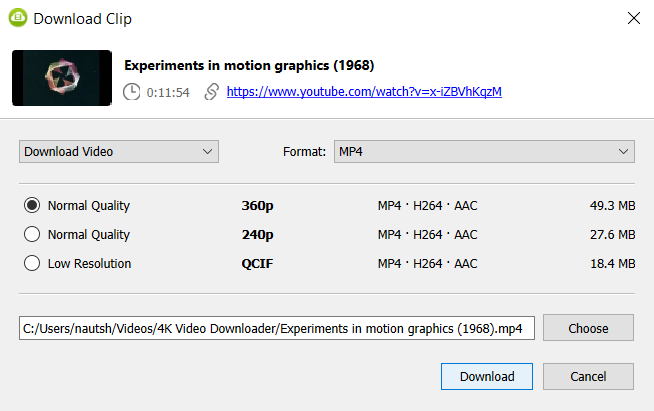 9. Finally, Click Download to download the video.
Conclusion
So that's it guys, now you have successfully learned how to download private videos from YouTube or unlisted videos. You can also use these methods to download YouTube music videos as well.
Further Reading
How to Watch Age Restricted YouTube videos without signing in
How to Watch Blocked YouTube Videos in My Country
How to Download Private Vimeo Videos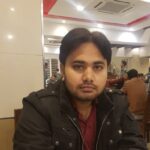 Arsalan Rauf is an entrepreneur, freelancer, creative writer, and also a fountainhead of Green Hat Expert. Additionally, he is also an eminent researcher of Blogging, SEO, Internet Marketing, Social Media, premium accounts tips and tricks, etc.