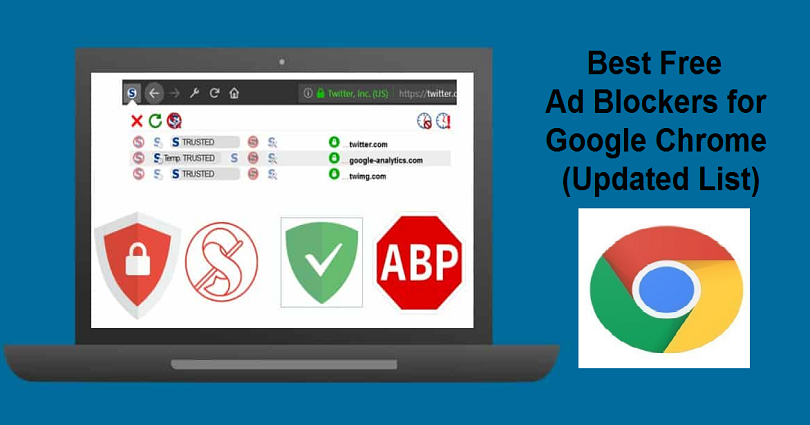 Ad blockers are chrome extensions that can allow you to hid ads on a web page. Everyone wants to get good user experience by browsing ad-free. You can access the content on the page with ease. Furthermore, you can get rid of fishing schemes, in a way you can also protect yourself by using the best ad blocker for chrome, people find adblock extensions for chrome because 310 million people are using it.
Here is a list of best ad blockers for Google chrome browser:
Free Ad Blockers for Chrome
1) AdBlock Plus
AdBlock Plus is one of the free ad blockers for chrome and it is also my favorite one. It can block the banner, pop up and video ads on your browser. This free pop up chrome extension blocks the trackers and protects you from rogues. Ad Block Plus is an open source code that you can change how you want it to be, this is an additional feature.

2) AdGuard
It is another ad blocker extension for chrome that is specially designed for this web browser, enable you to save yourself from tracking and fishing sites. AdGuard is a free adblock extension for chrome that has the ability to get rid of banners, pop ups and video ads on the browser. This tool can be used for multiple operating systems such as Windows, Mac, Android and iOS etc.

3) AdBlocker Ultimate
Adblocker ultimate blocks all the ads on your favorite browser Google chrome, after installing the extension to chrome, it will also block the tracking process too. The performance of the browser also improves with the help of this extension, this user experience facility makes it unique from other ad blockers for chrome in this list.

4) UBlock Origin
UBlock Origin is another open-source ad blocker for chrome-like AdBlock Plus that offers real-time ad blocking and content filtering. The tool helps you to disable or enable advertisement permanently whatever site you are browsing. UBlock is one of the free ad blockers for chrome that is designed with various filters such as privacy and protection.

5) Easy Ad Blocker
Easy Ad Blocker is one of the top ad blockers for chrome that blocks all the advertisements as soon as you install them. As it is an ad blocker extension for chrome so once you install it, it will not bother you and you can do your work easily. Easy Ad Blocker block all annoying banner, video ads, pop ups with ease. The installation of this tool will help you to navigate with ease and also save your bandwidth.

Related Read: Best Virtual Private Network for Chrome
6) Windscribe
Windscribe is the best adblock extension for Google Chrome to block ads, protect your geographical location and trackers on any site. It also blocks any unwanted content on the site. It offers privacy protection in digital world. It masks your IP address therefore, no one can track you and you can get access to any site. It kill two birds with one stone, serves as proxy and ad blocker.

7) Fair AdBlocker
This free adblock extension for chrome also block ads including search ads, Facebook ads, Google ads, and pop-ups. The extension also adds protection to your browser as well to avoid security threats, online tracking etc. The private browsing can be performed with the help of this plugin that will faster as well as secure. Furthermore, you can also allow ads on your desired websites by unblocking them.

8) Hola Ad Remover
Hola Ad Remover is an ideal extension to block ads on Google Chrome, it removes all the video and banner ads from your browsing experience. This tool also removes the risk of anonymous tracking for your safety.

9) Comodo AdBlocker
Comodo AdBlocker is another free ad blocker for chrome which is also open source like AdBlock Plus to get rid of advertisements. Comodo not only block the ads but also blocks the unwanted tracking. This way, it increases the speed of your computer and laptop because it prevents the power usage of CPU that is used by ads and cookies.

10) AdBlock
AdBlock is another Chrome Ad blocker that blocks pop ups and ads on YouTube, Twitter, Facebook and many other sites. You can select the sites you want to whitelist and you will start watching ads on that particular site. You will have to manually unblock the ads on that site because it blocks ads on every site by default. The tool is also available for iPhone users.

11) Ghostery
It is a privacy extension for chrome users to block irritating ads, get rid of trackers and speed up the websites you are browsing. It enables you to see the trackers on the sites so you will be able to control who collects your private information. It is one of the top free adblock extension for chrome to speed up the pages on the internet that comes with annoying ads. You can also get access to the relevant information without any problem.

12) Adblocker Global
Adblocker Global is another free advertisement blocker for chrome browser to get rid of annoying ads. It has the ability to analyze the ads available on the page and block them effectively. It will help you to hide the ads quickly and with ease without any additional effort, just install and it will get the job done for you.

13) Hulu Ad Blocker
Hulu Ad blocker is designed to block ads not only chrome but also on Hulu platform. This ad Blocker extension for chrome injects its code into the video player to avoid any kinds of ads that can disturb you. It can do it without any detection.

Related Read: Working ways to avoid Hulu Ads
14) Adblocker Professional
AdBlocker professional is a professional blocker of ads that stops the irritating ads, tracking and pop-ups on your web browser. This can help you to avoid news feed ads, side bar ads, banner ads from YouTube, Facebook and other sites that generate ads on their content. If you want to reinstate the ads on any web page or website, you can simply do it by turning off the extension.

Frequently Asked Questions
What is an Ad Blocker?
Ad Blocker is a software or extension that hides the ads available on any web page and only provides you the content. This tool can provide better user experience when they are ad free and you can read the content of the page without any disturbance.
Which is the Best Free Ad Blocker?
We have mentioned a number of best free ad blockers for chrome but my recommendations are AdBlock Plus, Fair Ad Blocker, AdGuard, AdBlock and Ublock.
That's it, I have listed all the free ad blockers for chrome in this list, am I missing any extension you want to add? Leave it in the comment section and share this post with others.
Arsalan Rauf is an entrepreneur, freelancer, creative writer, and also a fountainhead of Green Hat Expert. Additionally, he is also an eminent researcher of Blogging, SEO, Internet Marketing, Social Media, premium accounts, codes, links, tips and tricks, etc.