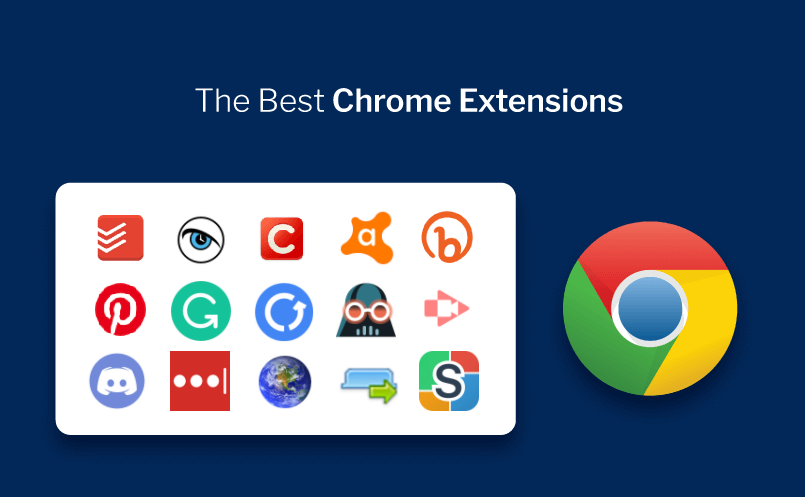 And you, The Internet, primarily, was a juncture of fun, but look now. Everyone is running in a race to be more productive, gather more audience, make a change, and earn more. Now, with changing times, if our methods stay adamant. It would lead to loss. So, here to talk about productivity, we have thought of a discussion upon extensions of Chrome. Which basically, in a spreading community, refers to the usability of chromium-based browsers. The internet store is loaded with a ton of browsers, given Microsoft Edge, Opera, Brave, Yandex, Firefox, and a lot of others.
However, when we talk about Best Chrome Extensions, some are just useful when you specifically use Google Chrome. Although Chromium browsers are best for the developers but with extensions mentioned below, you will be able to notch your internet game up, Muster Along. You can also install Chrome Extensions on android.
30 Best Chrome Extensions | A Comprehensive Guide
Stay Focused
The primary issue with the internet is that it is very vast. Now how is that a problem? Of course, because there is always something that might interest you. You sit down to finish an article or modify some sheets. But the other thing you know, it is fifty minutes, and you have jumped from Reddit to Twitter ninety-six times. You think of completing work, but all you ever do is get trapped into the design of the web. It's not your fault, but the spot can be managed.
Quickly, with Stay Focused, you can set a time limit for certain websites, and once you have reached the threshold, you will not be able to get back for the day. It is like a strict parent. But it's ironic we disliked the rules once, and now we have to depend on the robots to be tough with us. Stay Focused doesn't steal your data, passwords, your time spent, and it does not track your location. However, it uses Google Sync. Stay Focused is highly customizable and lets you block very specific in-website or in-page content as well.
Todoist
Imagine something telling you everything you need to accomplish each day. Do you know some people hire others just for the job-specific? However, you do not have to pay. Not at least for the chrome extension. There is the premium service as well, but we won't talk about it as this is just about chrome extensions.
With Todoist, you can save a blog, article, or page for later reading if you do not have the time at the time you visit it. Set deadlines and reminders, and get notified frequently and as moderately as you can handle. This extension clears up your mind because everything which you need to do is stored somewhere, so you focus on completion rather than worrying. It is available in 19 languages and is capable of organizing tasks according to the priority levels. With Todoist, you can share and end work reminders or notifications to others who work together or under, so it is a very productive tool.
Click & Clean
As the name suggests, this is a one-tap, clear-all tool. In Chrome, there are always a hundred tabs open, given you are someone like me, with the workload of sixty tons upon my cerebrum. Now to manage and clear the cookies every time I want to close chrome sounds very obnoxious. Sometimes there are websites and content I don't wish others to come across, ever.
So, with the Click & Clean chrome extension, it becomes an easy job, and when it's easy, I prefer to play cool. With one tap, there are various options. One allows an entire history clean, cookies clean, data clean. While other options let you save your login Infos and at the same time delete all the valuable cookies. Other things you can do with Click & Clean are preserving your browser history and clearing Flash cookies.
Avast Online Security
As most of the services, online which offer PC protection are premium and paid. Even Avast is a paid security provision, but it is premium when we have to consider all the features.
Fortunately, for online security, the fundamentals of download safety, internet protection, and in-browser security can easily be fulfilled with this easy chrome extension. This chrome extension, Avast Online Security, is entirely free and is usable on a single PC.
Bitly
When there are links to share, they must be recognizable to your audience. Although you can simply copy and paste the links as they are. But, that tactic is old and does not look content-friendly at all. With Bitly, you can simply open the extension, and the current link gets automatically copied to the clipboard.
The link connections become simple, very smooth, and short. If you get the premium update, then you can even add your own domain at the end of the links. If you think that the Bitly auto-link is generic, you can modify it too. Bitly is essential and helpful to bloggers when they have to create large copywriting full of sponsored links.
Pinterest Save Button
Pinterest is a well-known platform for sharing photos and engaging with them and the creations of artists, photographers, or anyone who wants to share something.
Pinterest Save button is the ultimate, secret Yoda for the designers and creators. It is full of inspiration and is also fun to just create a beautiful mood board. And to create a mood board or a collection of graphics that you might need later for reference, it becomes easy with the Pinterest Chrome extension.
Grammarly is the new, very adaptive, very graphical, and user-friendly proofreader for your writings. With Grammarly, you do not even have to open the app or the website if you have the chrome extension enabled.
You just have to keep writing on Docs, Mail, or anywhere wherever it requires text like WhatsApp web and other things. Grammarly will automatically correct your faults, punctuations, grammar, capitalization, synonym suggestion, and everything, whichever is required to make your writing perfect. Grammarly is free for everyone, which does all the basic and good jobs. But if you need more advanced insights, corrections, and SEO-friendly writing improvements, you must upgrade to the premium.
Growth Bar
If you are a blogger or own a website, maybe for internet-based business or marketing, you need to have a Growth Bar installed in your Chrome. Growth Bar is a very important tool for SEO research, learning, and practice. If you want your article to rank, you need to have a robust SEO score, which can only happen if everything is perfect and a bit of luck.
Instead, with Growth Bar, analyze your competitor's backlink and their paid keywords. Besides, Growth Bar utilizes OpenAI GPT-3, with which you can predict and keep track of your SEO performance. Ultimately, with Growth Bar, you can create content, which is not only good to read but also ranks and shows up early in the search results.
Dark Reader
It is an ad-free, open-source innovative extension for chromium-based browsers. As you must know that while working on screen, your eyes come in contact with a lot of blue rays. This blue light is mostly generated by the white, bright regions of the screen.
With Dark Reader, all the websites you visit will load up in dark themes. It does not matter if the site is made for a non-default dark theme. Dark Reader invents up the color scheme in the best possible way for your eyes. It uses sepia green, font settings, brightness, and contrast settings automatically. The dark Reader is a must to have chrome extension if you spend more than two hours daily in front of the computer screen.
Screencastify
One of the best video recorders for Chrome is Screencastify. You must know that for each basic editing and exporting job, you do not need to have after-effects or premiere pro installed in your system. Within your browser, whatever you do, can be recorded very easily with the extension for Chrome, screencastify.
You have the option to record and share just a webcam, just a tab, or your entire screen with screencastify. With screencastify installed as a chrome extension, your work gets saved to drive, which can be accessed or shared promptly. You can create valuable content for study or presentation with the tools like mouse spotlight or highlight the part of your video. Besides, you can directly share the content to YouTube. Moreover, you can easily export your content as GIF, MP4, and even MP3 as you can record/narrate with your voice and music while recording your screen.
Discord Desktop
An unofficial discord app/extension for Chrome that allows you to perform the basic discord functions with the browser. With discord, you can use voice and text as the medium of conversation, and it is possible with the chrome extension too.
Apart from working full screen, you can minimize the extension to make it look like a mobile version. This extension is very handy and light and works without taking any space; it is just 1.2 MB in size. This is best for gamers and collaborators.
Last Pass
The last Pass, chrome extension saves you the complexity of coming up with a robust password each time you sign-up. You know what's even more annoying, using 1234 at the end to make it easy to remember, but instead, the website mocks us by telling us it's too easy? Not anymore. Save all your auto-generated safe passwords in an encrypted vault, promptly under a master password to authenticate the Last Pass.
Fox Clocks
Fox Clocks is a very helpful chrome extension for people working from home. With clients and teams from different corners of the world, the time zone affects communication. Now know exactly what the date, time, and zone of the city of your wish is. Besides, get it easily mentioned at the bottom of the screen inside your chrome browser.
Tab Wrangler
Tab Wrangler is like a broom that decreases the cluster of your browser in a click. But its functionality is popular because when you use it, it does not directly make the tab disappear. If you wish to re-cluster with the same websites as opened earlier, you can have that with Tab Wrangler Chrome Extension. But do note the unsaved work or forms will be cleared off.
Stylish
Stylish is a powerful CSS theme generator for the websites you visit. Not all useful websites are equally aesthetic. Stylish makes them appear beautiful, modern, royal, or as you like it. Because even for big websites and video players, Stylish works the same. Moreover, if you are feeling creative, you can make your theme within and use it. Stylish chrome extension also enables dark mode for the websites which already don't.
Full Page Screen Capture
You can capture all of the pages with Alt+Shift+P once you have the Full Page Screen Capture Chrome extension added. Full Page Screen Capture makes it possible to save the full page and not just the visible part on your screen. If there are important divisions, Full Page Screen Capture segregates them too.
Loom
Loom is like email, which is not text, but video. With Loom Extension, you can connect or simply send and receive video messages from your clients, teammates, family, or friends. It is a more effective form of communication than video, and you have expressions and tone at hand.
Ginger
Ginger is the contextual proofreader who is better than other proofreaders. This chrome extension offers you a limited number of fully functional usability. After you reach the limit, some of the work becomes manual, but it still shows you what needs to be corrected.
Google Dictionary
As the name suggests, it easily lets you watch the definitions and meanings of the words you want to search while you surf the internet. It is useful for students, and people who are learning.
Google Translate
For some websites, which are of foreign regions, google gives you the option to translate the whole screen. It is useful, but who wants to reload the whole page. So, this extension, Google Translate, will only translate the part you select.
Auto-mute
I have always been insecure about the data my apps and websites collect without me even knowing it. Recently I came across a website, and it provided me the privilege to listen to SUS music I don't even click on. I don't want that, and it is embarrassing to suddenly blare the room with some unwanted sounds. So using this Auto-mute extension has helped me mute all the sites I visit, by default which can manually be turned on.
Bitmoji
Yes, the same from Snapchat. Now Botmoji is available as an extension for chrome. It is immediate and far better than other avatar services out there. So, now with all the apps, you have an easy extension to give your messages a face, your face.
Noisli
A very skilled modern need is background noises. To be precise, white noise cancels out the negative vibes of your workspace and makes you feel relaxed and focused. There is a whole science behind sound waves and their impact on different regions of the brain. I have tried it, and this helps a lot, I am unaware of how, but it does. The free version of Noisli is capable of playing more than 15 different sounds of calm and relaxation, but you can only play them for fifteen hours only.
SpeedTest By Ookla
Are Speed tests important? I have never performed a speed test out of necessity. But whenever I am feeling low, I go to Ookla and run this speed test. If nothing, it somehow makes me feel prouder. Well, of course, to be the bearer of fast-speed internet. It really helps. But for you it can be important, and if it then does it by the service which is correct, reliable and updated. So, Ookla Speedtest, as owned by PCMag, will give you the correct download and upload speed of your broadband connection.
Change Case
Whenever you write something and aren't sure that it's in the right format of capitalization, you do not have to run your eyes through each line of the thing you have typed. Your eyes will take time, pain and also the end result might still have some faults. Use Change Case for all your capitalization needs. It can convert a line or a whole text, upon selection, to the desired uppercase, lowercase, Title case, and sentence case as it is needed, within seconds.
Mighty Text
Look out! Working on your laptop while using the phone is not so professional. It looks bad, and it is so frustrating to keep looking at two screens on a single screen. Wait, nobody is asking you to keep your phone down. Well, put your phone down but have all that you were doing on your laptop screen. Yes, to save you the time and embarrassment of picking up the phone each time a text ding comes to the merger- Mighty Text. With the Mighty Text installed in your phone, receive all your texts, messages, images, videos, notifications in real-time on your computer screen.
Project Naptha
The project Naptha helps you in two ways. One, it makes your browser capable of considering in-text images as downloadable in jpg. Which, in fact, can be edited. The other functionality of Project Naptha is that it auto translates the language of your page.
Panda
Well, this one is a simple thing to maintain a lot of tabs on your browser screen. And before you know, there are sixty different tabs opened on your browser. So, to organize it all, under its own label, comes to help- Panda. It is a cute, simple, and effective tab organizer to organize your feed, websites, pages, and accounts in the groups of tabs inside of which you can cluster all other tabs. Try it.
Wikiwand
It goes without saying that the most beneficial thing which ever happened to the internet is- Wikipedia. But among its every benefit, Wikipedia is not at its best when it comes to visual appeal. And so someone had to do it. And now we have Wikiwand, which auto-adjusts fonts and themes for the best possible Wikipedia appearance.
Honey
Now as perfect as it is to shop, wouldn't it be wonderful to get coupons and have a discount each time you purchase something. How many times have you visited google to search for coupons, if any, for the stuff you need to buy? We just let it go after a while because most of the coupons on google never work. So, there is this extension called Honey, which automatically detects the coupons for the product of your choice and automatically applies the coupon. You don't have to copy and paste or even visit any website other than you are already on.
Related Read: Free VPN Extensions for Chrome Browser
Are Chrome Extensions Free?
Yes, chrome extensions are free. Not all of them, but as extensions offer an essential utility, they are free to use. This does not mean that they do not have a premium version to them. If you want to increase certain functionality, you can go for premium versions. For instance, Grammarly and Growth Bar mentioned above have free extensions.
Are Chrome Extensions Safe?
Yes, Chrome Extensions do not have permissions directly. They are dependent on the browser you use, and if you have a working antivirus like Windows Defender, no extension can harm, steal or manipulate your data in any way. However, it is advisable to research and install extensions only from the official website.
Do Extensions Eat Space?
Yes, extensions eat space, but in comparison, they are not so harsh on the memory. As compared to the app or software which eats up RAM, extensions only increase the browser's load. Sometimes, this can cause a little lag or delay in the performance if you have a basic CPU. However, this is unnoticeable if one has a good broadband connection. It is advisable to install only limited extensions for a smooth workflow.
How Many Chrome Extensions Can We Add?
Twenty Chrome Extensions are easily managed by the chromium engine. More than that is not allowed as they can cause serious lagging and speed performance of your browser.
Closure
In this article on Best Chrome Extensions in 2023, we have included the hand-picked thirty chrome extensions, which are meant to take you from level one to level lot. A lot of these chrome extensions are very small in size and have been, at times, the most downloaded chrome extensions.
So, if you are content with the information, we provided here, feel free to share your views in the comment box below. Moreover, if you have any queries, we are happy to help.