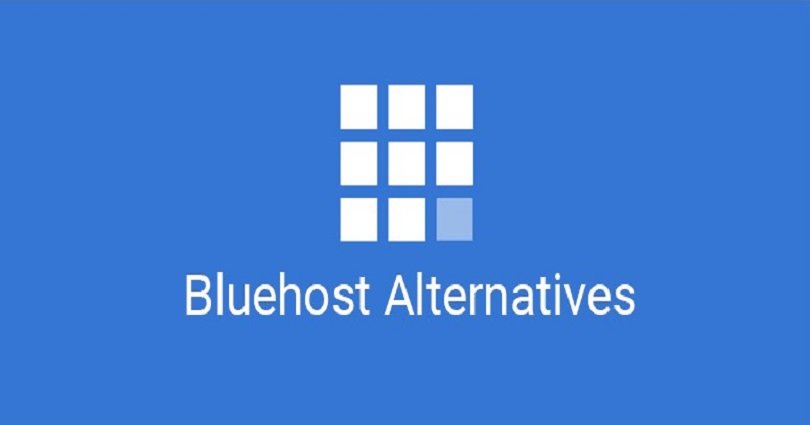 Top 5 Best BlueHost Alternatives 2023 – Alternatives to BlueHost
Are you not satisfied with the services offered by BlueHost hosting? Yes, you are, that is why you are reading this post. Do not worry, I am going to share some of the best WordPress hosting providers which are alternatives of BlueHost. There is no doubt in saying that, BlueHost is one of the popular shared web hosting in the industry and WordPress is also suggested it to the users. I am also using it one of my blogs but now people are also searching for other options for their convenience. It may be because their quality is not the same as it was before. As I told you that I have used BlueHost but there are a number of quality products available. They satisfy their customers with their fast, qualitative, sustainable and reliable web hosting which is available at affordable price. In my recent experience, I had faced a number of problems and service suspension and I contacted their customer support and end up migrating our website from BlueHost to SiteGround Hosting because it is another awesome web host to use. In addition, they are not offering consistent uptime, their support is slow, no SSD hosting is available, no built-in let's encrypt and does not have any unique feature. They are just depending on their old infrastructure and also ranked as the lowest rated host in the recent study of CodeinWP.
Best BlueHost Alternatives 2023
1. SiteGround
SiteGround is another great alternative to BlueHost in this list and also suggested by the WordPress.org. SiteGround gives cPanel as its control board to manage hosting account. cPanel is an easy-to-use and industry standard software that allows the user to carry out demanded hosting jobs quickly and expeditiously. In addition, Softaculous permits few click installation of major applications including WordPress. SiteGround gives excellent uptime and website loading speed. The in-house team of the company builds many tools to make this happen. Their SuperCacher tool and NGINX server technology allow the cache of site contents into different layers, in this way, improving site speed dramatically. Instead of using old mechanical drives, they use SSDs and latest PHP version to make your websites quick and fast. When it comes to server uptime, they are exceptionally good due to their cutting edge initiatives like Pro-active monitoring and Linux container technology. SiteGround provides three StartUp, GrowBig, and GoGeek. The startup is the best choice for the newly established site. It has 10GB storage and 10K visitors/mo. But you can use one site on this host. And when you need a plan with more resources you can quickly move to the higher one. All the plans come with many features in order to prevent you from the spam and malicious factors. In addition, with a few clicks, you can integrate CDN account which enables the fast delivery of site contents to the viewers all around the globe. While choosing the hosting provider, you must take much care of the support services. And inefficient support can lead your site into serious trouble. If we talk about the SiteGround customer support, we are excited. Their customer support is friendly and always available. There are plenty of video tutorials available from where you can learn many things so get benefit from those. SiteGround secure your WordPress site by different aspects including backup system, account isolation, and built-in let's encrypt. SiteGround Notable Features
Strict security layer
Built in let's encrypt SSL
Friendly and quick support service
Cutting-edge infrastructures like SSD's, SuperCacher and HTTP/2
Excellent uptime and page load time
2. A2Hosting
A2Hosting is one of the top BlueHost alternatives which offers quality hosting and they never compromise it. There are chances that you might be unaware of them as compared to the BlueHost. The reason behind it is that BlueHost focuses on its marketing rather than the infrastructure and neglects the infrastructure. A2Hosting operating with an aim to give blazingly fast and ultra-reliable hosting solutions to their customers. They claim to deliver 20x or twenty times faster services. And yes, there is no doubt in saying that the A2 optimizer, SSD's and plenty of other innovative technologies enable them to make such a big claim. Their web hosting is fast enough to load your site within milliseconds and gives a smooth experience. In addition, load time the uptime is also critical. They are clearly basing the industry standards and your site remains in the visitors/customers access with ease. Additionally, they possess A+ rating along with BBB. BlueHost provide 30 days refund policy and that's it after the duration of 30 days you cannot ask for a refund. When it comes to A2Hosting you can refund at any time and what does it mean? Within 30 days you will receive a full refund for your money and if you asked after 1 month, then the company also issues distribute fund of unused services. A2Hosting focuses on giving unlimited web hosting solutions. Regardless of the plan, all offers have unlimited storage, bandwidth along with databases. You can host 1 website, 5 subdomains and 25 parked domains when you use "Lite" plan. On the better or higher plan, you will get all these features unlimited and also many built-in tools to optimize and cache your websites. BlueHost is not much committed to providing services after sales. In addition, the chat does not have a quick response even in the live chat. While on the other hand, A2Hosting offers very quick US-based support to their customers. Live chat is really amazing and you will get connected with the team within couple of minutes. As per our experience, they are much better than BlueHost in almost all aspects whether it is chatting or hosting speed etc. So, if you are not satisfied with BlueHost service, then don't let them spoil your business and quickly shift to the A2 Hosting as they offer free website migration.
A2HostingNotable Features
24/7 Rapid Support Services
Unlimited storage and bandwidth
A2 optimizer for faster page loading
Amazing uptime along with free site migration
SSD based data storage
3. InMotion Hosting
You should give much importance to Web hosting because it plays a vital role in the success of a website. So while selecting the best hosting provider for your website, you should spend some time, think over and compare the different options available today. InMotion hosting plans are well planned and comprise of all the characteristics that website might be required. It includes unlimited storage space, unlimited email accounts, unlimited bandwidth, $250 advertising credit, and malware protection and much more. For WordPress users the company designs specific hosting plans where the user gets pre-installed WordPress. InMotion has Max speed zones located at East and West Coast, PHP7 and SSD's hosting to load the hosted sites fastly. In addition, if you are not satisfied with the services that you had received, you can cancel the hosting plan and get refund or your money back within 90 days (3 Months). InMotion provides cPanel for account management which is easy to navigate and does not need any technical skills. Furthermore, on the very basic plan, the user can host 2 domains which is a great favor for budget conscious users. InMotion has different type of hosting plans begin from individual requirements to businesses. All the hosting plans are replete with resources. You will get a free domain name while choosing the hosting plan. In addition, they also provide the daily backup facility and support safe roll back feature. In this way, if you found the newer version unstable of an application then you can shift it back to the previous one with ease. InMotion seems more committed with their users that is why they have 24/7 support team availability. Along with email, phone, and live chat you can also contact them using Skype. One thing you should keep in your mind, and it is server uptime. In my experience, you may face little downtimes daily and the overall around 99%. Besides that, their services are rich in features and consist of great benefits. InMotion Notable Features:
Free Website Transfer
Max Speed Zones for faster speed
250$ Advertising Credit
90 days refund policy
High performance and uptime
You can contact them via Skype, email, live chat
4. DreamHost
DreamHost has been operating since 1996, and so we can say they have pretty much experience in this field. The company provides all types of hosting services as well as a domain name registrar. And there is no doubt in saying that they are excellent in providing the uptime and load time. DreamHost also has an outstanding reputation. You never stuck with them because they have 97 days to their users to take a trial of service quality. It is a huge period, and I hope that you will not found any reason to ask for a refund. You may feel reluctant due to their web hosting plans prices. But by my experience, they deliver what they claim and plans are well featured. The uptime never falls from 99.9% which is the best uptime for websites. They provide an unlimited storage, hosting, bandwidth, and email accounts. The most awesome thing is that you can host unlimited domains using a single account. It is great if you are planning to begin multiple websites then instead of buying multiple accounts which can increase the cost as well as management work you should purchase a DreamHost account. There are also many beginners awaiting for you. A free domain name with free privacy protection. The domain privacy protection is a necessary add-on which secures your personal information to keep you safe from spam. Furthermore, you will also get a free SSL certificate by Let's Encrypt which can be activated with a couple of clicks. DreamHost has an in-house built customer support via email, Twitter, and live chat to solve your problems. Here keep in mind that they do not give Support services on phone and cPanel. DreamHost constructs its own customized control panel for account management. It is not complex and pretty simple and easy so you don't need to worry about it. So the question is, is DreamHost worthwhile provider? Of course, you will receive the real value for which you spent; Otherwise if not satisfied then you have 97 days to ask for the refund.
Dreamhost Notable Features:
97 Days money back guarantee
Free SSL by Let's Encrypt
Hosting on SSD drives
Easy CloudFlare integration
Free domain and Privacy protection
You can host unlimited websites on a single account
5. GreenGeeks
Mostly GreenGeeks and BlueHost available at almost the same cost, so we can assume that it is also a very close BlueHost alternative and cheap WordPress hosting provider. GreenGeeks provides far much better than many other web hosts. Currently, 300K+ websites hosted on their servers. They have a single plan under the shared hosting flag. Thanks to the company for participating in environmental activities by powering their machinery with renewable energy. Let's talk about their hosting plan. The great feature is that you can host unlimited websites on a single account whereas BlueHost offers only one. No need to worry about traffic spikes because they support unlimited visitors and SSD storage space. Besides, if you are planning to shift to BlueHost then you need to know that they charge pretty handsome amount for site migration. On the other hand, GreenGeeks provides free site transfer. Also, the company builts several security walls and you never face any problem regarding the security. For speedy services, GreenGeeks has SSD RAID-10 Storage, PHP7, and built-in caching tool. All these performed and so our test site load instantly whenever we did tests. Uptime is more essential than the speed because if your site faces frequent downtime then what's the benefit of speedy services. GreenGeeks reasonably offers the industry standard of 99.9% uptime. I always prefer to choose a company with quick support services and also it's a big reason that people left BlueHost. Live Chat, Email, and Phone services are always available to support you anytime 24/7/365. Also, they maintain a vast knowledge base related many categories including domain, SSL, migration, and CloudFlare, etc. You can get knowledge of a number of things on your own.
GreenGeeks Notable Features
Free SSL with SEO Tools
Cost effective and affordable prices
You can host unlimited sites
Site migration is free of cost
99% server uptime guarantee
24/7/365 days customer support
Bullet Point 2
Overall BlueHost Alternatives Comparison
| | | | | | |
| --- | --- | --- | --- | --- | --- |
| | A2Hosting | InMotion | SiteGround | DreamHost | GreenGeeks |
| Free Domain | No | Yes | No | Yes | Yes |
| Price/month | $3.92 | $4.19 | $3.95 | $7.95 | $3.95 |
| Site Load Time | 2.09s | 1.60s | 1.41s | 2.12s | 1.59s |
| Data Storage | Unlimited | Unlimited | 10 GB | Unlimited | Unlimited |
| Bandwidth | Unlimited | Unlimited | 10k Visitors | Unlimited | Unlimited |
| Free SSL | Shared SSL | No | Yes – Let's Encrypt | Yes – Let's Encrypt | No |
| Support | Call, Chat, and Email | Call, Chat, Skype, and Email | Call, Chat, and Email | Call, Chat, and Email | Call, Chat, and Email |
| Refund | Anytime | 90 Days | 30 Days | 97 Days | 30 Days |
| ​ | | | | | |
Conclusion
I have discussed some of the best BlueHost alternatives above that offer the same price as BlueHost. So why do you need to pay higher fees to BlueHost when there are plenty of alternatives? We strongly suggest SiteGround as they support incredible uptime and customer support services as well as free SSL. You might know, Google gives more authority to sites using SSL because it is considered as a ranking signal, and you can get it free by selecting SiteGround. They monitor the activities of your website 24/7 to give bulletproof security. So if your current hosting is not performing well then don't let them spoil your site and select any best BlueHost alternative mentioned above in the list.
Free SSL by let's Encrypt
Super fast hosting
Best for starter and medium sites
Insanely fast and quick support
One-click WordPress installation
One-click CDN integration
Only $3.95/month Buy SiteGround Now
Arsalan Rauf is an entrepreneur, freelancer, creative writer, and also a fountainhead of Green Hat Expert. Additionally, he is also an eminent researcher of Blogging, SEO, Internet Marketing, Social Media, premium accounts, codes, links, tips and tricks, etc.