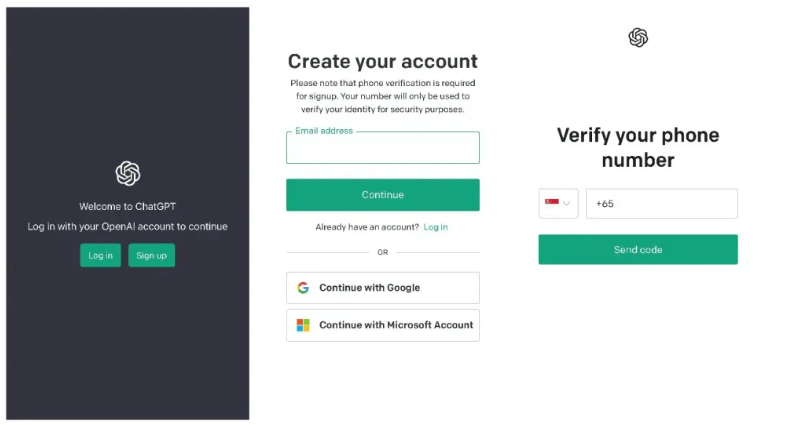 ChatGPT is an Artificial Intelligence that can generate codes, answer queries, and detect errors.
It collects your requests and remembers it and also rejects the requests which are not appropriate.
The dialogue happens in a human-like nature from a huge database.
The developer of AI is OpenAI, a company that is fully focused on promoting AI research.
Since its launch, ChatGPT hit more than 100 million users in one month.
Before you start using it, you need to create an account on OpenAI.
In this article, I will tell you how to make or create a ChatGPT account and what to do if it's not available in your country.
Does Chat GPT cost money?
Chat GPT does not cost money, but it has launched a paid version.
The premium version is known as ChatGPT Plus, and the price of the paid version is $20 per month.
The free version has limitations of requests along with a waiting time.
For instance, if ChatGPT is at capacity, the best bet is to wait until the servers are less crowded.
However, if you have ChatGPT Plus, you will get a personalized login link to bypass the queue.
How to create a ChatGPT account
Here's a step-by-step guide on how to create a ChatGPT account:
Visit this link: chat.openai.com/auth/login.
Hit the "Sign up" button.
Provide your email address, and use Gmail or MS account (Microsoft).
Select a password that is at least 8 characters long.
You will get an email for verification and verify it.
Enter your first name and last name.
Enter your phone/mobile number and hit the "Send code" button.
Enter the code that is sent to your mobile number.
That is it, now, start using Chat GPT.
Just remember that certain countries are restricted from the service of ChatGPT.
Some popular countries that do not have access include Russia, Hong Kong, and Iran.
You must provide a valid phone number to create an account on ChatGPT.
You need to ensure that the country code is properly set, for instance, +1 for the United States).
After verifying your phone number and email address, you will be able to start using Chat GPT.
The usage can be begun by asking a question (for instance, what is SEO?)
Apart from that, you can also ask it to write code, generate ideas, and write essays for you.
Go ahead to the next section to find out how to use ChatGPT if it's not available in your country,
How do I create a ChatGPT account if it's not available in my country?
To create a ChatGPT account if it's not available in your country, you can either use a temporary phone number or connect to a VPN.
A free VPN extension you can use for your browser from this list.
After downloading the extension, connect to a country where ChatGPT is supported such as the United States.
After choosing the country, you have to add a valid phone number.
To begin with, you can use a service that provides free temporary phone numbers for SMS verification, this list has popular services in it.
Temporary phone numbers are famous for this type of service.
Consequently, you may find that most phone numbers are already linked to ChatGPT accounts.
A phone number can be used on 2 OpenAI accounts.
If the selected phone number is already used for 2 accounts, you'll get the "This phone number is already linked to the maximum number of accounts" error.
In this guide, you can learn how to use ChatGPT without a phone number here: https://www.greenhatexpert.com/use-chatgpt-without-phone-number/.
What's Next
How to Use ChatGPT without a Phone Number
How to Fix "We've detected suspicious behavior" on ChatGPT
How to Fix ChatGPT Error Code 1020 Access Denied
Arsalan Rauf is an entrepreneur, freelancer, creative writer, and also a fountainhead of Green Hat Expert. Additionally, he is also an eminent researcher of Blogging, SEO, Internet Marketing, Social Media, premium accounts, codes, links, tips and tricks, etc.