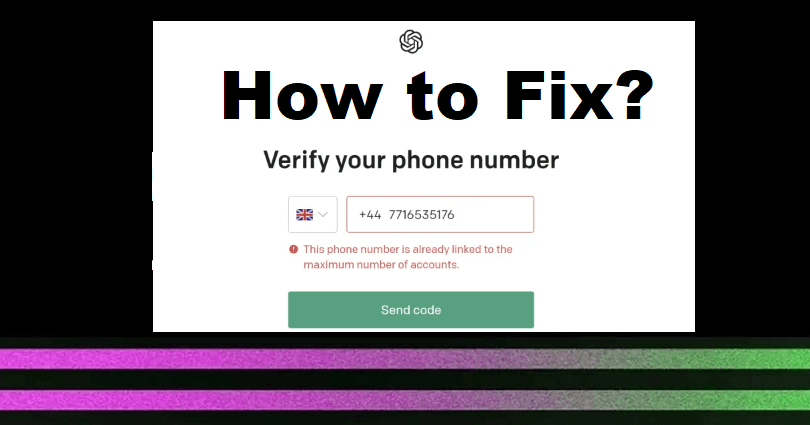 Are you getting this error message, "This phone number is already linked to the maximum number of accounts" on Chat GPT?
The developer of ChatGPT is OpenAI and it is also an AI that communicates with you in a human-like tone.
It is smart enough to deny inappropriate requests, assume them and answer follow up questions.
This company is paying attention to developing and promoting advanced AI tech.
The objective of OpenAI is to create AI that helps humanity to do advanced research in a safe manner.
In 2015, it was founded in San Francisco, California and the founders are Elon Musk and Sam Altman.
In this article, I will tell you how to fix "This phone number is already linked to the maximum number of accounts" on ChatGPT.
What does "This phone number is already linked" mean on Chat GPT?
"This phone number is already linked" on Chat GPT means that the phone number is already used on more than two OpenAI accounts.
A phone number has a limitation of linking to a maximum of two accounts of OpenAI.
If you have already used the phone number for two accounts, you cannot link the number to the third account.
The reason behind it is that ChatGPT does not allow you to link a phone number more than twice.
You can also get the error message if you're using a temporary phone number to link your account.
How to Fix "This phone number is already linked" on ChatGPT
To fix "This phone number is already linked" on ChatGPT, the best bet is to use another phone number.
You can also opt for a temporary phone number online if it is not used for the service.
If you are new and did not link your number before this, you will have to contact OpenAI support for assistance.
They will help you to fix the issue and how to do it.
Solution 1: Use a new phone number
If you have another phone number, use it to link to your ChatGPT/OpenAI account.
For this purpose, you can also use the phone number of your friend or family number.
Solution 2: Use a temporary phone number
You can get a temporary phone number, use this guide on Free virtual mobile numbers and it has the list of temporary phone numbers which are available at one place.
Go to one of those websites and get a number and copy and paste it and try sending a code—keep trying until you get a number that is not linked with two accounts.
After receiving the code on your temporary phone number, enter it to start using ChatGPT.
Solution 3: Contact OpenAI support
Visit this link https://help.openai.com/.
Click on the chat bubble available on the bottom right and follow these steps.
Messages > Send us a message.
Login or Sign up Issues > No.
Provide your email address and write your message.
What is the maximum number of ChatGPT accounts you can link with a phone number?
You can link one phone number with 2 Chat GPT accounts.
According to OpenAI, you are allowed to use your phone number to verify no more than 2 OpenAI accounts.
The first API account that is verified will get the free trial tokens.
Just remember that Chat GPT is not available in some countries including Russia or Hong Kong.
If you are trying to use it from one of these countries, it will not allow you to verify your phone number.
What's Next
How to Fix 403 Forbidden on ChatGPT
How to Fix ChatGPT Error Code 1020 Access Denied
How to Fix "An error occurred" on ChatGPT
Arsalan Rauf is an entrepreneur, freelancer, creative writer, and also a fountainhead of Green Hat Expert. Additionally, he is also an eminent researcher of Blogging, SEO, Internet Marketing, Social Media, premium accounts, codes, links, tips and tricks, etc.