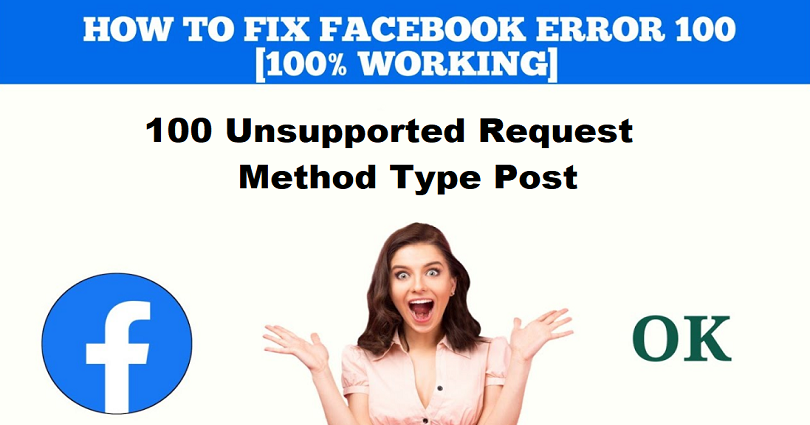 Are you getting a "Login-failed" error whenever you try to sign in to your Facebook account?
The last part of the error is, "100 Unsupported Request – method type: post".
Are you not able to log in to the Facebook app?
The whole social media is flooded with this issue and published on platforms like Twitter.
In this post, I will tell you why Facebook says "100 Unsupported Request – method type: post" and how to fix it on Android and iOS devices.
Why does Facebook say "Unsupported request"?
Facebook says "Unsupported request" due to a bug/glitch on the app.
On the other hand, FB might be having an outage problem.
It can only be checked if Facebook is down by going to DownDetector or searching for the issue that you are getting on Twitter.
If you come across a spike in the DownDetector graph, it might be up because Facebook is down.
On September 29th, 2022, a lot of users reported the Facebook log-in problem.
A tweet by username @Pumpum_1022, "I'm not so sure if it's hacked or anything but I logged out my account from all devices. I also changed my password, and when I tried logging in again, it keeps saying unsupported request – method type:post".
"@facebook Hello, when I log into my account, it says unsupported request method type post. Pease solve my issue".
Apparently, the log-in issue is a global issue that is going on in the Facebook mobile app and Messenger.
How to fix "100 Unsupported Request Method Type Post" on Facebook
To fix "100 Unsupported Request Method Type Post" on Facebook, you need to remove the app's cache or install an older version of the app from any website like Uptodown.
You can also try using another network, wait for 24-48 hours span, update the application.
Here are 6 ways that you can use to fix the log-in failed issue:
Remove Facebook's cache: Open the Settings app > Apps > Facebook > Storage > Clear Cache > Clear Data > re-launch Facebook.
Use an older version of Facebook (only for Android phones): https://facebook.en.uptodown.com/android/versions.
Change your internet from Wi-Fi to mobile data (and vice-versa).
Update the FB app to the latest version.
Uninstall and reinstall the FB app.
Wait for 24 to 48 hours span.
The first way to use is to clear the cache of Facebook.
If you're an Android user, it can be done by opening the Settings app, finding Facebook, and tapping on "Clear Cache" next to "Clear Data".
A common problem on the app can be resolved by clearing Facebook's cache like loading and logging out.
Alternatively, you will log out of FB by clearing the app's data.
You can also visit Uptodown and downgrade your version of Facebook and try installing an older version of it.
In some cases, the bugs and glitches are the results of the latest Facebook updates.
You can restrict those glitches and bugs by downloading an older version of Facebook and it is a temporary fix until a new update is released to fix them.
If Facebook servers are down, your best bet is to wait for 24 to 48 hours for them to be back up.
If Facebook has released a new update that offers bug fixes, you should update the app as early as possible.
What's Next
Free Facebook Accounts with Passwords
How to Fix "An unexpected error occurred" on Facebook
How to Fix Can't Log Out of Facebook
Arsalan Rauf is an entrepreneur, freelancer, creative writer, and also a fountainhead of Green Hat Expert. Additionally, he is also an eminent researcher of Blogging, SEO, Internet Marketing, Social Media, premium accounts, codes, links, tips and tricks, etc.