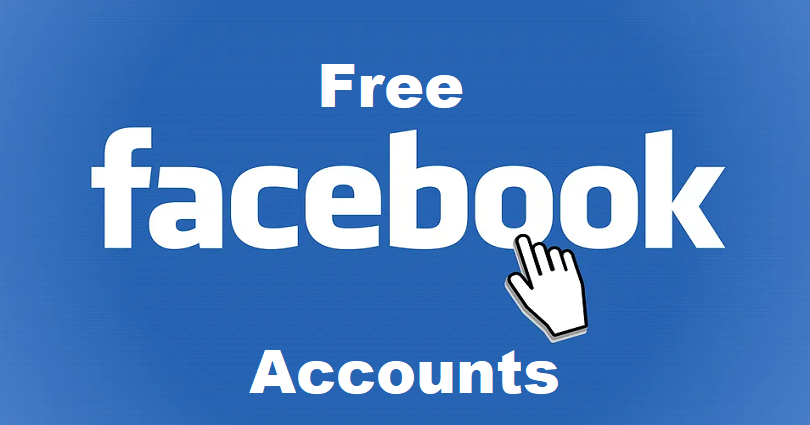 The owner of Facebook is Meta Platforms, Inc., it is the same company that owns Instagram and WhatsApp.
It originated in 2004, since then, Facebook is near to 3 billion monthly active users.
Having a single Facebook account can be risky as your account might get banned or hacked.
Therefore, it's better to have multiple Facebook accounts.
If you're promoting your online business on FB, you need to own a secondary account for your marketing activities.
This post has a list of free Facebook accounts with passwords and email addresses and with followers.
How to get a free Facebook account
To get a free Facebook account, you can simply go to Facebook website to make one.
You can also use the Facebook app to make an account.
The app is available for both iOS and Android devices and you can download it from the App Store and Google Play Store.
To create an account, the information required are your name, email address, and date of birth.
Is Facebook free?
Yes, Facebook is free to use as well as to download.
You can download the app of Facebook for free from the App Store and Google Play Store.
Although Facebook is free, they generate revenue by serving ads.
You will see relevant ads on the app.
The ads will be shown on your stories, groups, feed and so on.
You can also promote your business on Facebook by buying ads for your business.
Free Facebook accounts 2023
Free Facebook accounts with passwords
Email address
Password
daded32445@geekjun.com
32445daded
fiwej91318@bongcs.com
wilbrigtts235@protonmail.com
91318fiwej
Wuh2281!""aq
cecog14830@ploneix.com
14830cecog
nexisam716@orlydns.com
716nexisam
jatel28017@orlydns.com
28017jatel
aniaesperanza@yahoo.com
mydeta76
pblu@walla.com
10131013
samuelharuna17@gmail.com
2097woehig
Melanyverosi@gmail.com
8d712hegew
dagsson@gmail.com
98321quwes
simasima1@msn.com
lingus1
evelynlogan555@gmail.com
41922fiwue
datakhgoy@gmail.com
1489fwegre
gaganpal0175@gmail.com
78325nwfoq
capeflatshoney@gmail.com
212612hfuw
Ramesh.arepally15@gmail.com
82935awhfi
lord.mohmah963@gmail.com
1722fwskd
cpeyton@gmail.com
1298ioawf
bifyiderzu@vusra.com
bifyiderzu123
onlypearlfisher@gmail.com
81537fhevef
userebs@att.net
27384afeg
Nsuppler@gmail.com
63234wefwa
billson@gmail.com
53879hfoie
john1@gmail.com
72538wfege
Another_heart2009@hotmail.com
28323febrr
kolby@gmail.com
87352giuef
Joshuaeztranda@gmail.com
829375hbvf
doverb@gmail.com
01429fehw
Mh8282687@gmail.com
48732hfwaw
atableof10@gmail.com
83965hefio
tieiudhh@gmail.com
89125efvwe
scalvet02@gmail.com
38742fjeio
allyson.bantom@gmail.com
5739efhka
aslamhaiderzai@gmail.com
71428fekj
swetha.madikeri@gmail.com
22934flnav
sovannrik@gmail.com
27985faeuw
saraduong@gmail.com
378952iowaht
wynimo12@gmail.com
86349ahwas
estherquintana89@gmail.com
29734kjbwf
asantejacob50@gmail.com
19072owyer
Lelesgpore@gmail.com
132748fnowe
fazilet006161@gmail.com
8274heajfg
alishahid062@gmail.com
37124hewjfd
vedprakashvaishy@gmail.com
926348wjfk
teateamsanad@gmail.com
23857gwewg
Note: If you find your email address in the table and you want to remove it from the list, you can send a message @greenhatexpert on Facebook.
The list of free Facebook accounts to use above is based on a first-come-first-serve.
Please don't update the passwords for any of the accounts on the list.
Additionally, do not post or do anything that violates Facebook's community guidelines.
If you're unable to get into an account, it shows that someone has changed the password for it.
Or the account you are using may be permanently banned.
You can use a fake or temporary email for Facebook to create a new account such as Temp Mail.
Temp Mail is an online service that allows you to create temporary email addresses.
You can create as many emails with the help of this tool.
Apart from the Facebook id and password above, you can also find a subreddit on Reddit to find free Facebook logins and they list them there without any generator.
I will add more free FB accounts to the table in the future.
Use the start icon on your browser such as Google Chrome to bookmark the page to use it in the future.
What's Next
Arsalan Rauf is an entrepreneur, freelancer, creative writer, and also a fountainhead of Green Hat Expert. Additionally, he is also an eminent researcher of Blogging, SEO, Internet Marketing, Social Media, premium accounts, codes, links, tips and tricks, etc.