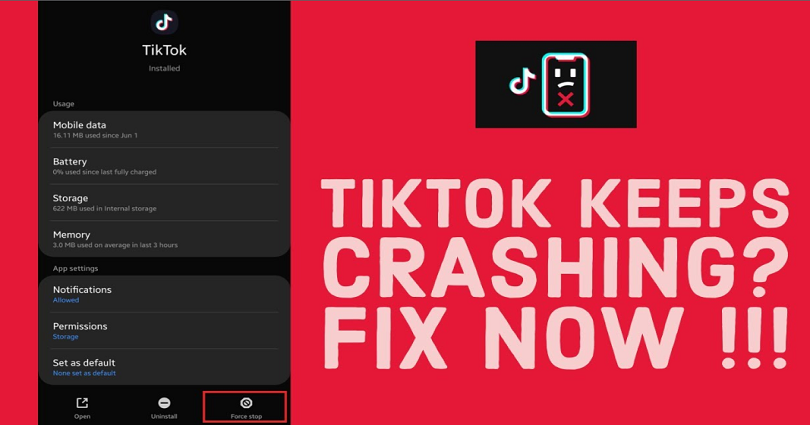 Is TikTok crashing, freezing, closing, or the app has stopped working?
When the app is open for a few seconds, it might result in crashing.
The reason behind it is the latest TikTok, iOS, or Android update.
It hardly happens when TikTok goes down because it contains multiple servers.
However, if the app goes down or crashes, there are various ways to fix it.
In this post, I will tell you why is TikTok crashing, closing, freezing, and how to fix it.
Why is TikTok crashing?
TikTok is crashing due to the latest iOS, or Android update.
It can also happen when TikTok is down—it can be checked on DownDetector or Twitter.
On 15th September 2022, TikTok faced a global outage.
A lot of users were complaining about the downtime on social sites like Twitter.
A username named @JessicaDeVito9 Tweeted, "TikTok: *goes down*, Everyone: *runs to Twitter*".
Another username named as @ChippyGuac tweeted, "Is anyone else's TikTok crashing? Or maybe it's cuz I updated my phone?".
@nathot_ tweeted that "I've never felt like I was an addict until I immediately opened twitter the second TikTok wasn't working for me".
@imabrooklynbaby tweeted that "Me searching "TikTok down" on Twitter to see if the rest of the world is panicking at 2 am or if my phone is just being glitchy".
The reason for the outage is not known yet but it was down for every user.
The known reason for the downtime which can be the latest iOS update (iOS 15.7) that result in TikTok crashing.
How to Fix TikTok crashing
To fix TikTok crashing, you need to first ensure that the app is not down (use DownDetector or Twitter).
If the app is functional, you can try to clear the cache of app, change your network, uninstall and reinstall it, update the application etc.
Method 1. Ensure if TikTok is down (wait it out)
The first way is to make sure if TikTok is down.
There are couple of methods to find out—use DownDetector or Twitter.
First of all, visit DownDetector website and search for "TikTok".
Check if you witness a spike in the reports on the graph.
If it is available, it indicates that the application is having outage and the only thing you can do is wait.
The process usually takes a few hours and will not take over 24 hours.
The second method you can use to check if TikTok is down is to search for the terms "TikTok down" on Twitter.
After searching for it, go through the top and latest tweets to find out if anyone else is tweeting it.
In addition, you can also visit TikTok's official support Twitter to see if they tweeted the issue.
If TikTok is not working, the only thing you can do is wait for a few hours for the app to get back online.
Method 2. Clear the app's cache
Here are the steps on how to clear TikTok's cache for iOS devices:
Go to the Settings app.
Select "General".
Select "iPhone Storage".
Tap on "TikTok".
Lastly, select "Offload App".
Here are the steps on how to clear TikTok's cache for Android devices:
Go to the Settings app.
Go to "Apps".
Choose "TikTok".
Select Storage > Clear Cache > Clear Data.
Here are the steps on how to clear TikTok's cache on the app:
Go to the TikTok app.
Tap on "Profile".
Tap on the menu icon > Settings and privacy.
Now, select "Clear cache".
You will be able to get rid of certain issues by clearing TikTok's cache including crashes.
The storage will also free up which is used by the app.
This solution is also recommended by the official TikTok Help Center.
Method 3. Switch your network
If you're Wi-Fi user, move to mobile data.
Alternatively, if you're on mobile data, start using Wi-Fi.
You can also move to another Wi-Fi network if mobile data is not an option.
If your internet speed is too slow, the app may not be able to work properly.
If you perform too many actions on the app, it might get your IP address blocked temporarily.
Changing your network will enable you to fix both issues.
You can also try to connect to a free VPN app and start using it.
Method 4. Update TikTok
The fourth way to prevent crashing is to update TikTok to the latest version.
To get started, go to the App Store or Google Play Store, search for the term "TikTok" and tap on "Update".
Some updates have bug fixes that will fix the crashing issue on TikTok.
However, other updates may cause glitches on the app as well.
In this case, you will get a follow-up update from TikTok to fix them.
If the update is not available, you have to wait for one.
Method 5. Uninstall and reinstall TikTok
The final way to deal with it is to uninstall and reinstall TikTok.
The process will update the app to its newest version.
Additionally, the app's cache and data will be removed too.
As a result, certain issues on the app will be fixed including loading, crashing, or stopping.
After reinstalling the TikTok app, you have to sign in to your account again to start using it.
What's Next
Top 10 Most Viewed TikTok Videos
How to Fix "Post unavailable" on TikTok
Good, Cute, and Cool TikTok Profile Pictures
Arsalan Rauf is an entrepreneur, freelancer, creative writer, and also a fountainhead of Green Hat Expert. Additionally, he is also an eminent researcher of Blogging, SEO, Internet Marketing, Social Media, premium accounts, codes, links, tips and tricks, etc.