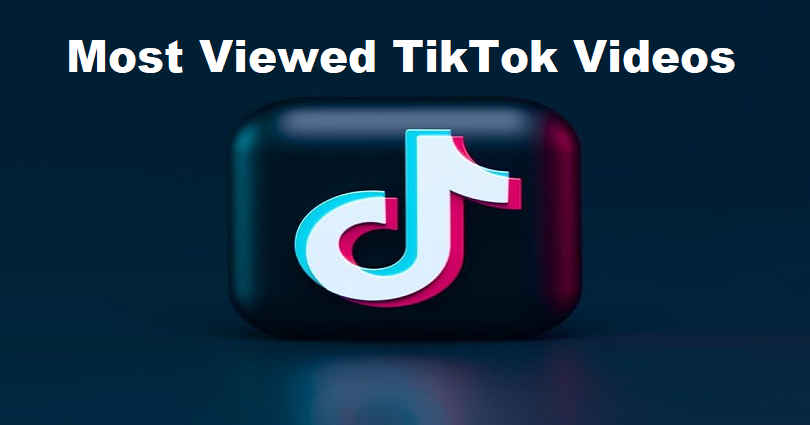 TikTok has been in the market since 2016, there are a number of popular videos that has more than 100 million views.
It includes videos of dancing, skits, animals, and so on.
However, there are only 3 videos on TikTok that have crossed 1 billion views.
It is easy to say that a video contains 1 billion views, it may cross it because the video must be shown on every country's "For You" page.
The download of TikTok are more than 3 billion and 1 billion monthly active users.
This means that 1 out of 3 people must have watched that video that is viewed 1 billion times.
I have handpicked the top 10 most viewed TikTok videos (added in ascending order).
10. Time warp scan by Billie Eilish – 360 million+ views
Billie Eilish is an American songwriter as well as a singer.
The first video that she ever posted on TikTok, "TimeWarpScan" has more than 360 million views.
That is why she is on the 10th spot on this list.
Additionally, the video reached over 39 million likes, which makes it one of the most liked videos on TikTok.
9. Side-view mirror by Khaby Lame – 351 million+ views
Khaby also called as Khabane Lame, is a Senegalese-born TikToker.
He is renowned for his straightforward responses to over-complicated life hacks on TikTok.
Currently, he is the second most-followed TikToker who has more than 134 million followers.
The most viewed video on TikTok by Khaby is a simple tutorial on looking outside of the car.
8. Laughing baby by Daexo – 391 million+ views
It is an account that is dedicated to a baby.
The person who runs the account is Dae Warner who is based in Annapolis, MD.
The most popular video of Daexo is the video of a laughing baby.
The video contains more than 390 million views, which takes it in the 8th spot on the list.
7. Caution wet paint by Zach King – 660+ million views
Zach King is one of the most famous persons on the web.
His videos have content related to magic, optical illusions, and edits.
The video of Zach named as "Caution wet paint" is an optical illusion of a passageway.
The video has a perfect loop that you can watch on repeat.
6. M to the B by Bella Poarch – 749+ million views
Bella Poarch is a singer as well as a TikToker who was born in the Philippines.
She become a prominent TikToker after releasing the "M to the B" video that was uploaded on 18 October 2020.
The video contains a dancing of her head to the beat.
In addition, it is also the most liked video on TikTok which has more than 55 million likes.
5. Best hiding spot by Zach King – 954+ million views
Zach king's other video is number 5 on the list.
The title of the video is "This is the best hiding spot ever".
The video shows Zach is hiding inside a mirror.
The video contains more than 954 million views and 8.9 million likes.
4. Magic glass by Zach King – 965+ million views
This is another video by Zach king that is making its way to the list titled, "Do you see the glass as half full or half empty?".
"Is the glass half empty or half full?" is a proverbial phrase that is used to show whether a person is an optimist or a pessimist.
Zach King's Magic glass has a twist where the glass is actually cake.
It has crossed 967 million views since it was uploaded on December 4, 2019.
3. Christmas party by James Charles – 1.7 billion+ views
James Charles is an American makeup artist as well as YouTuber.
He has more than 24 million subscribers on YouTube along with 3.5 billion total video views.
James posted a TikTok video on December 9th, 2019 named as, "Welcome to the Sisters Christmas Party!".
Since then, the video has crossed over 1.7 billion views—making it way to the third most viewed TikTok video.
2. Magic broomstick by Zach King – 2.1 billion+ views
Magic broomstick video by Zach King is the second most-watched video on TikTok with its more than 2.1 billion views.
Technically, the video is supposed to be at #1 spot on the list if we're only counting the real views here.
The video showcases that Zach is riding a broomstick which he later revealed to be on an electric skateboard.
He also revealed that the trick was done in the video with the help of intense choreography.
1. auut (black screen) – Over 61 billion views
The most viewed TikTok video on the list and on Tiktok is a black screen by auut with more than 61 billion views.
This is done by using the fake views and the uploader purchased them in order to exaggerate the video views.
It is nearly impossible to hit these views without using such tactics.
In fact, the most viewed YouTube video titled "Baby Shark Dance", contains only 10 billion views.
This TikTok video contains 6 times the number of views of the most viewed video on YouTube.
In 2022, the video is still available on TikTok and has not been taken down by TikTok.
If TikTok will take it down, Zach King's magic broomstick video will take over the top spot as the most viewed video on TikTok.
Final Words
After reading the list, you must have figured it out that the most prominent creator on TikTok is Zach King.
He is also an early creator on YouTube too.
He uploaded the video named as "Jedi Kittens" which crossed a million views in only 3 days.
In 2013, he made his Vine account where he published a Vine every day for more or less 30 days.
It also gave rise to his fame even further as he was later invited to The Ellen DeGeneres Show and many more.
In 2022, Zach is the 5th most followed TikToker who has more than 67 million followers.
It should not be surprising for you because he uploads high quality content/videos.
In an interview, he revealed that his videos usually take up to 24 hours to make including 3 to 4 hours of filming.
What's Next
Good, Cute, and Cool TikTok Profile Pictures
How to Add a Link to TikTok Bio With or Without a Business Account
How to Get Front Flash on TikTok
Arsalan Rauf is an entrepreneur, freelancer, creative writer, and also a fountainhead of Green Hat Expert. Additionally, he is also an eminent researcher of Blogging, SEO, Internet Marketing, Social Media, premium accounts, codes, links, tips and tricks, etc.