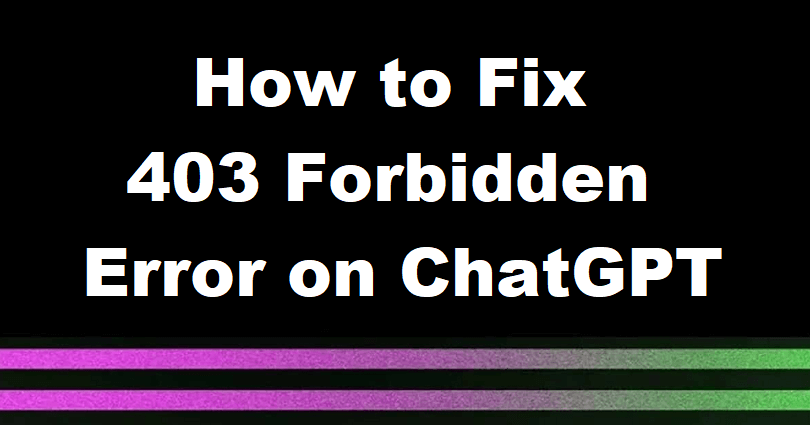 Is Chat GPT showing "403 Forbidden" error message?
The developer of ChatGPT is OpenAI and it is also an AI that communicates with you in a human-like tone.
It is smart enough to deny inappropriate requests, assume them and answer follow up questions.
This company is paying attention to developing and promoting advanced AI tech.
The objective of OpenAI is to create AI that helps humanity to do advanced research in a safe manner.
In 2015, it was founded in San Francisco, California and the founders are Elon Musk and Sam Altman.
In this article, I will tell you how to fix the 403 Forbidden nginx on ChatGPT or the failed to refresh auth token error.
What does "403 Forbidden" mean on Chat GPT?
403 Forbidden on Chat GPT means that you are trying to make an API request which is not allowed to make.
The error can occur if the API endpoint is not public or if you want to edit or delete a resource that it does not have.
The status code is a response that gives the reply that the server knows the request but not authorizing it.
It can also happen when there is an issue with the authentication process or a lack of credentials.
A 403 Forbidden error can also happen because of rate limiting if you have made too many requests in one attempt.
How to Fix 403 Forbidden on ChatGPT
To fix a 403 Forbidden error on ChatGPT, you need to disconnect your VPN or connect to one.
You can also remove the cache and cookies of your browser.
If you have installed different chrome extensions on your browser, one of them might be restricting you.
To fix this error, you have to get rid of unwanted or suspicious extensions.
In some cases, you might be rate limited from Chat GPT because you have made too many requests on it.
If none of these works, you can contact OpenAI by choosing the chat bubble icon from this link: help.openai.com.
Solution 1: Connect to a VPN / disconnect your VPN
Connect to a VPN:
For mobile users: It is mandatory to download a free VPN app like VPN – Proxy Unlimited Shield and select the location of another country.
For PC users: It is mandatory to download a free VPN app on the browser and if you are on Chrome browser you can use free VPN extensions for Chrome.
Disconnect your VPN:
In some cases, the "403 Forbidden" error might be caused by a VPN.
If you're using a VPN but you're still facing the 403 Forbidden error code, disconnect your VPN and sign in again to ChatGPT.
Solution 2: Clear your browser's cache and cookies
For Chrome use these steps: Chrome > Three Dots > More Tools > Clear browsing data > Cookies and other site data + Cached images and files > Clear data.
For Edge, use these steps: Edge > Three Dots > Settings > Privacy & services > Choose what to clear > Cached images and files + Cookies and other site data > Clear.
For Firefox use these steps: Firebox > Menu > Settings > Privacy & Security > Cookies and Site Data > Clear.
Solution 3: Remove your Chrome extensions
Go to Google Chrome and select the three dots available on the right side of the URL field.
Click on "More Tools" and select "Extensions".
Click on "Remove" to remove unwanted or suspicious extensions.
Note: Some Chrome extensions can stop ChatGPT from working, so you need to get rid of them.
Solution for Developers
You need to ensure that you are using the correct API endpoint (double check the documentation to make sure).
Make sure that the API key is sent in the correct manner/format.
The next step is to verify the authentication credentials including username, password, token etc.
Lastly, make sure that you have the needed permissions in order to access the resource, for more help you can contact OpenAI.
What's Next
How to Fix ChatGPT Error Code 1020 Access Denied
How to Fix "An error occurred" on ChatGPT
How to Fix "We're experiencing exceptionally high demand" in ChatGPT
Arsalan Rauf is an entrepreneur, freelancer, creative writer, and also a fountainhead of Green Hat Expert. Additionally, he is also an eminent researcher of Blogging, SEO, Internet Marketing, Social Media, premium accounts, codes, links, tips and tricks, etc.