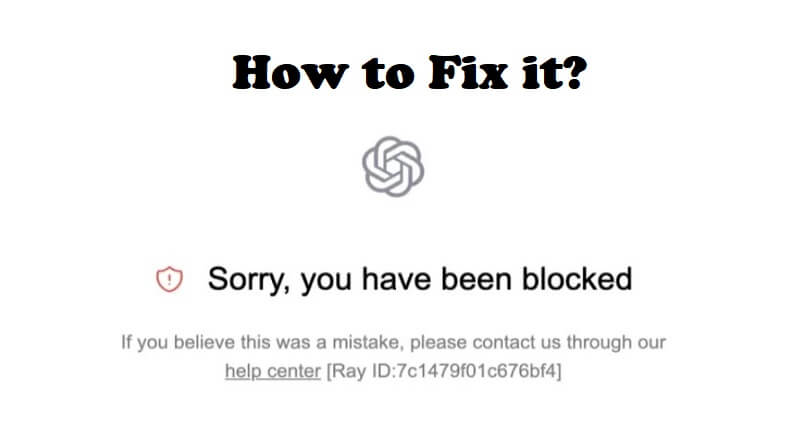 Are you facing a "Sorry, you have been blocked" error in ChatGPT?
The next part of the error is, "If you believe this was a mistake, please contact us through our help center".
Accompanied by the Ray ID like, "[Ray ID:7c1479f01c676bf4]".
You can get this error when the system has detected suspicious activity.
Consequently, the system will block the account to avoid abuse, spam or misuse.
In this article, I will tell you how to fix "Sorry, you have been blocked" and "If you believe this was a mistake" in ChatGPT or OpenAI.
Why am I blocked from using ChatGPT?
You're blocked from using ChatGPT because there is a suspicious activity occurred on your account and the system has detected it.
Your account can also get blocked if you have been using a VPN or a proxy server to use it.
ChatGPT blocks people from the service when they try to abuse, spam or misuse it.
In other cases, a VPN, proxy server, firewall, or antivirus may stop you from using the platform of openAI.
How to fix "Sorry, you have been blocked" in ChatGPT
To fix "Sorry, you have been blocked" in ChatGPT, the first thing you need to do is to stop using the VPN or proxy and disconnect it.
You can also get rid of your Chrome extensions by removing them or contacting OpenAI support team for assistance.
Solution 1: Disconnect your VPN / Proxy
If you are using a home or work VPN, disconnect it in order to start using ChatGPT.
If you're connected to a proxy server, go to the proxy server and disconnect it to access ChatGPT.
Solution 2: Remove your Chrome extensions
Click on the puzzle icon available on the chrome.
Select "Manage extensions".
Disable or delete any unwanted, suspicious, and VPN/Proxy extensions.
Solution 3: Other troubleshooting methods
Use an incognito window or browser to use ChatGPT.
Clear your browser's cache and cookies.
Disable your Firewall or Antivirus program temporarily.
Solution 4: Contact OpenAI support
Use this link to contact ChatGPT support, and click on the chat bubble.
Follow these steps: search for help > Browse related topics > Send us a message.
Choose the topic that you need assistance with.
Follow the instructions given.
What's Next
How to Fix Global Rate Limit Exceeded in ChatGPT
How to Fix "Unable to load history" in ChatGPT
How to Fix "Something went wrong, please try reloading the conversation" in ChatGPT
Arsalan Rauf is an entrepreneur, freelancer, creative writer, and also a fountainhead of Green Hat Expert. Additionally, he is also an eminent researcher of Blogging, SEO, Internet Marketing, Social Media, premium accounts tips and tricks, etc.