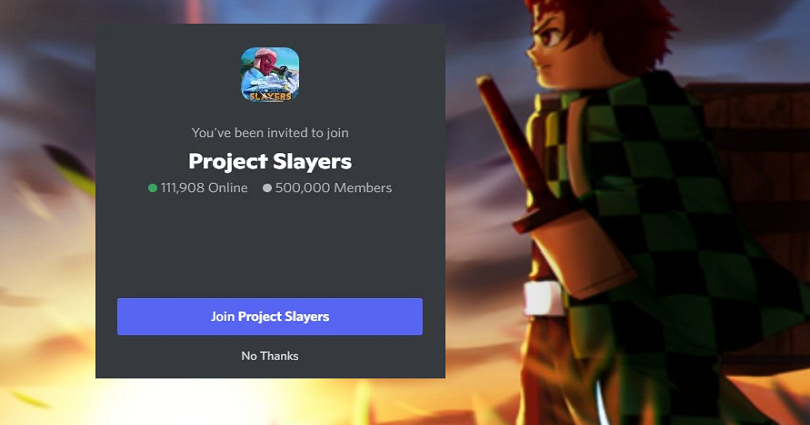 In Project Slayers, your task is to find out small villages, large cities, scary mountains, and forests.
You need to give preference to your friends as much as your enemies.
The adventure is waiting for you—whether you choose to help humanity or go against it.
Whichever path you choose, you will have to struggle.
This post has the Project Slayers Discord server link for Roblox, game link, and server rules.
Project Slayers Discord server link
The official Project Slayers Discord server link is https://discord.com/invite/etTJDs3JJf.
The server contains more than 500k members, so it's always full.
It has multiple channels such as information, sneaks, update logs, and more.
To access them, you have to agree to the rules and verify yourself from Bloxlink.
The verification can be done by typing "/verify" in the #verify channel.
After verifying yourself, you can chat on the various community channels.
The #announcements channel has maintenance notices and codes.
The most active channel is the #community-general channel which can be used for chat purposes.
What is the game link for Project Slayers?
The game link for Project Slayers is https://www.roblox.com/games/5956785391/.
To play Project Slayers, you need a Roblox account
If a Roblox account is not made, you can create one here: https://www.roblox.com/.
After creating an account, you can find "Project Slayers" in Experiences or visit the URL above to play the game.
Project Slayers Discord server rules
Minor offenses in Project Slayers
Follow Discord and Roblox TOS
Any form of suggestive content
Bypassing blacklisted words
Spoiling any form of media (outside of our assigned spoiler channel)
Refusing to follow staff's orders
Spamming stickers or emojis
Misuse of channels
Moderate offenses in Project Slayers
Attempting to find loopholes to break rules
Unnecessarily pinging or mass pinging members
Posting disturbing, unwanted, or shocking media
Discussing any overly controversial or politically charged topic
Arguing staff's decisions in public channels
Discussing staff's decisions taken against a member in public
Offsite website links, services, or 3rd party content that are not permitted on Roblox with the exceptions of our whitelist.
Keep any controversial political remarks out of the discussion. This stands true for names, conversations, and responses, among other factors
Major offenses in Project Slayers
Distributing members' personal information without their consent
Piracy
Impersonating other members
Usage of racial/homophobic slurs or exhibits of intolerable behavior
Posting any adult content
Having a suggestive name, picture, or banner
Breaking numerous rules in a short time frame
Blackmailing others
Attempted account phishing (reposting or uploading URLs with the purpose of IP-phishing)
Consistently harassing someone
What's Next
All Star Tower Defense Discord Server
Mining Simulator Discord Server
Arsalan Rauf is an entrepreneur, freelancer, creative writer, and also a fountainhead of Green Hat Expert. Additionally, he is also an eminent researcher of Blogging, SEO, Internet Marketing, Social Media, premium accounts, codes, links, tips and tricks, etc.