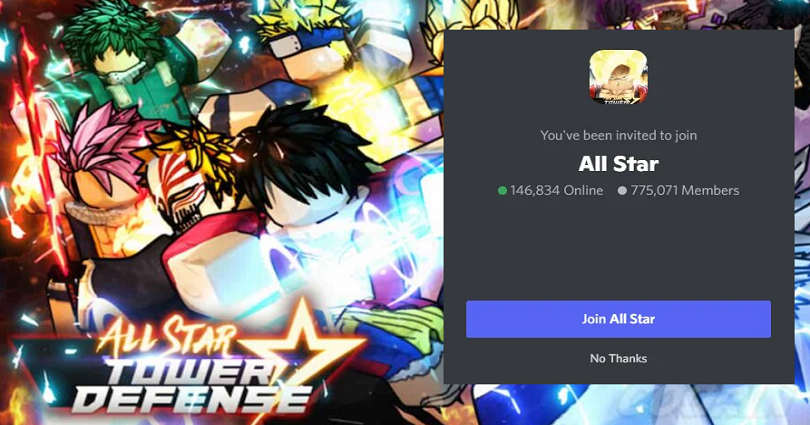 In All Star Tower Defense of Roblox, your objective is to use your troops to defend against waves of enemies.
Each unit contains unique and powerful abilities.
You can upgrade your troops in the battle and it will unlock new attacks.
By unlocking new units, you can summon them in the battles from the gate.
Add your friends in your team to play the story mode or the infinity tower.
Every hour, new things will be shown in the Summon Gate and Emote Shop.
This post has the All Star Tower Defense Discord server link for Roblox, game link, and server rules.
All Star Tower Defense Discord server link
The official All Star Tower Defense Discord server link is https://discord.com/invite/8sgJmNx.
The server contains more or less 775k members.
It has multiple channels including wiki, artwork, giveaways, and more.
To access them, you have to agree to the rules and verify yourself from Bloxlink.
After verifying yourself, you can chat on the various discussion channels.
The game announcement channel has information related to in-game maintenance and events.
The most active channel is the #main-chat channel that allows users to chat.
What is the game link for All Star Tower Defense?
The game link for All Star Tower Defense is https://www.roblox.com/games/4996049426/.
To play All Star Tower Defense, you need a Roblox account.
If a Roblox account is not made, you can create one here: https://www.roblox.com/.
After creating an account, you can search for "All Star Tower Defense" in Experiences or go to the link above to play the game.
All Star Tower Defense Discord server rules
#1 Rule: No Spamming/Flooding Channels
Description: Spamming the chat with emotes, text walls, pictures, repeated messages, copypastas, line splitting/long fragmented messages, etc. Spamming to gain experience points is also prohibited and will result in your level reset back to 0.
#2 Rule: No Offensive Content, Hate Speech, Sensitive Material, Discrimination, Racist Terminology/Slurs
Description: Refrain from posting sensitive content. Statements consisting of racial slurs or derivatives thereof, sexist or homophobic, and other similar types of behavior.
#3 Rule: No Advertising
Description: Posting invite links from other discord servers, giveaways, social media/content creator's channel, or another game is prohibited without approval from a Moderator.
#4 Rule: No Posting Fishy Links/Files
Description: Posting links/files that have suspicious names or a photo of a QR code are not allowed.
#5 Rule: No NSFW Content/Statements
Description: Dissemination of NSFW content in any form in all chats is not allowed.
#6 Rule: Follow Channel Rules and Its Respective Purposes
Description: Misusing channels from what they are used for. Please don't forget to read their description/pins to avoid this from happening.
#7 Rule: Be Respectful
Description: Behave and do not make a nuisance of yourself on the server, including excessive trolling or otherwise being disruptive or making others feel uncomfortable, harassing or insulting, or any other actions that target a specific user in order to make them feel unwelcome, and encouraging other members to rule break.
#8 Rule: Be Respectful to Moderators+ and Do Not Ping Them for No Reason
Description: Attacking or becoming belligerent over being punished for a reasonable reason will likely result in another punishment. Please don't ping them for any in-game bugs/feedback unless it's an urgent reason.
#9 Rule: Do Not Impersonate Bots or Another User
Description: Pretending to be another user especially the ones that are no longer on the server after being punished will likely result in you being punished as well. This includes having a nickname of a game developer, YouTuber, or bot. Having their profile picture is however allowed if they give you permission to do so.
#10 Rule: No Filter Bypassing Banned Words
Description: Using normally innocent words/phrases with the intent to bypass as a joke or not. They are banned for a reason.
#11 Rule: No Making False Reports/Info
Description: Do not fabricate, exaggerate or be dishonest with your statements when reporting to a staff. Framing or manipulation with the intent to deceive will result in a punishment. Spreading false information about the game will also result in a punishment.
#12 Rule: Do not Evade Punishments
Description: Using an alt after getting punished from your main is not allowed nor leaving before getting punished.
What's Next
Mining Simulator Discord Server
Arsalan Rauf is an entrepreneur, freelancer, creative writer, and also a fountainhead of Green Hat Expert. Additionally, he is also an eminent researcher of Blogging, SEO, Internet Marketing, Social Media, premium accounts, codes, links, tips and tricks, etc.