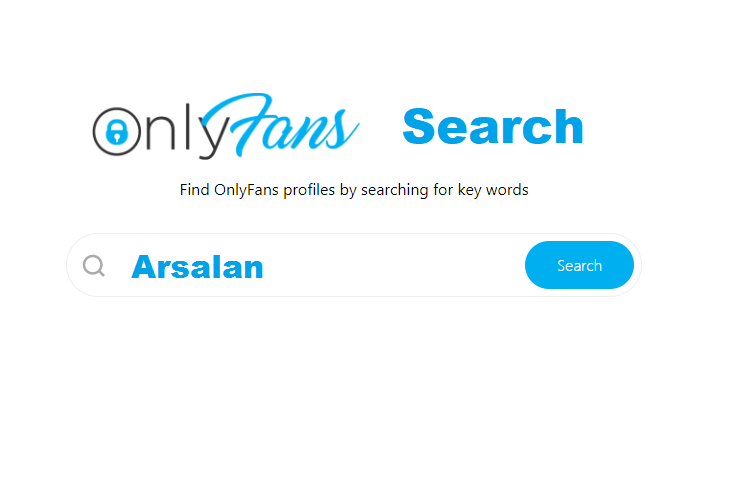 OnlyFans does not offer a search feature like other social media sites.
The best way to find a user on the platform is to know the username or the direct link of their profile.
For instance, if the name of the creator is "Arsalan", you can go to their profile by using this kind of URL onlyfans.com/Arsalan.
If you want to search for OnlyFans users, you need to use a tool in order to locate that creator.
On the other hand, you can also go through other sites of social media such as TikTok, Twitter and Instagram to find them.
There is a great chance that they may have promoted their OnlyFans link in their profile or bio.
There are a number of tools that can help you to search for OnlyFans profiles online.
In addition, they also have the feature to sort the profile by category location and so on.
There are the best 9 OnlyFans search tools that you can use for this purpose:
#1. FansMetrics.com
You can get with FansMetrics:
It has more than 20 million accounts in its database that get updated on hourly basis.
Additionally, the accounts can be filtered by location, category, gender and so on.
The website has several options on the homepage, if you want to search for Onlyfans users near your location, you need to click on "Find OnlyFans accounts near your location" option.
After clicking on it, the site will ask you to allow the site to know your location and this is imperative to find onlyfans accounts near you.
This tool will help you to find the best accounts near you.
You can also filter the accounts by country and it can be done by using the "countries" page.
There are a number of countries that can be selected as per your preference including United States, United Kingdom, Canada, Spain, Brazil, Germany and many more.
The free trial option is also available which you can avail by clicking on "Free Trials" and claim it by clicking on the favorite account.
In the end, you can search for onlyfans accounts which are popular on TikTok, Reddit and Instagram by clicking on "Instagram Models", "TikTok Stars" and "Reddit Famous" and so on.
#2. OnlyFinder
This is the second tool in the list to search for OnlyFans users that is, Onlyfinder.com.
It has a single search bar which is similar to Google like user interface.
There are different search operators available on this tool and you can use them too.
Click the "Help" button to know about its search operators.
To get started, you can search for a specific phrase such as "blonde" without using quotation marks.
In addition, you can also exclude results by using this command "-blonde".
The search can be performed for specific gender too, use the "man", "woman", or "gender:female" command.
The specific price range search can also be performed by using "free", "price:0", or "price:>5".
In addition, the search for specific age, new profile and location can also be done.
Use the "new" operator to search for new profiles.
Use the "age:19", "age:19-22", or "age:>30" commands to search for the specific age or age range.
To search for profile by location, use the command "location:los angeles" or "location:berlin" etc.
In the end, you can also go through the top 100 OnlyFans accounts, click on "Top" to explore them.
#3. OnlySearch.co
This tool connects the fans with their favorite onlyfans creators that they are finding.
Use the key phrases to search for Onlyfans users.
They consider the information that is publicly available on OnlyFans.
The information includes display name, bio, profile picture, price and location etc.
Onlysearch will display that information where the search phrases are taken from the bios of the creators.
Therefore, you will see the most relevant profiles at the top of the search results.
The OnlyFans results are directly link to the search results.
The main purpose of the tool is to help the OnlyFans creators to grow their accounts and get discovered easily.
This is one of the easiest tools to use, which will help you to find the creators using the key phrases.
#4. Reddit.com
It is another platform that creators of OnlyFans use in order to promote their account.
It is possible because NSFW content is allowed on Reddit as long as they are tagged with "NSFW".
Reddit.com also has various communities of NSFW – each focusing on a different niche.
You can search for "OnlyFans" on Reddit to get started.
After doing so, you will come across multiple OnlyFans communities including "OnlyFans101" and "OnlyFansAmateurs".
Use the filter of "Communities" for the search results, you'll see more NSFW communities.
You will come across hundreds of NSFW communities which you can join.
Each community contains posts from creators of OnlyFans.
To find their OnlyFans link, you need to visit their profile.
Filter the community to "New" in order to find the new posts.
#5. TikTok.com
TikTok is the last method to search for OnlyFans profiles.
To promote their OnlyFans accounts, the creators of OnlyFans also use TikTok.
However, it contains a lot of restrictions too.
It also includes the ban of #onlyfans hashtag.
Additionally, the link of OnlyFans cannot be used in the bio too.
If you will try to add it, it will show "Link not allowed" error.
There are OnlyFans users who bypass this by including a "Linktree" link in the bio section.
Linktree is another tool that allows you to add multiple links on one page.
Tiktok cannot ban the linktree link because it can hide the link of OnlyFans creator.
You need to search for the "accountantsoftiktok" hashtag to find the OnlyFans profile.
This "accountantsoftiktok" hashtag is used as a replacement for the "onlyfans" hashtag.
Apart from the previous hashtag, you can also search for the "onlyfansgirl" hashtag.
#6 Topcreators.net
It is also famous for being a search engine for OnlyFans accounts.
They not only get the information available for registered users on the platform but the users can also use the tools available there.
#7 Ranking-fans.com
This is another search engine for OnlyFans that can help you find what you are looking for.
You can find the best OnlyFans profiles as well as the new profiles that were recently created.
It is another source to find the creators whether they are new or old, you can get them out of their database.
#8 Search Engines
You can also use search engines to find creators and my recommendation is Google as it is my favorite search engine.
You need to input the username or related keywords in order to find the content or user.
#9 Onlyaccounts.io
Onlyaccounts.io is an OnlyFans accounts finder and search engine that has the database of over 1 million users.
This tool supports the top OnlyFans locations and you will see there a list of those accounts on their relevant pages.
The location includes American, Italian, Ukrainian, French, Canadian, German, Mexican, British and the list goes on.
You can use this tool to search for OnlyFans users by location or country.
Final Words
As you already know that OnlyFans does not offer the search feature, therefore, you need to use one of the previous tools if you want to search for OnlyFans profiles.
Additionally, the creators of OnlyFans also promote their content on multiple social media sites to get subscriptions.
The platforms are Reddit, Instagram, Twitter and TikTok.
If you want to know about your friend whether your friend has OnlyFans account or not, you can use the tools we have discussed in this article.
What's Next
How to Find People on OnlyFans
Arsalan Rauf is an entrepreneur, freelancer, creative writer, and also a fountainhead of Green Hat Expert. Additionally, he is also an eminent researcher of Blogging, SEO, Internet Marketing, Social Media, premium accounts, codes, links, tips and tricks, etc.