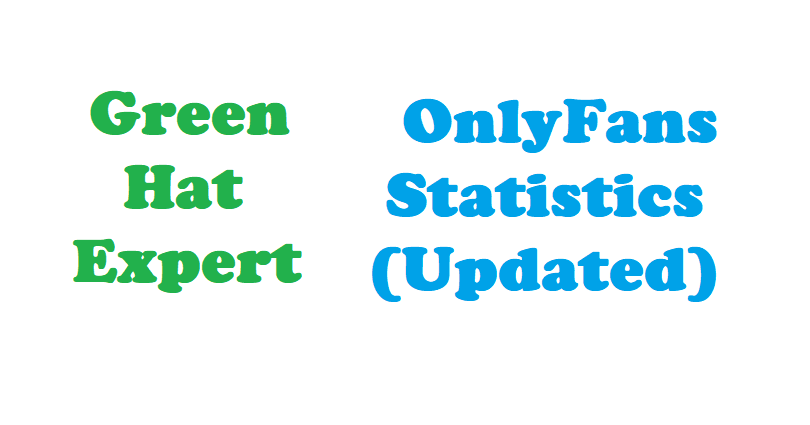 OnlyFans was launched in November 2016, OnlyFans has become popular and boost the relationship between creators and their fans.
In 2016, it was a hard task to make money as adult creators as cam sites had unfair payout percentages (> 40%).
Aella, who has become one of the top creators on OnlyFans, stated that she began her career with a service that took 85% share of her income.
OnlyFans offered the best stage for creators to get better partnerships by sharing personalized content on the platform.
Due to this, adult creators came to know that they can make more money on OnlyFans, that is why they started promoting it on different social media sites including Reddit, Twitter and so on.
Consequently, OnlyFanshas become very popular among the fans, social media and so on.
The main focus of the platform is on adult content—but it does have different genres such as fitness, music, gaming, fashion, and so on.
In August 2021, OnlyFans made an announcement that they're banning explicit content from their site and they made it effective from Oct 1, 2021. It happened due to the pressure from banking partners and payout methods.
After a few days, the ban was reversed from them because of the backlash from creators.
Whether you're a creator, marketer, creator, or fan, here are the top 10 OnlyFans statistics and facts that you should know in 2023
1. How many users does Onlyfans have?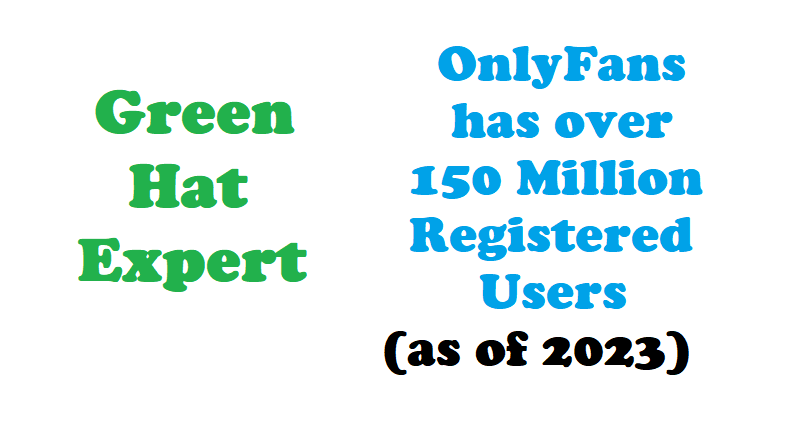 Onlyfans contains more than 150 million registered users as of January 1, 2022, and in July 2019, they had over 8 million users.
Accordingly to Timothy Stokely, there are about to reach 500,000 site registrations per day.
In March 2020, when Covid was in full swing, OnlyFans observed a month-over-month (MoM) growth rate of more than 70%.
It happened due to couple of factors—the influx of celebrities and the COVID pandemic.
First of all, celebrities/influencers shifted to this platform and joined it—Cardi B, Bella Thorne, Swae Lee, and so on.
There were some media mentions that give rise to the attention of people to OnlyFans:
Along with several other tweets that went viral on Twitter:
512k likes — This tweet is done by username @xtcshroomslsd mentioning OnlyFans but for beating up abusive people.
250k likes — This tweet is tweeted by @sarvanieloheimo mentioning that OnlyFans helped her to follow her dream house at the age of 22.
233k likes — This tweet is tweeted by @skimpthesimp of a joke about OnlyFans.
According to the Office for National Statistics (ONS), from August to September, unemployment has become a burning question and it increased to 4.9% in the United Kingdom, the highest in the last three years.
Some people who are unable to make both ends meet and they have lost their jobs and income due to the COVID and lockdown situation has shifted to ONlyFans to earn money as a side hustle.
Due to COVID, entrance of celebrities, media mentions, and increased unemployment rates resulted in the massive growth of OnlyFans, the revenue of the creators also skyrocketed in 2020.
2. How many creators are there on OnlyFans?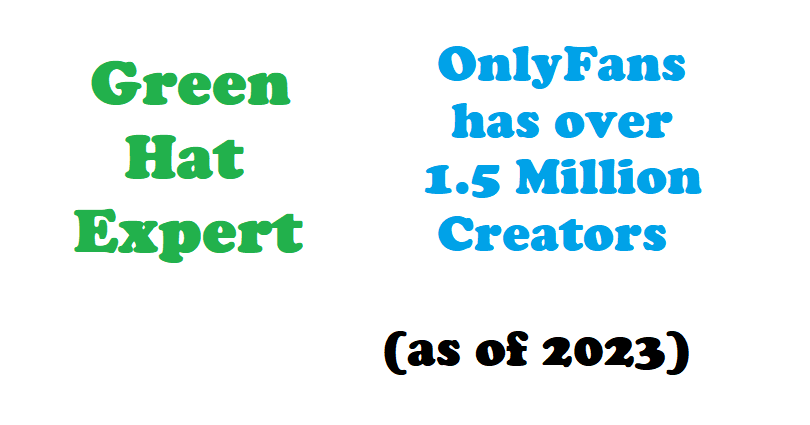 OnlyFans contains over 1.5 million creators from all over the world on August 1st, 2022, up from 70,000 creators in July 2019.
All 1.5 million creators are different from one another in terms of earnings, some of them earn in hundreds, thousands or even millions each month.
Currently, there isn't a search function on OnlyFans that helps to protect the anonymity of its users.
To find creators on OnlyFans, one has to use their social media profile, direct link of the profile or with the help of a third party tool.
Creators on OnlyFans also promote their OnlyFans from their social media including TikTok, Reddit, Instagram and Twitter.
According to Aella, Reddit is an ideal platform that has the top posts in NSFW subreddits is an OnlyFans account which is linked to it.
TikTok is also an ideal way to promote their OnlyFans account as a creator because it converts very well.
However, TikTok frequently removes NSFW accounts and content which violates their community guidelines.
The irony is that this type of content easily made to the "For You" page because it causes more engagement on the app such as it gets more likes, comments, shares on it.
Eventually, TikTok cannot stop users from registration and manual moderation is also not possible for every video due to an increased in daily uploads.
Having said that, social media platforms including TikTok result in new sign ups on OnlyFans on a regular basis whether it is creator or a fan.
3. OnlyFans revenue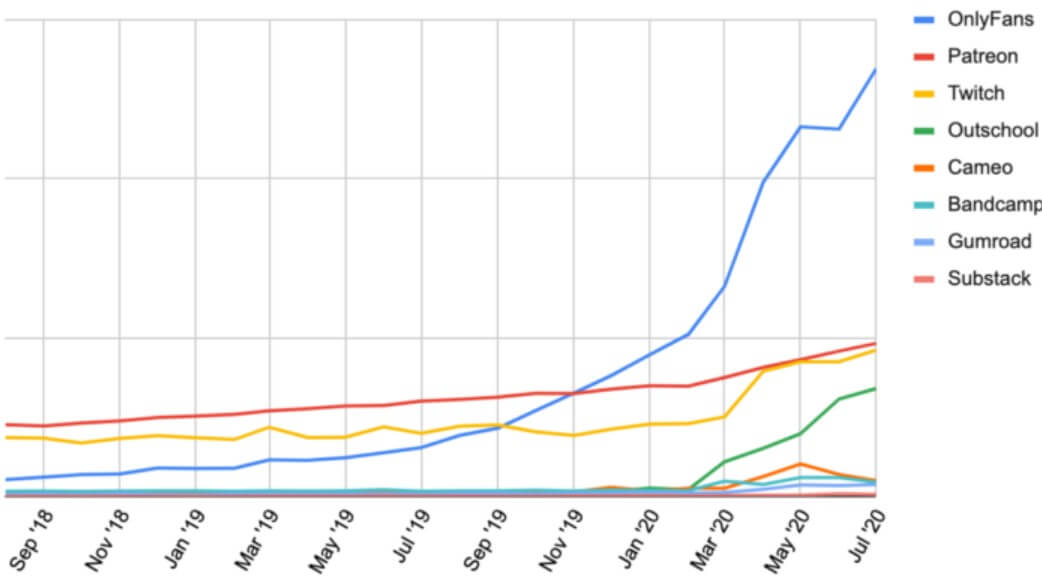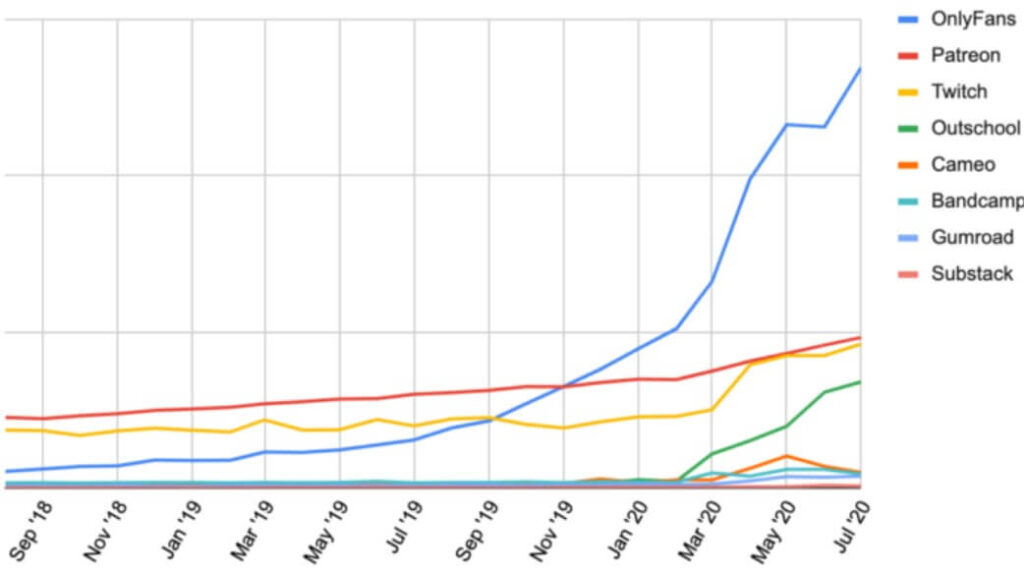 According to Bloomberg, in 2020, OnlyFans has produced over $2 billion with $400 million in annual net sales.
According to Timothy Stokely, the platform pays more than $200 million every month to its creators.
In March 2020, when COVID was in full swing, creators saw an increase in revenue, and OnlyFans was the the biggest winner among them
Since the COVID outbreak, the platform is in full swing, growing up to 70% every month.
As per the graph, OnlyFans has exceeded every creator platform in respect of revenue-Patreon, Twitch, Outschool, Cameo, Bandcamp, Gumroad, and Substack.
The graph of OnlyFans is similar to a hockey stick growth where its revenue increases without limitations ranging from September 2018 to Jul 2020.
The membership platform like Patreon contains a valuation of $1.2 billion (after raising $90 million), has been exceeded by OnlyFans.
Usually, celebrities on social media sites including Facebook, Instagram and Twitter, post family-friendly content for their followers.
Alternatively, on OnlyFans, celebrities post risqué content of themselves that contains intimacy and interaction of higher degree.
Consequently, males are agreed to pay the subscription to get access to it.
4. How does OnlyFans make money?
OnlyFans makes money by taking their cut from the creator's earnings, they receive a percentage from their money.
OnlyFans takes 20% of their revenue and creators get 80% of all revenue (subscriptions, paid messages, and tips).
OnlyFans get the 20% in order to cover payment processing, referral payments, support, hosting, and all other expenses for OnlyFans.
For instance, if a creator earned $10,000, OnlyFans will charge $2000, creators will get $8000.
This business model is similar to other online companies including Twitch (a video streaming platform), Fiverr (the best place for freelancers), and Google AdSense (ad network by Google).
As OnlyFans gets a small percentage of the revenue, the creators get paid more as compared to other platforms.
That is the reason OnlyFans is the best platform for adult content creators.
5. Who is the most popular creator on OnlyFans?
According to OnlyFinder.com, Bryce Adams is the most popular creator on OnlyFanswho has more than 800 photos, over 100 videos, and more than 9,300,000 likes.
The number 2 on the list is Mags.IRL who has more than 3,100 photos, over 400 videos, and 8 million + likes.
The following table contains a list of the most popular creators on OnlyFans as of April 2023 based on their total number of likes.
Subscribers are rounded down to the nearest ten thousand, photos and videos are rounded down to the nearest hundred, and likes are rounded down to the nearest hundred thousand.
| | | | | | | |
| --- | --- | --- | --- | --- | --- | --- |
| Rank # | Name | Subscribers | Price | Photos | Videos | Likes (millions) |
| 1 | Bryce Adams | – | Free Trial | 800 | 100 | 9.2 |
| 2 | Mags.IRL | – | Free | 3100 | 400 | 8.2 |
| 3 | Ginny Potter | – | Free | 13500 | 500 | 6.1 |
| 4 | lilianaheartsss | – | Free | 800 | 15 | 5.8 |
| 5 | Peyton Kinsly | – | Free | 3000 | 400 | 5.0 |
| 6 | Jessica Nigri | – | Free | 2000 | 200 | 5.0 |
| 7 | Natalie Monroe | – | $4.90 | 200 | 70 | 4.3 |
| 8 | SuicideGirls | – | Free | 9000 | 2000 | 4.2 |
| 9 | Shay Lust | – | Free Trial | 6300 | 800 | 3.8 |
| 10 | Sara Mei Kasai | – | Free | 2200 | 300 | 3.4 |
Source: OnlyFinder.com.
6. How much money do OnlyFans creators make?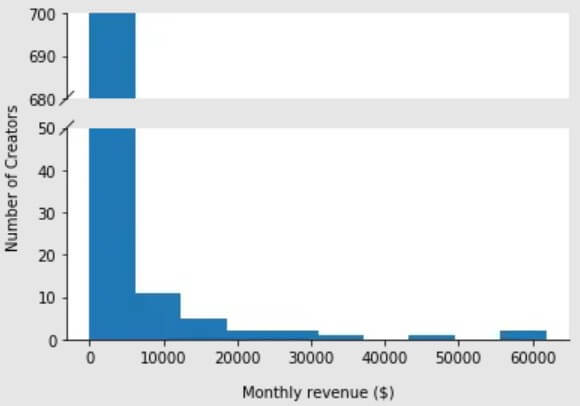 Data from: The Economics of OnlyFans created by Thomas Hollands.
The majority of OnlyFans creators make around $0 to $5,000 a month, but OnlyFans has more than 100 creators who are making more than $1 million.
This stat does not include the tips that fans give directly to the creators for photos and private messages.
Keeping in view the graph, the top 1% of accounts get 33% of all the money while the top 10% of accounts on OnlyFans generate 73% of all the money.
Another thing to consider is that a good percentage of revenue comes from tips but they are hidden from OnlyFans.
As a result,tips are not included in this analysis.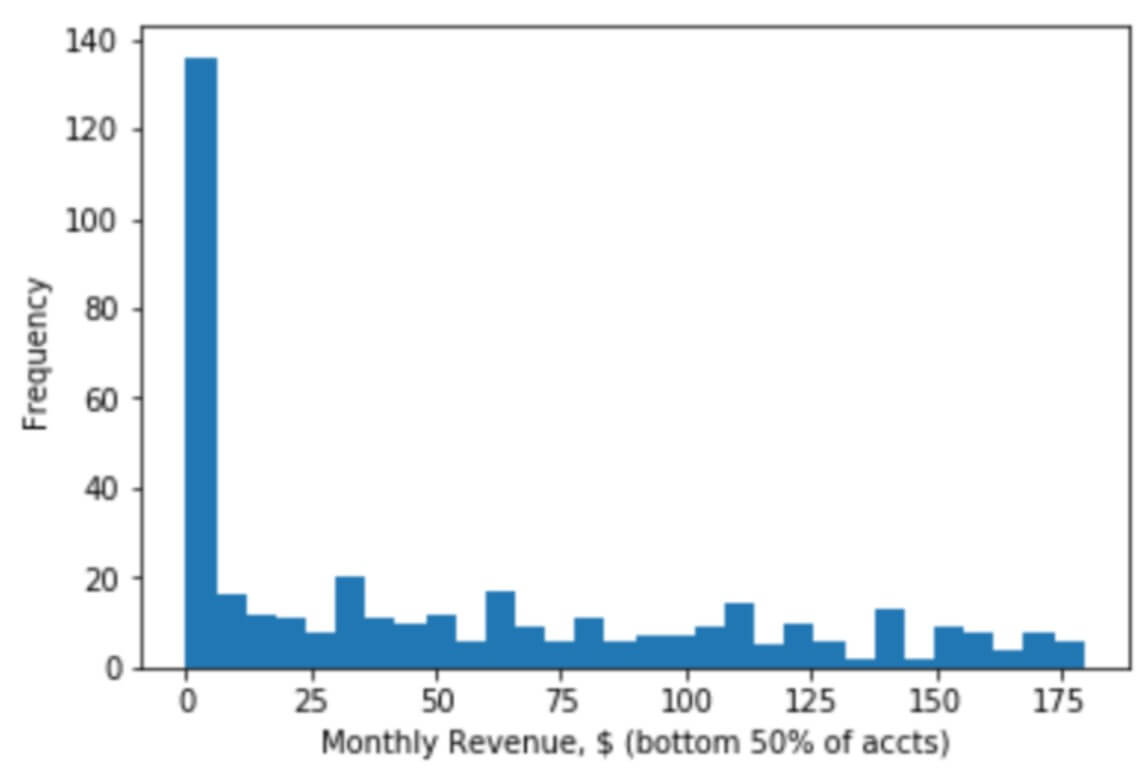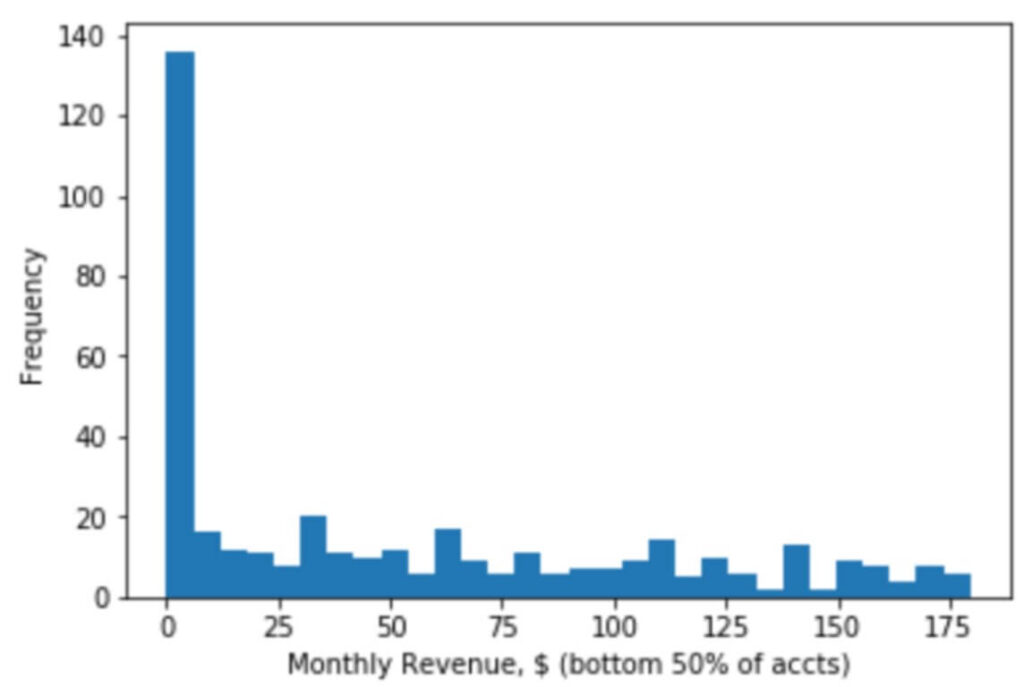 Data from: The Economics of OnlyFans created by Thomas Hollands.
As per Thomas' study, most creators are "losing money" on OnlyFans.
The creators should be active (online) on the platform 24/7 so the fans can get the posts and replies on time.
Keeping in view the median revenue of $155 per month with a $15 minimum wage, creators have to spend at least 20 minutes every day to break even.
If you want to earn revenue on OnlyFans, it is highly recommended to get huge followers on other social media sites including TikTok or Instagram.
7. Who is on OnlyFans?
There are several celebrities on OnlyFans:
Bella Thorne is an American model, singer, actress, and director.
Cardi B is an American songwriter, rapper, and actress.
Amber Rose, is an American actress, model, and TV personality.
Swae Lee is an American singer, rapper, and songwriter.
Chris Robshaw is an English rugby union player for the Major League Rugby side San Diego Legion.
Adi Spiegelman is a model and a professional tennis player from Israel. 
Shea Coulee, the winner of season 5 of RuPaul's Drag Race All-Stars.
Jermaine Dupri, an American entrepreneur, DJ, rapper, songwriter, record producer and record executive.
After joining OnlyFans, in the first 24 hours, Bella Thorne made $1 million which results in the payment limitations.
Belle Delphine is another creator to remember who disclosed that she makes more than $1 million a month from OnlyFans.
8. How do people make money on OnlyFans?
There are multiple ways to make money on OnlyFans including paid posts, subscription revenue, PPVs (pay-per-view messages), paid streams and tips.
The accounts are also of two types including a free page, and a paid subscription page.
The free page is one way to charge their fans to unlock certain posts and pay-per-view messages.
Alternatively, creators also offer paid subscription page to generate income from subscriptions as well as PPVs.
According to Aella, 64% of income comes from subscriptions, while the rest of the 36% is coming from (PPVs) pay-per-view messages and tips.
To get an estimation on how much a creator can make on OnlyFans through subscriptions, you can use the OnlyFan's revenue calculator on the website.
The potential of subscription revenue is between 1% and 5% of their followers subscribing and the calculator will calculate it.
A creator has to choose between a free or a paid account which is a crucial decision for them.
As both types of accounts come with advantages and disadvantages.
The first benefit of a free account is that you will get followers faster as compared to the paid account as it removes the payment barrier.
A free account also gives you some options that are not available in the paid account including paid posts and paid stream.
The paid posts feature allows the creators to monetize posts on their feeds.
The subscriber will get the post locked on their feed if they set a price to a post, and the users have to unlock it by making a payment.
Additionally, free accounts are also allowed to start a paid stream which is based on pay-to-join.
When a creator does live streaming, they can set a "ticket price" for viewers to join (the minimum price is $5).
However, a free account cannot guarantee a regular income as the viewership can change from to month.
Apart from that, a creator may gain a lot of followers with a free account which can lose the interest.
9. Who founded OnlyFans?
In 2016, Timothy Stokely founded OnlyFans, a British tech entrepreneur.
Tim is a lifelong entrepreneur and OnlyFans is not the only platform launched by him. He founded different internet platforms including Custom4U, GlamWorship, and 121With.
In his school, he was able to discover his entrepreneurship skills where he collected orders for a local fish & chip shop, marking up the cost for his friends.
Tim planned to follow the financial footsteps of his father but later took his own independent route.
Tim acquired degree in Property and Surveying from Anglia Ruskin University and follows the New England Patriots (an American football team).
10. OnlyFans traffic overview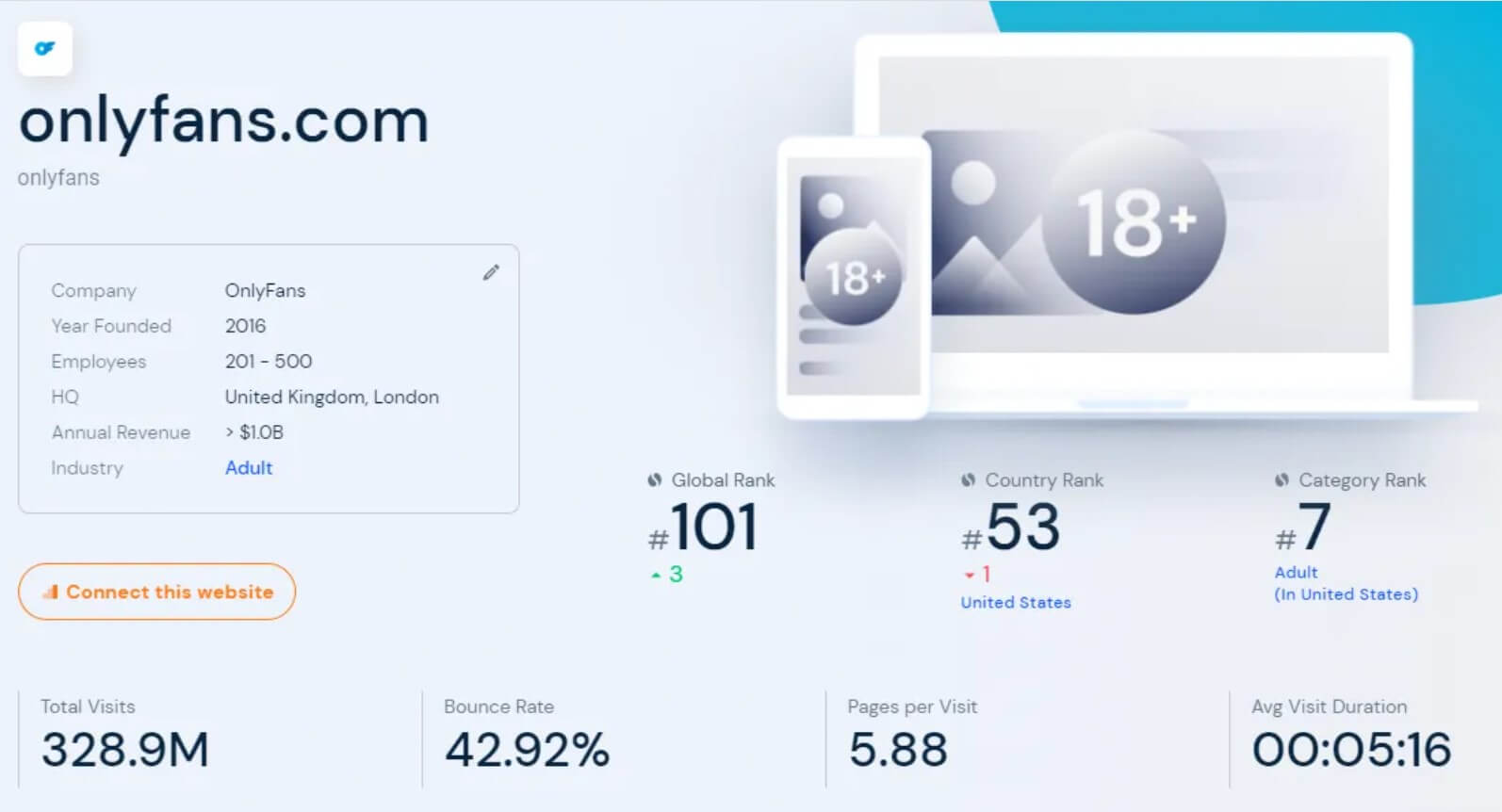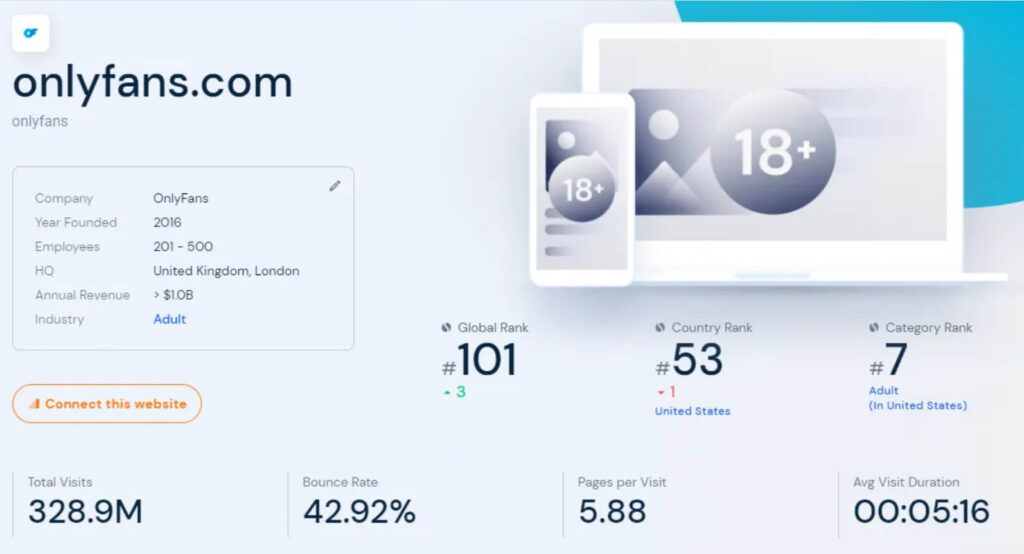 Here are some quick statistics about OnlyFans website traffic:
As of February 2023, onlyfans.com has an estimated 329 million monthly visitors.
OnlyFans is the 101st most popular site in the world (as of Feb 2023).
OnlyFans is the 53rd most popular site in the United States (as of Feb 2023).
The average visit duration of the site is over 5 minutes.
The major source of OnlyFans' traffic is the United States (43%).
OnlyFan's direct traffic percentage is over 55%.
OnlyFan's social media traffic is over 14%.
Twitter's stake in terms of social traffic on OnlyFans is 65%.
OnlyFan's Instagram traffic is about 11%.
The referrals traffic percentage is over 18% on OnlyFans.
Linktr.ee is the top referring site for OnlyFans.
Final Words
To conclude, OnlyFans reached its prime by paying attention to a specific creator segment and with the passage of time expanded to other verticals and markets.
There can be an argument on the fact that the main cause of its rapid growth is adult content on the platform.
This is not completely wrong but it also has a lot of other factors that contributed to it.
In a nutshell, it is the mixture of media, pandemic, and the premium creator-fan interaction that the website offers.
What's Next
How to Find People on OnlyFans
How to Make an OnlyFans Account
Arsalan Rauf is an entrepreneur, freelancer, creative writer, and also a fountainhead of Green Hat Expert. Additionally, he is also an eminent researcher of Blogging, SEO, Internet Marketing, Social Media, premium accounts, codes, links, tips and tricks, etc.