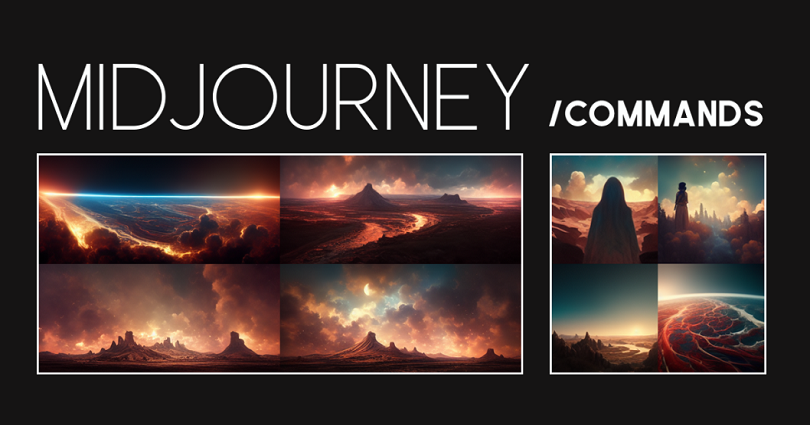 To use Midjourney, you have to utilize the "/imagine" command accompanied by keywords.
Apart from the "/imagine", command, there are a lot of other commands available that can be used.
These are the functions of the AI that can you can type in a bot channel or a thread under it.
You can use some commands to change the quality of the image generation.
Other commands help you to change the size of the image.
In this post, I will tell you all of the Midjourney commands such as command inputs, stylize values, quality values, and so on.
Basic Midjourney commands
Here is a list of Midjourney commands that can be used on Discord frequently.
/imagine (e.g. /imagine waffles and pancakes).
/help (info about the bot).
/relax (your jobs do not cost, but takes longer to generate).
/show <jobid> (revive any job).
/info (info about your profile).
/subscribe (subscribe to the bot).
/fast (your jobs will be incrementally billed).
/private (your jobs are private).
/public (your jobs are public).
"/imagine" parameters
Parameters are inputs that can be added at the end of the "/imagine" command.
You can use this as an example, "/imagine pancakes and waffles –q3 –iw 0.25
–beta (an experimental algorithm).
–hd (an older algorithm for higher resolutions).
–h (sets the height of the image).
–fast (faster images, less consistency, less expensive).
–stop (stop the image generation).
–video (saves a progress video).
–seed (sets the seed).
–sameseed (affects all images the same way).
–aspect/–ar (generates images with the aspect ratio).
–w (sets the width of the image).
–no (e.g. –no plants).
–iw (image prompt weight).
–stylize <number> (how strong you want the image style to be).
–q <number> (the quality of the image).
–chaos <number> (the randomness of the image).
–v <1 or 2> (an old algorithm to use the last improvement).
–uplight (uses the "light" upscaler).
Stylize commands
Stylize values can determine how artistic you want your generation to be.
–s 625 (less artistic).
–s 2500 (default value).
–s 20000 (let the stylization take over).
–s 1250 (less strict but pretty).
–s 60000 (maximum stylization).
Quality commands
Quality commands can change the generation time and quality of your image.
–q 0.25 (4x faster, rough results, cheaper).
–q2 (2x slower, more detailed, expensive).
–q5 (experiemental).
–q 0.5 (2x faster, less detailed, cheaper).
–q 1 (default value).
Adding a URL
You use a URL for the AI to use as reference/inspiration.
/imagine <URL> (e.g. /imagine https://en.wikipedia.org/wiki/Star#/media/File:Starsinthesky.jpg black hole).
Text weights
Give a part of your prompt a specific weight.
If you didn't add the weight, the default value will be "1".
/imagine bread::1.5 food::-1
/imagine dog::1.25 animal::-0.75
/imagine bread food::-1 animal
Preferences and settings
/settings (opens up the visual settings).
/prefer auto_dm True (jobs will be automatically DMed to you).
/prefer option set <name> <value> (sets a shortcut to a value that you've set, similar to keyboard shortcuts).
/prefer suffix (non-visual settings).
/prefer suffix <text>
/prefer option list (see a list of your preferred options).
What's Next
Midjourney Discord Server Link
The Beginner's Guide to Use Midjourney AI
Arsalan Rauf is an entrepreneur, freelancer, creative writer, and also a fountainhead of Green Hat Expert. Additionally, he is also an eminent researcher of Blogging, SEO, Internet Marketing, Social Media, premium accounts, codes, links, tips and tricks, etc.