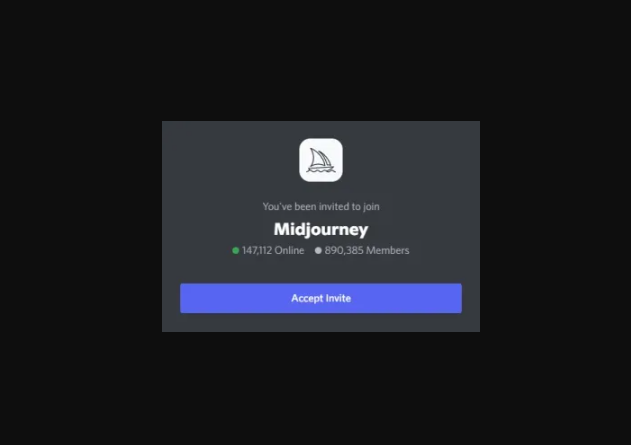 Midjourney is an independent research lab that gives rise to the imaginative capabilities of human and provide them with new mediums of thought.
Their team is self-funded and focused on AI, design and human infrastructure.
The team contains 11 full-time staff and is equipped with exceptional advisors.
They have Jim Keller (CTO at Tenstorrent), Nat Friedman (GitHub's CEO), Philip Rosedale (Founder of Second Life), and Bill Warner (Founder of Avid Technology) in their team.
This post has the Midjourney Discord server link and how to use the AI to create stunning images from your imagination.
Midjourney Discord server link
The Midjourney Discord server link is https://discord.com/invite/midjourney.
The server contains over 890,000 members and you can use the AI to create images via your imagination.
The server has multiple channels like announcements, polls, newcomer rooms, and more.
Their most popular channel is the #newbies-1 channel.
In the #newbies-1 channel, the Midjourney bot can be used with the help of the /imagine command.
The /imagine command has the ability to generate the "prompt:" text automatically.
You have to provide the keywords after the "prompt:" text.
Do not remove the "prompt:" text otherwise, the command will not work.
The server contains 3 main rules including don't be a jerk, don't use the bot to make inappropriate content, and be respectful to everyone.
If you break one of the rules, you may get banned permanently.
How do you use Midjourney on Discord?
Here is a step by step guide on how to use Midjourney on Discord:
Firstly, join the Midjourney Discord server.
After that, go to the #newbies-1 channel.
Type /imagine something that you think of (for instance, /imagine waffles and pancakes).
Lastly, wait for the AI to generate the image.
After entering /imagine, you will get 4 images in 60 seconds from the bot.
The numbered buttons under the images will be visible.
The examples are U1, U2, U3, U4, V1, V2, V3, and V4 respectively.
U means upscale, which shows to enlarge and sharpen the image.
V means variation, which is used to make 4 variations of the image.
Just remember that each user will contain a limited trial of 25 queries.
The queries are upscales and variations—so it is necessary to make good use of them!
After using them, you can purchase a full membership.
Full memberships come with 200 queries or unlimited generations, and commercial terms.
Anything that you create will be shown online unless you buy a membership plan associated with private visibility option.
What's Next
The Beginner's Guide to Use Midjourney AI
How to Add Midjourney Bot to Your Discord Server
Your Bizarre Adventure Discord Server
Arsalan Rauf is an entrepreneur, freelancer, creative writer, and also a fountainhead of Green Hat Expert. Additionally, he is also an eminent researcher of Blogging, SEO, Internet Marketing, Social Media, premium accounts, codes, links, tips and tricks, etc.