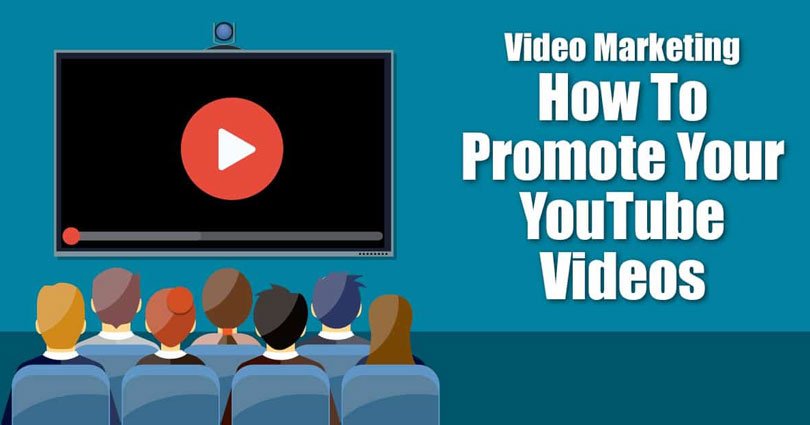 Do you have a YouTube Channel & publish videos on regular basis?
It does not matter how much time you spend while making your videos; if you are not promoting them or marketing your videos, your precious work will never be seen by the majority of the viewers.
YouTube video promotion is an art that you can learn and it needs a little discipline.
In this post, I am sharing techniques and strategies that you can follow to promote your YouTube videos.
The tips are tested, proven and work for every niche videos so it does not matter what your niche is. Bookmark this post and use it as a checklist which you need to follow once you have created your videos.
So without further waiting, let's learn the art of YouTube video promotion.
How To Promote A YouTube Video & Get More Views
I have added all the major promotion techniques in the sub-topics below.
Note: In upcoming posts in Green Hat Expert's YouTube promotion series, I shall explain the sub-topics in detail. If you are already a professional YouTuber or planning to become one, you should like our Facebook page for latest updates.
1: Video Title
The titles of your videos are a major factor between them shared across the web and being widely seen or only getting a small number of views.
It is the best idea to do proper keyword research to find what people are searching for or trends of the keywords and create a great title after that.

Here are some pro tips for writing attracting video titles on YouTube:
Keep them short (precise) and to the point.
Use "Power Words" (Ex: Best, Awesome, Incredible).
Add the current year if there is a space (Ex: Best Tips for 2018-2019).
Make it attention grabbing.
Include keywords at the beginning of the title (where possible).
Use emotional words (Ex: Sensual, Lonely, Passionate, Censored).
Capitalize your headline title. Use this tool, it will help you.
2: Video Tags
The use of incorrect tag is one of the biggest mistakes that make the growth of your YouTube video' organic promotion difficult.
Tags in YouTube videos works in a different manner as compared with blog posts. If you are not paying attention to your YouTube tags then it is the right time to start it. in addition, you can also undo your old tags by editing them.
Here are some tips for using YouTube video tags:
Use a unique branded tag so that your videos are displayed in related videos. Ex: Use your brand name in all videos like Green Hat Expert.(See below picture.)
Use your main keywords as the video tag.
Find the tags used by top ranking videos & use those in your videos. You can use the TubeBuddy Chrome extension that helps you to find tags used by other YouTubers.
Use a variation of your keyword as a tag (take help of the YouTube auto-suggest feature).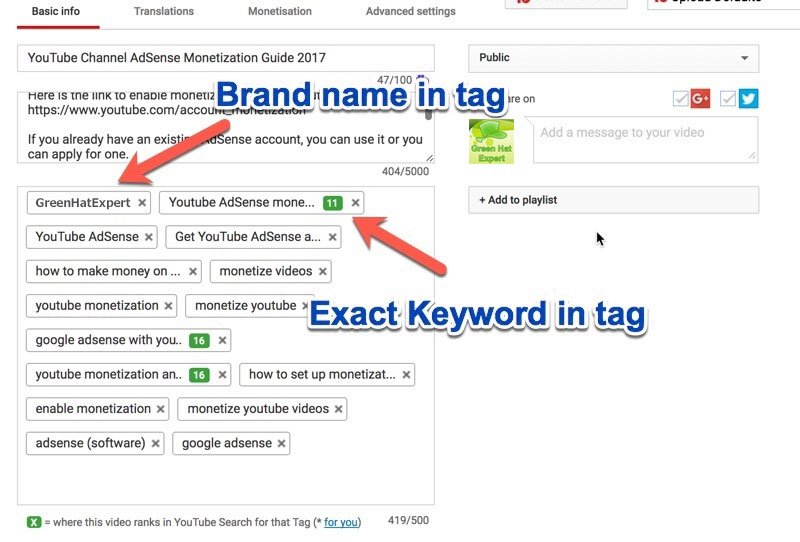 You need to know that YouTube tags are an important organic ranking factor for your videos.
3: Use a Custom Thumbnail
If your YouTube channel is verified then you can get the advantage of the custom thumbnail feature. A good video thumbnail allows you to stand in the suggested and related videos section.
Here are some tips for thumbnails:
Make a resolution of 1280 x 720 (with a minimum width of 640 pixels).
Upload in either .JPG, .GIF, .BMP, or .PNG.
Try to use a 16:9 aspect ratio as it is the most used in YouTube players and previews.
Keep it under the size of 2MB.
I do not want to create a confusion by using these technicalities but you need to be aware of this to create a thumbnail that works efficiently on mobile as well as on desktop devices.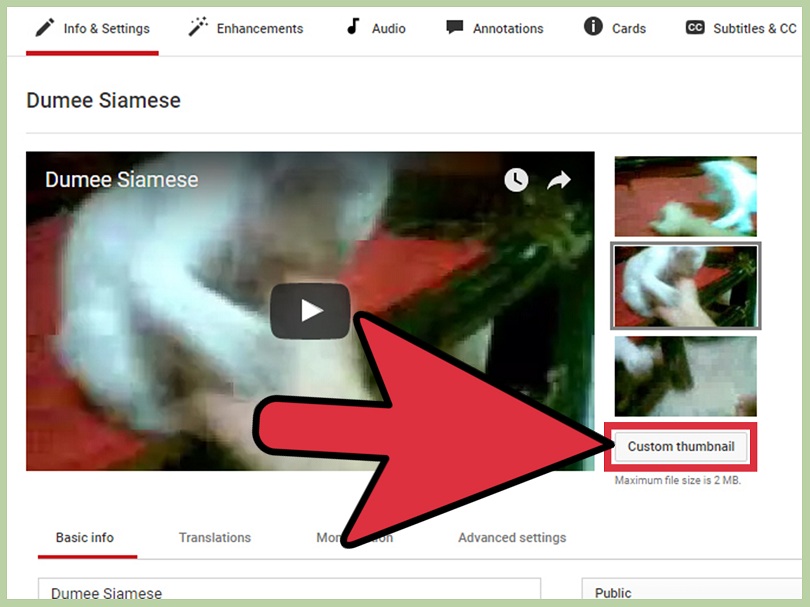 You can use Canva or YouZign to make a thumbnail for YouTube videos in couple of minutes.
4: Focus on Branding
There are a few branding things you need to do from now on to make sure every video stands out. Branded intro and outro are of those things.
YouTube intro: A 3-5 second clip that runs at the starting to pay attention to your brand.
YouTube outro: This runs at the end and can be as simple as showing related videos for your channel or asking users to like videos & subscribe to your channel.
Creating a YouTube intro and outro of a video is an easy task. You can create it with the help of Camtasia or you can order on Fiverr to get one.
If you do not have a channel logo, then you need to design one or hire someone on Fiverr to do it for you.
5: Share Videos on Social Media Channels
If you are a video blogger, then you should have social media community for your YouTube channel. It allows you to create a community outside of YouTube and you can get direct traffic from your social media channels.
Here are some of the social media channels that you must have:
Facebook page
Twitter profile
Google Plus page
Instagram profile
Pinterest profile
In addition, you can also use a tool that is, Buffer which has the ability to schedule your videos to be shared on social media. You can also benefit from IFTT + Buffer integration to share your newly published videos on your social media page automatically.
Read more:
Pro tip: Always share your video after a regular interval
Usually, the famous bloggers share every video at least 10-15 times during 6 months duration after publishing it. In addition, also use hashtags while sharing to make them visible and it will be easy to discover.
6: Start a Website or Blog for Your YouTube Channel
If your full-time job is YouTube, then you should create a blog to promote your YouTube videos. Nowadays, it is an easy task to embed YouTube videos on your website and you can also make a blog on free or paid platform.
I suggest you to make a website using WordPress and install a video specific WP theme. It is wise to use Best Managed WordPress hosting so you do not have to worry about website maintenance.
In the meantime, you can use plugins like:
Yoast SEO WordPress plugin– to do perfect SEO for your site to rank higher.
YouTube Viral Subscribe plugin – to automatically add a "subscribe to channel" tag after every video.
Read more:
If not WordPress, you can take advantage of other platforms like:
Bonus tip: Purchase a domain name and you can redirect it to your YouTube Channel. When someone wants to find your YouTube channel, you can also provide him your domain name to reach you.
7: Create a Playlist or Add your Video to an Existing Playlist
Create a playlist and get more views on your existing videos with ease. After uploading the new video, add it to a playlist (either create a new one or add it to an existing one).
If you are creating a new playlist, follow these steps:
Give a meaningful name to the playlist & use a keyword in the title of that playlist.
Add a description in detail for the playlist and add your keywords in there.
Group similar videos into one playlist.
A single video can be added to more than one playlist.
You can see the YouTube playlists in the search results of YouTube. If you will also do this, the discovery of your videos will be easy.
8: Use Calls to Action
You have to tell the people on social media websites what action you want them to take.
At the end of the video, or somewhere in the middle, ask viewers to like the video, leave the comment or subscribe to your channel. In the meantime, you can also ask them to share your content with friends so they can take advantage of it.
There are a number of famous YouTubers are using this technique to benefit from existing viewership. If you have not been doing this before, start doing it from the very next video. You will be delighted to see that by simply asking about the number of shares, it gets increase to a great extent.
9: Interview Influencers in Your Niche
This step is not a direct YouTube promotion technique but it helps you to improve your overall strategy of your channel promotion.
Interviewing an influencer provides you a chance to get access to already prosperous community in your niche. Not only you will get the attention of the viewers who follow that specific influencer, you will get focused on the industry as a whole.
You can find the top influencers in your niche and interview them with the help of Skype and Google Hangouts.
10: Spend time Learning at Creator Academy of YouTube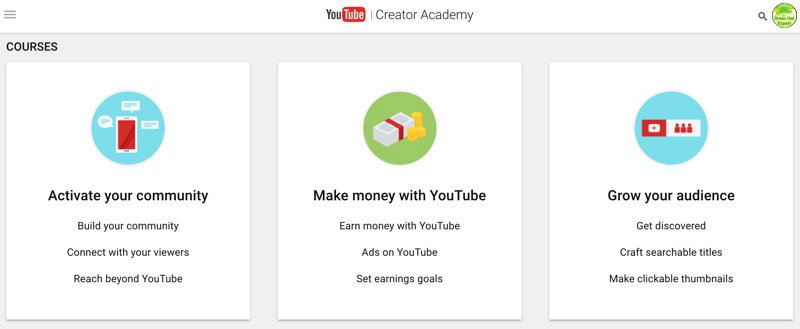 People who work on YouTube and grow their channel, they stop learning and move their entire focus on publishing more videos. It is a common mistake among them.
If you are a YouTuber then it is necessary for you to learn about all emerging and existing tips and tricks to keep yourself up to date.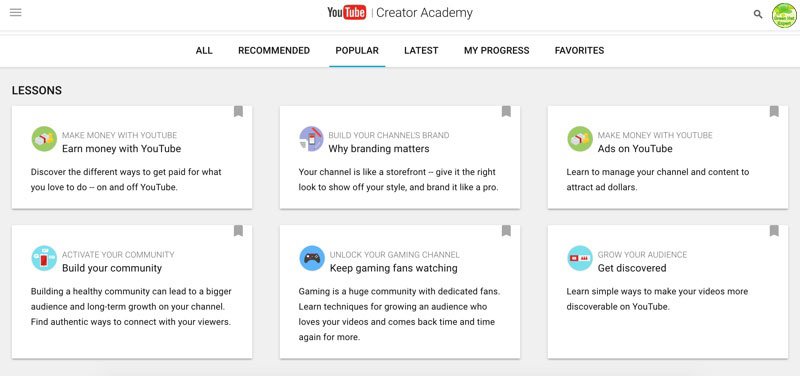 You can use Creator Academy by YouTube to learn some professional tips for making the most out of your YouTube videos (and your channel as a whole).
Promote Your YouTube Videos And Get More Views
So, these were some simple promotion techniques and strategies which you can use from now on to promote your YouTube videos.
My tips and tricks will definitely help you to get more views, traffic and you will also get more subscribers.
Now it's your turn to share your experience how do you promote videos on YouTube when you publish it.
I will update the post after getting suggestions from the comment section.
Do not forget to share this post.
Also, like our Facebook page for the latest posts and updates.
Arsalan Rauf is an entrepreneur, freelancer, creative writer, and also a fountainhead of Green Hat Expert. Additionally, he is also an eminent researcher of Blogging, SEO, Internet Marketing, Social Media, premium accounts, codes, links, tips and tricks, etc.