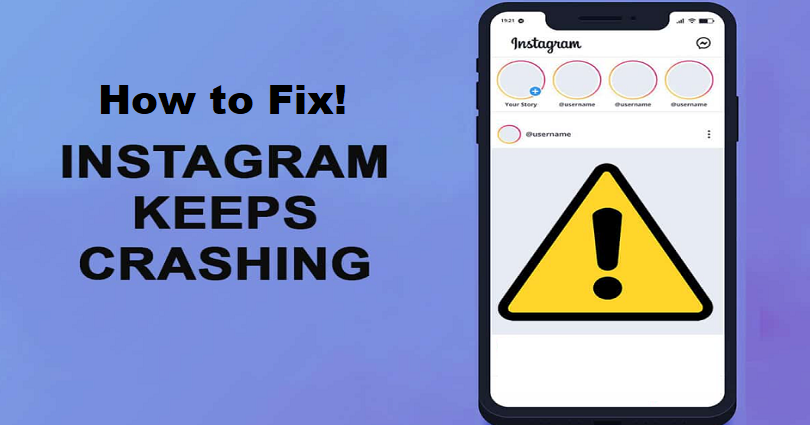 Is your Instagram crashing after every 30 seconds or 1 minute and you are curious to know why is it happening?
Does Instagram keep crashing whenever you try to post anything or view a story on the platform?
Both android and iOS users are getting this issue periodically.
You cannot use the app as it crashes in less than a minute when you open the app.
Some users also stated that their phones are heating up when they use the app.
In this post, I will tell you why Instagram keeps crashing (after 30 seconds) on iPhone and Android devices and how to fix it.
Why does Instagram keep crashing?
Instagram keeps crashing due to the new update launched by Instagram.
Otherwise, Instagram is down and it will be functional again, so you have to wait for it.
Instagram gets down frequently, so it's not new to you that it's down right now.
To find out, go to downdetector.com and search for the term "Instagram".
If you come across a spike in reports, it clearly shows that the app is probably down.
Visit Twitter which can be used to find out and search for "Instagram crashing" or "Instagram down" in the search engine.
See the top and latest tweets to observe if there are people complaining it.
"Does anyone else have an issue where @instagram is constantly crashing? It's been happening for two days now. No update available".
"Anyone else's Instagram just randomly crashes after 30 seconds of using the app?" (2.9k likes, 155 comments).
"Is there any issue with @instagram on iOS? It automatically shuts down after a few seconds. #instagramdown".
How to fix Instagram crashing
To fix Instagram crashing, you need to update the app as soon as an update is released.
You can also uninstall and reinstall the app to update it to the latest version and its cache will also be cleared.
If you're experiencing crashes on an Android device, you can download an older version of Instagram from Uptodown.
If all else fails, you need to wait for 24 to 48 hours or more and the issue will fix itself.
Solution 1: Update the app
Visit the App Store or Google Play Store and search for the app using "Instagram" term.
If IG has an update, tap on the "Update" button to update the app to the its latest.
Most updates are launched to fix the bug and performance improvements, which will fix in-app issues.
If they have not launched an update, wait for one.
You can also uninstall and reinstall Instagram, it will also update it to the latest version and remove the cache.
Solution 2: Download an older version of Instagram
If you're an Android user, you can download an older version of Instagram that is free from crashing problem.
To access the older version of Instagram, copy this URL and paste it to your browser https://instagram.en.uptodown.com/android/versions.
After opening it, select an older version of the app to download it on your android.
Just keep in mind that this fix does not work for iOS devices.
Solution 3: Wait for 24-48 hours
You should make sure if Instagram is down using platforms like downdetector.com or Twitter.
Most problems on the Instagram app will resolve on its own within 24 to 48 hours.
If Instagram is crashing regularly, it might be happening because of a bug or server problem due to the new update.
Once the servers are up, an update will be sent, and the crash problem will be resolved after updating the app to the latest.
If there is no update launched by IG and the app stops crashing, it means it was from servers.
What's Next
How to Fix "No Internet Connection" on Instagram
How to Fix "Instagram keeps stopping"
Arsalan Rauf is an entrepreneur, freelancer, creative writer, and also a fountainhead of Green Hat Expert. Additionally, he is also an eminent researcher of Blogging, SEO, Internet Marketing, Social Media, premium accounts tips and tricks, etc.