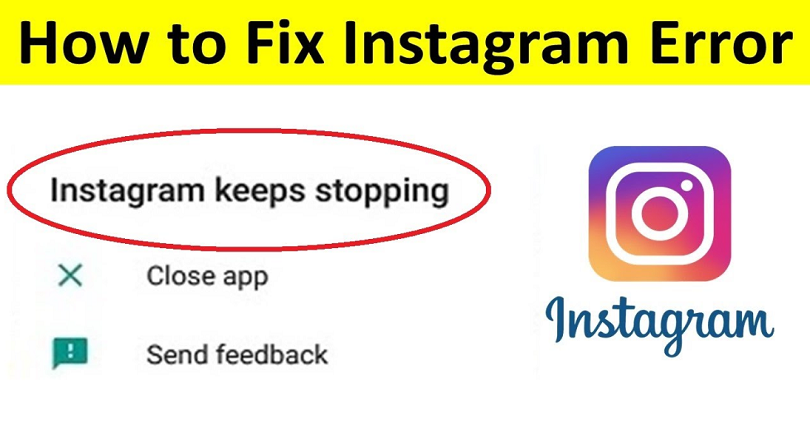 Are you facing an "Instagram keeps stopping" error on your Android device?
You will get three options including "App info", "Close app", and "Send feedback".
You can send your feedback to Instagram by using the "Send feedback" option.
However, it will not fix Instagram from stopping or not opening.
In this post, I will guide you on how to fix "Instagram keeps stopping" on Android devices and why the error message happens.
Why does Instagram keep stopping?
Instagram keeps stopping because the app is not up.
If Instagram is working fine, it's usually happening due to a bug or glitch.
To check the status of Instagram, you can utilize DownDetector or Twitter.
Search for "Instagram" on DownDetector and to see the graph and find out.
If there is a spike on the graph, it clearly indicates that IG is down.
You can also search for the term "Instagram down" on Twitter and see if anyone else is facing the same issue.
Instagram went down multiple times throughout the years, so it is now a common trend on the app.
Additionally, bugs and glitches are common due to frequent app updates.
If you're experiencing the error message—don't worry—you can use various ways to fix it.
How to fix "Instagram keeps stopping"
Here are the methods that guide you on How to fix "Instagram keeps stopping" (6 methods):
The first way is to install Instagram Lite: https://play.google.com/store/apps/details?id=com.instagram.lite
The second method is to clear the cache of the app by following these steps: Open the Settings app > Apps > Instagram > Storage > Clear Cache > Clear Data > re-open Instagram.
Download an older version of Instagram from uptodown.com (for Android devices) using this link: https://instagram.en.uptodown.com/android/versions.
Uninstall and reinstall Instagram.
Update Instagram to the latest version.
Lastly, you can wait for 24 to 48 hours.
You can fix this crash easily by clearing the cache of Instagram (and the first way to fix it).
After clearing Instagram's cache and data, the app will be refreshed and will fix certain errors like loading or freezing.
However, it will also remove your login details and you will be logged out.
Consequently, you will have to use your credentials to log in to your Instagram account.
Installing an older version of Instagram is another useful way until the app releases a new update to fix the bug.
Uptodown contains the older version of the app and you can install them.
Unfortunately, this method is suitable for android users not for iOS users.
If you are not on the latest version of Instagram, you should update it.
Certain updates come with bug fixes and improvements that will remove the "Instagram keeps stopping" error.
To update the app, you can also use the uninstall and reinstall app method.
This method will clear the cache and data of the app.
The irony is that some updates that are meant to fix the bugs come up with additional bugs.
In this case, you need to wait for a new update from Instagram to fix the bugs.
If these methods do not work, you need to wait for 24 to 48 hours before starting to use the Instagram app again.
In some cases, Instagram might be down for every user due to issues with the server, database or the app.
In this case, you need to have patience and check back periodically to see if the issue is solved.
DownDetector can also be used to monitor downtime.
If the trend of the graph is going down, it shows that the issue is most likely resolved.
Why is my Insta not opening?
Your Insta is not opening because it might be down.
Otherwise, it's happening because of a bug or a glitch on the app.
Instagram outages are the burning questions that can be faced throughout the years and can get fixed within a few hours.
Alternatively, bugs and glitches can also occur after an update.
In this case, your best bet is to wait for a follow-up update that fixes them.
What's Next
How to Fix "Allow Instagram to access your camera and microphone"
How to Fix "Sorry, we couldn't complete your request" on Instagram
Arsalan Rauf is an entrepreneur, freelancer, creative writer, and also a fountainhead of Green Hat Expert. Additionally, he is also an eminent researcher of Blogging, SEO, Internet Marketing, Social Media, premium accounts, codes, links, tips and tricks, etc.