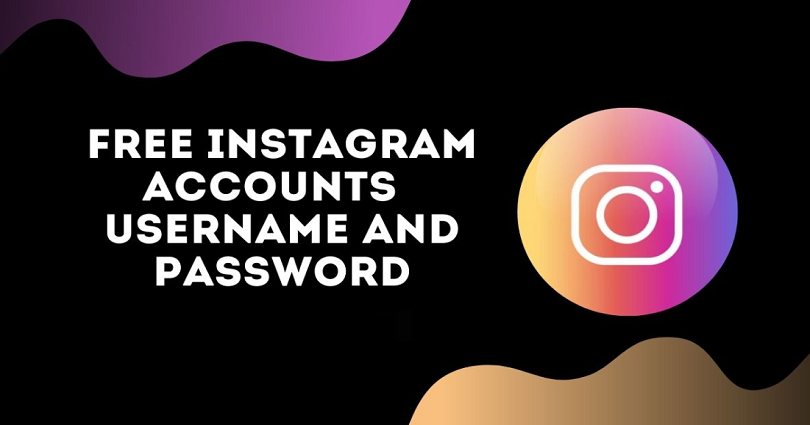 Instagram has become one of the most popular social media platforms around the globe.
It contains more than 1.4 billion monthly active users.
Some users use it to share their photos and videos while some of them are using it to promote their business.
If you're using Instagram for a business, it is a wise act to have a secondary account.
This is especially important when you want to send direct messages in bulk.
If you send too many direct messages on Instagram, IG may block you from this action temporarily.
Therefore, having a second or third account is necessary to avoid your main account from getting banned.
This post has a list of free Instagram accounts with email addresses/usernames and passwords and some of them are with high followers.
How to get a free Instagram account
To get a free Instagram account, you can create one by signing up on the Instagram website.
You can also use the Instagram app for the sign-up process.
To begin with, you have to download the app from the App Store or Google Play Store.
If you are also using a Facebook account, you can log in with it by using "Log in with Facebook".
Otherwise, you have to create an Instagram account with the help of your email address or mobile number.
Is Instagram free?
Yes, currently Instagram is free to download and use like other social media sites and apps.
Instagram also has a free app that is available on both the App Store and Google Play Store.
The platform generates revenue by serving relevant ads to users.
You will see multiple ad placements on the app.
Their system usually places ads mainly on your feed and stories.
For instance, there is an ad for every x number of posts/stories.
If you're running a business, you can also create ads to promote your business on the app by tapping on the "Ad Tools" button on your profile.
Free Instagram accounts 2023
| | |
| --- | --- |
| Username | Password |
| haxey60746 | 60746haxey |
| Dadwa | wqwfwefeqwd |
| catchya | hfA23rfha |
| burasas awm2 | slide12waD 147da3bfW |
| Ginihg | Low174321 |
| Nixauy | 23rN392ua |
| Loapam | Ka323rnhw |
| kaaaas | 2S4389238 |
| fwfafw | F83952s23 |
| Grimnnn | loR331387 |
| Wieuw | Joawk2121 |
| w1403 | rose234Lw |
| wa323 | Kolm8813 |
| fly711 | 711Fly |
| Aeojf | F2147382 |
| ecn1 | Nelson123 |
| drom11 | 11Drom |
| Llaoa | GGllaoa |
| asw123 | 123Asw |
| awdk1 | E3u2r3fa |
| daw2 | akdw223K |
| Zasfr | Frzas245 |
| liopa12 | lfWeojr31 |
| Ggeess | 247HDw83 |
| flam12 | 33fj93aa |
| Auioa | wt4hoifa193 |
| b3as | 234ij2J |
| 324ni | 4214hfr21w |
| 4h31 | Floh3i232f |
| y123 | af30i3f |
| meae3 | afw9u3wq |
| haswq | akdp2ow |
| flowas1 | 1Flowas |
Note: Please do not change the passwords of free Instagram accounts above.
The Instagram accounts available in the above list are based on a first-come-first-serve.
If you're not able to sign in to an account, someone might have changed the password for it.
Some of the accounts in the list may also be suspended or temporarily disabled.
I will add more accounts in the future, so you should bookmark this page for future use.
You need to come back to check back periodically to see if I have added new accounts.
Free Instagram accounts with high followers 2023
| | |
| --- | --- |
| Username | Password |
| beauties_contest__ | fiery3w24 |
| x_k44ntekin_x 15t1l | Q3gr23sasd d5y23hfa1 |
| deletedd__123 | delwr3rt4t |
| Helloimacatdog | f141289sxc |
| fit_healthy_bods | 235hI1423 |
| austinsoneandonly | Art3hfaf31 |
| emotional.kitten | nb387f2asf |
| deleted10726 | 23y2UGaw |
| johannas_vinnnees | q4233fbga |
| Jgvgfddxchjj | wuft48dw1 |
| 1m65 | dW32r3r8 |
I request you do not change the password for any of the accounts above.
You can use these Instagram logins free by copying and pasting their usernames and password into the login form of IG.
These free accounts on Instagram are not active and they have at least one hundred followers.
If you are unable to open an account, it shows that someone has changed the password for it.
You can create multiple accounts on Instagram if you have multiple email addresses.
If you don't have an additional email address, you need to create it.
For this purpose, you can use Gmail, Hotmail, Yahoo, Proton, Yandex, and other email services available online.
Temporary mail is an excellent option to make new Instagram accounts.
However, Instagram now suspends suspicious email addresses from their website, so you can do it at your own risk.
What's Next
Free Roblox Accounts With Robux
Arsalan Rauf is an entrepreneur, freelancer, creative writer, and also a fountainhead of Green Hat Expert. Additionally, he is also an eminent researcher of Blogging, SEO, Internet Marketing, Social Media, premium accounts, codes, links, tips and tricks, etc.