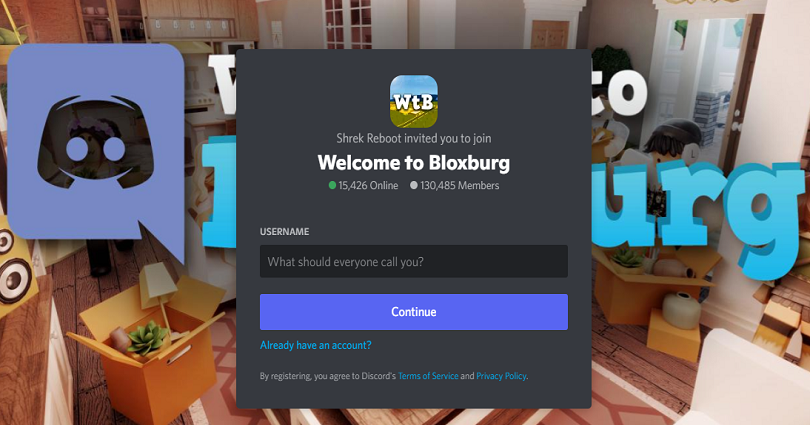 Welcome to Bloxburg, or Bloxburg is by Coeptus which is a roleplaying Roblox experience.
It is a simulation of a virtual player in a home.
The design of the experience is inspired by The Sims, a game series by Electronic Arts.
In 2014, the development began and its beta release was in 2016.
Since then, the game has had more than 5 billion visitors and over 11 million favorites.
It's the first paid game that crossed 1 billion visitors.
This post has the Bloxburg Discord server link for Roblox, game link, and server rules.
Bloxburg Discord server link
The official Bloxburg Discord server link is https://discord.com/invite/dZjCtkZ.
The server contains over 120,000 members.
It has multiple channels including #announcements, #boosts, #events, and more.
To chat, you must adhere to the rules and verify yourself using /verify.
After going through the verification, you can chat on the various discussion channels.
The #announcements channel has information about in-game updates.
The most active channel is the #general channel which is used for chat.
What is the game link for Bloxburg?
The game link for Bloxburg is https://www.roblox.com/games/3260590327/.
A Roblox account is needed to play Bloxburg.
If you don't have an old Roblox account, you can create a new one from this URL: https://www.roblox.com/.
After creating an account, you can search for "Bloxburg" in Experiences or go to the link above to play the game.
Bloxburg Discord server rules
#1 Rule) Family friendly. No swearing. Keep usernames, photos (including avatars and statuses), and other visible content within the server family-friendly. NSFW content results in a permaban.
#2 Rule) Be respectful. No harassment or discrimination. Do not bicker or argue. Do not talk down to people who were punished by a moderator, or banned in-game. Do not bring up conversation themes that may be deemed controversial with people's beliefs and backgrounds.
#3 Rule) No personal information. Private and/or sensitive information about yourself (age, location, passwords, etc.), or others, is to be kept private.
#4 Rule) No useless pings. Do not (mass) ping without reason. Pinging FroggyHopz will result in a warn + mute.
#5 Rule) No advertising. Do not advertise in any way (including inviting users to external servers, promoting channels & groups, etc.) or conduct any sort of sale/transaction including Robux or real money. Do not ask/beg for donations. Do not advertise giveaways.
#6 Rule) Channel usage. Please keep in mind that this is a ROBLOX-based discord! Content posted should be put in the correct channels in English. Conversations should be kept in Bloxburg or general. Discussions in qotd-answers must pertain to the question for that day. More info on a specific channel can be found in that channel's description. Please keep off-topic images in the media channel.
#7 Rule) No spam. Do not spam (repeat the same word, emoji, phrase, chain messages, song lyrics, etc.) or intentionally flood (sending more than 5 sequential messages) the chat. Do not use Block/Code text or "Spoiler" hidden text formatting on messages. Please do not be annoying in VC; no blasting music through your mic or making very loud noises or you will be muted.
#8 Rule) Voice chats. Do not use a voice changer, be excessively loud, be annoying, or play music over your mic. Do not excessively curse or use slurs of any kind. Music played should not be excessively loud, have excessive cursing, and should not be troll/meme sounds/music.
#9 Rule) Do not evade moderation. Attempting to avoid moderation (like the filter) by saying words differently, owning alt accounts in the server, or leaving/rejoining the server will result in more severe punishment.
#10 Rule) Listen to staff. The staff has the final say in all verdicts. Failure to listen to staff will result in punishment. Do not talk back to staff.
#11 Rule) Follow the Discord TOS. Failure to follow Discord Terms of Service will result in removal from the server. A link to the Discord ToS can be found in #info.
What's Next
Tower Defense Simulator Discord Server
Your Bizarre Adventure Discord Server
Arsalan Rauf is an entrepreneur, freelancer, creative writer, and also a fountainhead of Green Hat Expert. Additionally, he is also an eminent researcher of Blogging, SEO, Internet Marketing, Social Media, premium accounts tips and tricks, etc.