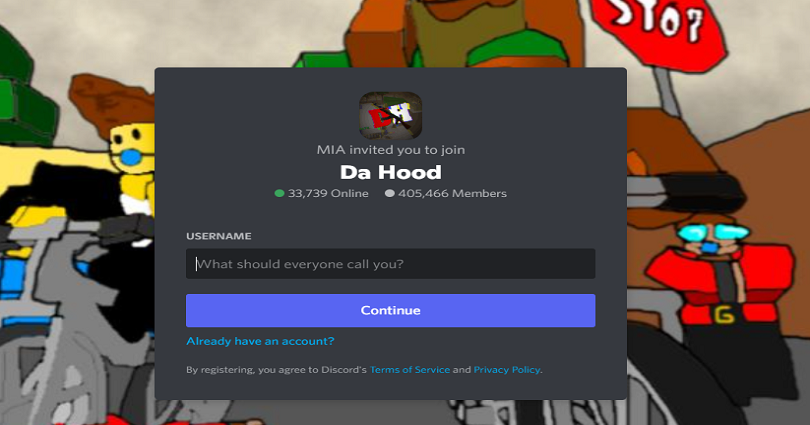 Da Hood is a difficult game that you can play if your account is at least 10 days old.
The PC/XBOX Controls of the game are [F/ButtonY – Block][E/PadDown – Stomp][G/PadUp – Carry][LCTRL+ButtonB – Crouch].
You can weave 100% if your timing is right when blocking.
Buy weights at fitness to build muscle and eat lettuce to decrease muscle.
To become a cop, visit the police station and if you execute anyone without cuffs, you will be kicked out automatically.
As a criminal, your task is to ransack banks, and other small-time shops to obtain cash or be wanted.
This post has the Da Hood Discord server link for Roblox, game link, and server rules.
Da Hood Discord server link
The official Da Hood Discord server link is https://discord.com/invite/wFR93Nn.
The server contains over 400,000 members.
By default, the notification settings are set to "All messages".
To avoid spam, you need to set it to "Only @Mentions".
It has multiple channels including #alerts, #giveaways, #chat, and more.
You don't have to verify yourself to chat.
The #updates channel has in-game codes and updates.
The most active channel is the #chat channel in which everyone does chat.
What is the game link for Da Hood?
The game link for Da Hood is https://www.roblox.com/games/2788229376/.
A Roblox account is required to play Da Hood.
If you don't have an existing account on Roblox, you can create one here: https://www.roblox.com/.
After creating a new account, you can search for "Da Hood" in Experiences or go to the link above to play the game.
Da Hood Discord servers rules
Discord rules
No spamming of any sort.
No NSFW content or conversations.
No homophobia, sexism, or discrimination.
No racism or over-the-top disrespect.
No self invites or malicious links.
Use channels for their respective purposes.
In-game rules
No exploiting.
No loud audios.
No exploiter association.
What's Next
Your Bizarre Adventure Discord Server
Pet Simulator X Discord Server
Arsalan Rauf is an entrepreneur, freelancer, creative writer, and also a fountainhead of Green Hat Expert. Additionally, he is also an eminent researcher of Blogging, SEO, Internet Marketing, Social Media, premium accounts, codes, links, tips and tricks, etc.