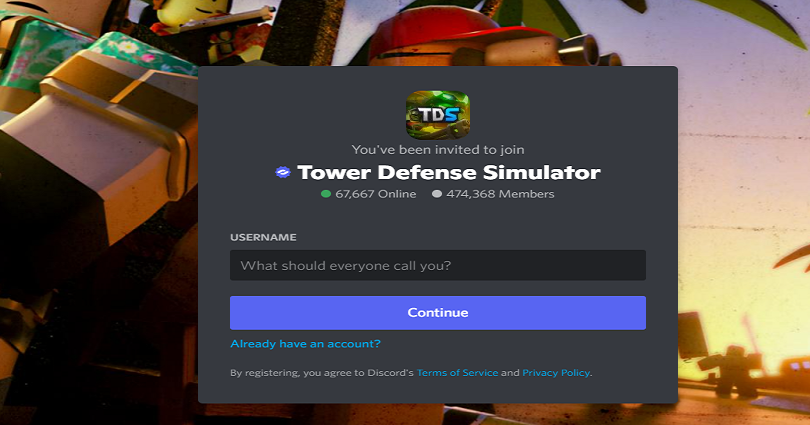 In the Roblox innovation Awards, Tower Defense Simulator is nominated for the "Best Content Update" award.
In the game, you cannot survive alone.
Therefore, you need to team up with your dear ones or siblings to defend against zombies.
You can battle against bosses, earn coins, level up, and purchase new towers.
If you want a challenge, you can also increase the difficulty level to make the bosses harder.
The latest update is launched with a new season, 6 new summer skins, a Tropical Isles remake, and bug fixes.
This post has the Tower Defense Simulator Discord server link for Roblox, game link, and server rules.
Tower Defense Simulator Discord server link
The official Tower Defense Simulator Discord server link is https://discord.com/invite/tds.
The server contains over 470,000 members.
It has various channels like #game-announcements, #fan-creations, #general, and more.
To get access to them, you have to agree to the rules and verify yourself using RoVer.
To do that, you need to click on the "Update my roles" button in the "verification-n-get-roles" channel.
After going through the verification process, you can chat on the various discussion channels.
The #game-announcement channel has codes and update information.
The most active channel is the #general channel that can be used for chat.
What is the game link for Tower Defense Simulator?
The game link for Tower Defense Simulator is https://www.roblox.com/games/3260590327/.
A Roblox account is needed to play Tower Defense Simulator.
If you don't have an existing Roblox account, you can create one from this URL: https://www.roblox.com/.
After the creation of an account, you can search for "Tower Defense Simulator" in Experiences or go to the link above to play the game.
Tower Defense Simulator Discord server rules
By being a member of the Tower Defense Simulator Discord, you have to abide by the rules enforced by their Moderation Team.
This is to make sure that all members feel safe and welcome on the server.
You are refrain from posting/doing:
Not Safe For Work Content (NSFW)
Irrelevant Messages & Channel Misuse
Advertising & Real World Trade / Cross Trading
Toxicity & Immaturity
Impersonation
Pings
Provocative Topics & Drama
Suggestive Text & Bypassing
Unwanted Media & Leaking
Loopholes & Language
VC Rules and Bots
Slander & Spreading Rumors / Framing
Alt Accounts
What's Next
Your Bizarre Adventure Discord Server
Pet Simulator X Discord Server
Arsalan Rauf is an entrepreneur, freelancer, creative writer, and also a fountainhead of Green Hat Expert. Additionally, he is also an eminent researcher of Blogging, SEO, Internet Marketing, Social Media, premium accounts, codes, links, tips and tricks, etc.