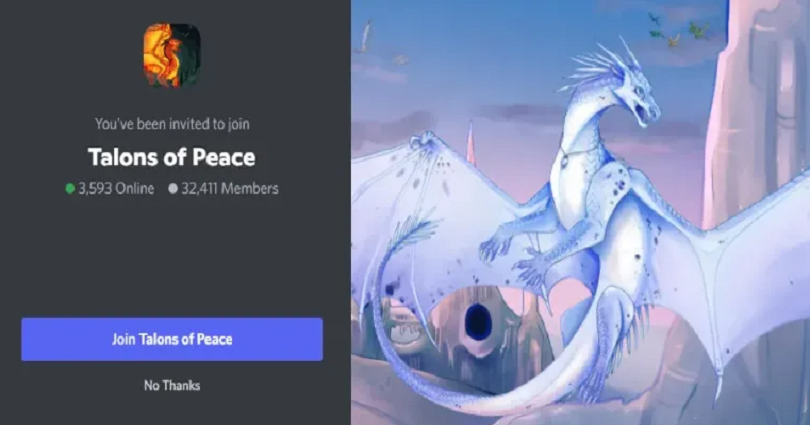 Wings of Fire The Journey has been under development process since 2019.
A lot of Roblox users are waiting for the release of the game so that they can play the game for free.
If you want to play the game now, you can access to it early for 60 Robux.
Wings of Fire The Journey is an RPG that allows you to roleplay as a dragon.
It contains many characters, quests, and a story mode of an Alternate Universe.
This post has the Wings of Fire The Journey Discord server link, rules, and the game link to play it in Roblox.
Wings of Fire The Journey Discord server link
The link to Wings of Fire The Journey Discord server is https://discord.com/invite/2TByRDq.
The server has over 30,000 members.
The creator of Wings of Fire The Journey is Talons of Peace (ToP).
The server has many channels including #announcements, #chat, #game-suggestions, and more.
You can join the server to get development updates, to get help, or suggest things.
To unlock all features of the server, use Bloxlink to verify yourself.
To begin with, use "/verify" to begin your verification process.
Wings of Fire The Journey Discord server rules
Actions that will result in a warning and/or muted for:
Direct bullying or hazing – respect everyone equally.
Mentioning slurs or derogatory names/terms.
Spamming or flooding needlessly in any channel.
Discussing, partaking, and/or starting drama.
Offending others deliberately and/or attempting to get a reaction out of people.
Debating sensitive topics (such as politics, controversial views/opinions, etc.).
Posting or mentioning NSFW/suggestive content.
Violence or gore without a spoiler and trigger warning.
Staff impersonation/mini-modding.
Failure to put content warnings on sensitive media (such as flashing lights, loud videos, etc.).
DM advertising.
Channel misuse.
Discussing blacklisted people/topics.
Posting troll/fake copypastas.
Hate comments/hate speech.
Threatening members (blackmail, doxing, etc.).
Ban evasion.
Game link for Wings of Fire The Journey
The game link for Wings of Fire The Journey is: https://www.roblox.com/games/3618661625/Early-Access-Wings-of-Fire.
You can use the URL to get early access to the game where you'll have to pay 60 Robux to have access to it.
If the game is no longer in early access, you can play it free of cost.
Wings of Fire The Journey is accessible in Roblox, so you'll need a Roblox account to play it.
If you don't have a Roblox account, get a new account for yourself first.
After creating an account, click on the game link and start playing it.
What's Next
Biggest Discord Servers in the World
Arsalan Rauf is an entrepreneur, freelancer, creative writer, and also a fountainhead of Green Hat Expert. Additionally, he is also an eminent researcher of Blogging, SEO, Internet Marketing, Social Media, premium accounts, codes, links, tips and tricks, etc.