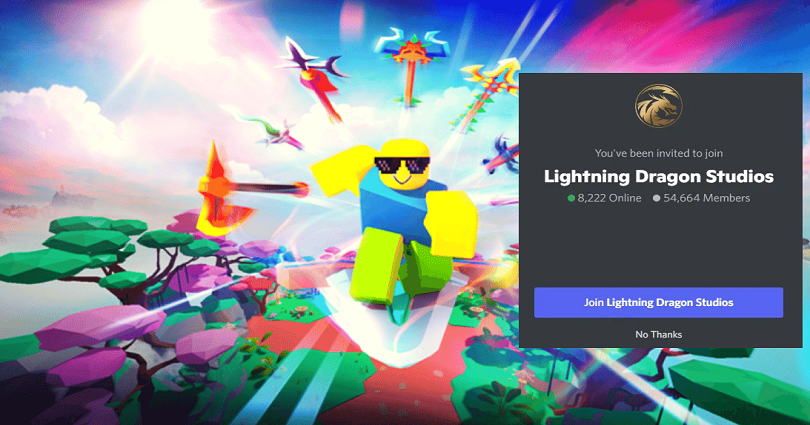 Weapon Fighting Simulator in Roblox is related to fighting against opponents with weapons and spells.
There are powerful weapons to unlock and spells can be used to help in battle.
There are multiple worlds that have different enemies and bosses to discover.
If you are a Roblox premium member, you will gain twice the wheel rewards.
The latest update includes 8 new weapons and 4 new spirit transformation spells.
This post has the Weapon Fighting Simulator Discord server link for Roblox, game link, and server rules.
Weapon Fighting Simulator Discord server link
The official Weapon Fighting Simulator Discord server link is https://discord.com/invite/krGrXEqaDs.
The server contains more than 55k members.
It has multiple channels including announcements, an update log, polls, and more.
The announcement channel has information related to the server and bug fixes.
The most active channel is the #general channel which is used for chat.
However, you need to verify yourself with Bloxlink by using enter the "/verify" command.
After going through the verification, you'll have access to the various chat channels.
What is the game link for Weapon Fighting Simulator?
The game link for Weapon Fighting Simulator is https://www.roblox.com/games/6872265039/.
To play Weapon Fighting Simulator, you need a Roblox account.
If a Roblox account is not available, you can create one here: https://www.roblox.com/.
After creating an account, you can search for "Weapon Fighting Simulator" in Experiences or use the link above to play the game.
Weapon Fighting Simulator Discord server rules
Respect every member
Respect all members on this server, treat them equally respectively regardless of your religious faith, and oppose liking and disliking. Always treat others with the respect you want to have in return.
No Abusive Language/words
You must avoid using abusive words, and hate speeches, regardless of the language in which you sent a message. Make sure your words are not inappropriate and don't hurt anyone. Bypassing the word blocker is not allowed and will result in a punishment.
You must not spam anything on the server, whether it's a message, emojis, pictures, or anything necessary or unnecessary. You're prohibited, not even mistakenly, to perform such acts. Give other members a chance.
NSFW content is strictly forbidden
This Discord server is for all ages of people. Sexual content is strictly prohibited. Help us grow a family-friendly community.
Use appropriate profile pictures and nicknames
We don't allow members to use offensive usernames, or inappropriate profile pictures, e.g., offensive to religious, political, etc. Further, if our moderators catch any person having this, they have the right to change nicknames and kick out if you don't listen to the warning.
We don't allow members to argue about anything off-topic such as politics, religion, server changes, etc. Creating off-topic conflicts and/or arguing with other server members will result in a punishment.
Follow the official Discord Guidelines
Apart from the rules of this server, take a look at the official discord guidelines to be on the server: https://discordapp.com/guidelines.
What's Next
Pet Simulator X Discord Server
Arsalan Rauf is an entrepreneur, freelancer, creative writer, and also a fountainhead of Green Hat Expert. Additionally, he is also an eminent researcher of Blogging, SEO, Internet Marketing, Social Media, premium accounts, codes, links, tips and tricks, etc.