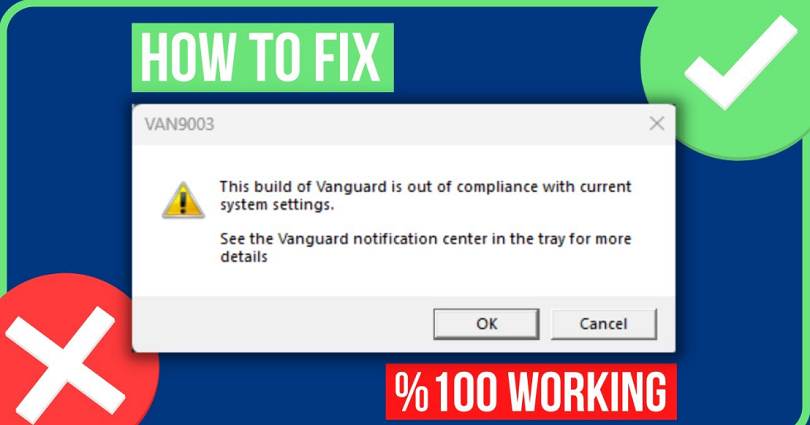 Are you getting a "VAN9003" succeeded by "This build of Vanguard is out of compliance with current system settings" error?
The 2nd error message is, "See the Vanguard notification center in the tray for more details".
Valorant is a 5v5 tactical-based FPS game and the game developer is Riot games.
In the game, you get 13 rounds to defend and attack your side with the help of abilities and weapons.
Per round, you get only one life, so you have to pay attention faster than your enemy.
It has various modes such as competitive, unranked, deathmatch, and spike rush.
You can select between the multiple agents armed with unique abilities.
All agents will play uniquely and no highlight reels will be the same.
Every map helps you to show your intellect as it is designed for plays, teamwork and clutch moments.
In this post, I will tell you how to fix the VAN9003 Error in Valorant.
What does the VAN9003 error mean?
The VAN9003 error means you have not enabled the secure boot on your PC.
Secure boot and Trusted Platform Module are security features that help Windows to boot programs with trust as well as safety.
Vanguard requires these two features in order to recognize the trusted state of a system.
If secure boot or TPM is not enabled, Valorant won't launch, and you will experience VAN9003 error.
You can inspect if secure boot is disabled or enabled by using the Windows button and searching for msinfo32 > System Summary.
The BIOS Mode must be "UEFI" and the Secure Boot State must be "On".
If it is not the same, you have to follow the below guide to enable secure boot.
How to fix VAN9003 error in Valorant
To fix the VAN9003 error in Valorant, the only way is to enable secure boot on your computer.
To begin with, you have to reboot your PC and press "F2" to enter the BIOS, and change "Secure Boot" to "Enabled".
Here's a step by step guide on how to enable secure boot on your computer:
Reboot your PC.
Press "F2" to enter the BIOS.
For Alienware, Inspiron, and Vostro, visit Secure Boot > change Secure Boot to Enabled > press F10 to save and exit.
For OptiPlex, Precision, Wyse, and XPS, visit Secure Boot > Secure Boot Enable > Check Secure Boot Enable > Apply > Exit > Save.
After saving and exiting the BIOS, it will reboot your PC.
Now, launch Valorant and you will not get the VAN9003 error.
What's Next
How to Fix Error Code 46 in Valorant
Arsalan Rauf is an entrepreneur, freelancer, creative writer, and also a fountainhead of Green Hat Expert. Additionally, he is also an eminent researcher of Blogging, SEO, Internet Marketing, Social Media, premium accounts, codes, links, tips and tricks, etc.