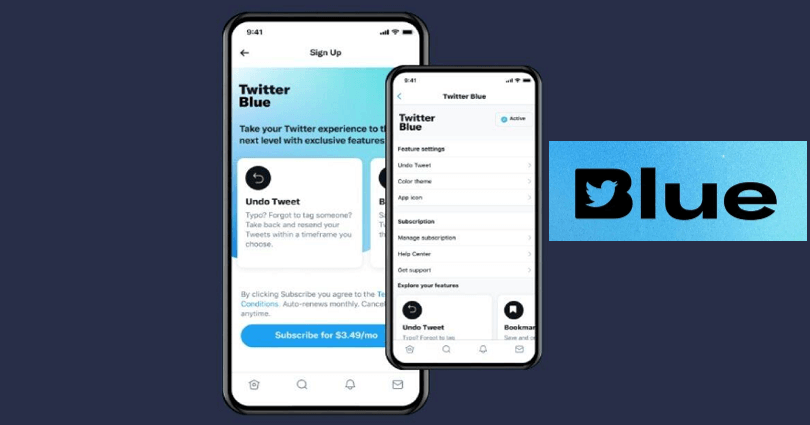 Twitter Blue is available in a $4.99 USD per month subscription that has premium features.
The premium features are—Bookmark Folders, Custom App Icons, and Custom Navigation.
It also contains Reader, Themes, Top Articles, and an "Undo Tweet" feature.
You can only access these features if you are one of those users who subscribed to Twitter Blue.
After Elon Musk's takeover, he is determined to increase the price of the subscription and take it to $8 USD per month.
Additionally, he's planning to add new features such as replies/mentions/search priority, a blue checkmark, a secondary tag, and so on.
I will update this article when these plans are implemented.
Here is a list of Twitter Blue features:
1. Bookmark folders
To discover them quickly, group and organized bookmarked tweets into folders.
The addition of bookmarks and bookmark folders can be done without any limits.
To create a bookmark folder from your home timeline, you need to tap the share icon on a tweet, select "Add Tweet to Bookmarks", and select "Add to Folder".
To create a bookmark folder from your profile menu, you need to select "Bookmarks", tap on the "New Folder" icon, select a name, and tap on "Create".
2. Custom app icons
You can change the Twitter mobile app icon using custom app icons.
There are different colorful and seasonal options available.
For a limited time, some featured looks are present, so you have to check your settings on a regular basis.
To change the app icon, you need to tap on your profile picture > Twitter Blue > App Icon > choose an icon.
3. Custom navigation
By using custom navigation, you can choose what shows up in your navigation bar.
With this feature, you can get access to the content and Twitter destinations very quickly.
Your bottom navigation bar can be customized by selecting a minimum of 2 items and a maximum of 6 items.
Only iOS devices can use this feature.
4. Reader mode
Reader Mode allows you to turn threads into an easy reading experience.
With Reader mode, you can read threads without the noise.
Select the reader icon at the top in order to turn it on.
You can also change your text size by using it.
5. Themes
By using the free version of Twitter, you can only change between the Default, Dim and Lights Out themes.
You can choose the theme colors for the app by upgrading to Twitter Blue.
To begin with, tap on your profile picture > Twitter Blue > Theme > choose a color.
This feature will also change the color of your Twitter feed.
6. Top articles
"Top Articles" shows a list of the most-shared articles from users you follow.
It enables you to locate the content that will love to read.
You can choose an article from the list to go through it or choose the profile of anyone who shared the article to get started with the conversation.
Find "Top Articles" in your profile menu in order to use it.
The filter icon can be used to set the time or view your Top Articles in the last 1, 2, 4, 8, or 24 hours.
7. Undo tweets
Have you accidentally posted a tweet that you don't want to post?
The Undo Tweet feature will help you to undo a tweet before you send it.
It will allow you to preview and edit your tweet before you post it.
When you tap on "Undo", the system will send you back to the composer where you can edit the tweet before publishing it.
In order to post the tweet instantly, you can choose "Send now" to skip the "Undo Tweet" option.
What's Next
Why is Twitter Blue Not Showing?
How to Turn Off "This Tweet might include sensitive content" on Twitter
Arsalan Rauf is an entrepreneur, freelancer, creative writer, and also a fountainhead of Green Hat Expert. Additionally, he is also an eminent researcher of Blogging, SEO, Internet Marketing, Social Media, premium accounts, codes, links, tips and tricks, etc.