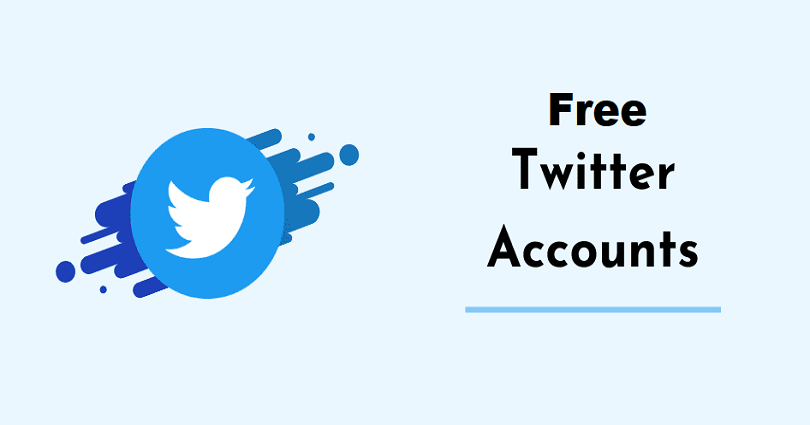 Free Twitter Accounts – Do you goof around or use social media platforms? If yes, it means that you are familiar with one of the famous platforms that contain a blue bird icon on it.
Yes, it is renowned for this icon and it is known as Twitter. Apart from other social media sites, Twitter has some wise users.
Other social media sites are replete with memes related to actors, politics and so on whereas Twitter does not have much hoaxes on its platform.
As far as the platforms of social media are concerned, Twitter is not as famous as other sites of social media such as Facebook, Instagram and so on.
Apart from its decline and weaknesses, Twitter also has some merits too. It does not have much hoaxes on it and you cannot observe them in your timeline.
On this platform, you do not have to argue with people because the team of Twitter has a solution to respond.
If a user reports anyone, and it is proven that the person is spreading deception, Twitter will take the action strictly and as a result, the account will be banned.
But if you are trying to frame them and reported a lot of friends, there is a great chance that you may get caught and your account will be banned.
When you are no longer be able to access your Twitter account, you need to get a new account or create a new one.
But if you do not like the sign up process, you can get the latest free Twitter accounts and passwords which you are going to obtain in this post.
Do not worry, if you are banned from Twitter, you can still use a new free twitter account that is active, and the account can be found in this guide.
If you want to create a mess, you can use the given accounts below in order to hide from others.
This post has a list of free Twitter accounts, some with Twitter Blue, with email addresses and passwords.
Is Twitter free?
Yes, Twitter is free to use, but now it has a paid subscription too.
The paid subscription is launched by the new owner and it is known as Twitter Blue, which adds a blue checkmark to your account.
The premium subscription gives you additional features including bookmark folders, themes, top articles, and more.
In the United States, the cost of Twitter Blue is $8.00 USD (web) per month and $11.00 USD (iOS) per month.
From the App Store or Google Play Store, you can download Twitter app free.
How to get Twitter Blue for free
To get Twitter Blue for free, use different survey sites including Survey Junkie or YouGov to earn rewards such as PayPal cash and buy them.
How to get a free Twitter account
To get a free Twitter account, visit the official website, twitter.com and click on the "Sign up with phone or email" button.
After that, enter your correct full name, email or phone, date of birth and hit the "Next" button.
It will send you a verification code to your email and you will have to enter it into the "Verification code" field and hit the "Next" button.
Select a password (8 characters or more) for your account, and click on the "Next" button, choose a profile picture, and select a username.
To complete the onboarding process, you will have to choose the topics which you like and, in the end, follow an account.
Free Twitter accounts and Passwords 2023
We have taken the free Twitter accounts with passwords and if they are not logging in. it means that someone is already using it or it is already taken.
So, you need to check the accounts one by one and try every one of them until you find the working twitter account and secure this free twitter account and password immediately.
List of free Twitter accounts:
| | |
| --- | --- |
| Email address | Password |
| nikaroh457@chnlog.com | =hOvopR4s0d |
| sojec57724@dentaltz.com | c#Qu0ayuNAs |
| yivah96815@chnlog.com | ki2@Ot2etH$ |
| xisohi2157@prolug.com | 0hoBruza$@d |
| bacali2912@prolug.com | Clf&WU4wI+1 |
| xecib55752@cnxcoin.com | 0Henoxl@lgu |
| wibedi9392@chnlog.com | we@3We9_SPl |
| jovano4756@prolug.com | 0IsICrlN4$i |
| negojor659@kaftee.com | pHl87lPef&e |
| nivibo8195@prolug.com | prL6ru-ibr_ |
| mikipo2880@dewareff.com | S$Ub2a_9SUc |
| rebijif618@dewareff.com | wlwoWr5N-Wr |
| foposix298@dewareff.com | _OsPU2poFud |
| dogod81272@kaftee.com | Ve!adrev8jl |
| hayami7951@kaftee.com | tho$A4i7-zO |
| simoti2774@kaftee.com | *t=4eWrafIp |
| bevima6216@letpays.com | c4IxLCr1#h& |
| yisojep502@kaftee.como | x_bLxisoP8e |
| xonome1595@letpays.com | Sp??O95OCrU |
| hojeh51s07@prolug.com | 6to+lh0duqU |
| doyek64277@prolug.com | 9rLWI1asw+t |
| wohab69861@kaftee.com | SA*AtrAna6o |
| feris18406@dewareff.com | K!7hIm0D*As |
| lidapen948@cmeinbox.com | nu7wiV6+hEp |
| kahijew337@kaftee.com | Ni1a*rEwrE& |
| pecak8464@dewareff.com | KlyI8OmU7o& |
Twitter Features and Appearance
When we do a comparison of twitter with other social media sites, there are some features that you need to know about it before you get started:
Logos and Fonts:
The logo of the twitter has a bird on it and the main reason of the bird is for chirping or tweeting with the help of a font known as Gotham.
Tweets:
By default, Tweets can be seen the public, but you can limit them to your followers too. You can tweet your ideas using the twitter website, or using the working application available for the androids/smartphones and so on.
Contents:
Most users on Twitter tend to share their personal opinions & experiences. In addition, they also use the hashtags in order to raise voice and promotion of anything, news portals, communications and many more things.
Format:
A group can post the same topic by using the same hashtags, phrases or words using the "#" sign that stands for hashtag. "@" sign is another feature that can be used to mention a user on Twitter when you reply them.
The users can also use the repost feature to share the tweet of their favorite users with their own followers to engage them. It can be done by using a retweet button.
Twitter Lists:
In late 2009, Twitter has announced a "Twitter Lists or Twitter Lists" feature, enabling the users to follow ad hoc lists of authors instead of visiting them individually.
Writing character restriction:
In 2017, they have come up with 280 character limit and increase the characters limit from 140 to 280. As of 30, 2017, Twitter has uplifted the limit and now they are not keeping in view the character limit.
Description or image caption:
In 2016, Twitter has advanced its features for the sake of blind users on the platform. In an optional form, a text of up to 420 characters can be used to each image.
Shortened URL:
Twitter also has a URL shortening feature that is, t.co designed for Twitter. The links that are used on Twitter can use this feature and the general users cannot avoid it. This feature is to protect the users from different sites.
Trending topics:
A topic, word or phrase which is mentioned on the platform many times can be called a "hot topic". A topic trend gets popular with the help of the users or an event that is about to happen and people are talking about it. This trending topics can allow the users to keep themselves abreast of the latest news in the world and what users are thinking about it etc.
Free Twitter Email and Password 2023
| | |
| --- | --- |
| Email | Password |
| dandyesap@gmail.com | penggerak387 |
| ezadederd@gmail.com | cat46 |
| adinda_cyutz@yahoo.com | Guesayanglo |
| muhammadarizki54@gmail.com | Mohammed |
| akbaraziz531@gmail.com | akbaraziz531 |
| restiramadhana@gmail.com | rezty48 |
Disclaimer: Green Hat Expert does not support any kind of piracy or illegal use of accounts. The accounts mentioned on Green Hat Expert are either submitted by the users or have been collected from other open access portals.
Free Twitter Username and Password 2023
| | |
| --- | --- |
| Username | Password |
| 085880905685 | Tall |
| dila.the.destroyer | soniqbaale |
| 085273340283 | 085273340283 |
| 081958384210 | Riski123 |
| 087808446750 | Comatesejati |
| Ziehardrock | Mputtawaw |
| 6287774340060 | Moveon |
| 081214339031 | Berryituadiksaya |
Final Words
You can take all the accounts if they are still working. We try to update the accounts as soon as we get them. Once, you are log in to your account, the first thing you need to do is to save the credentials, and do not try to change the password so that the other users can also enjoy the accounts.
So that is it, I hope that you get the free Twitter account and password in 2023. If you have any questions, you can leave them in the comment section. If you want to give away twitter free logins and passwords, you can also share them with us too.
What's Next
Good, Aesthetic, Cool Twitter Usernames
How to Fix "Please enter a valid phone number" on Twitter
Free League of Legends Accounts
Arsalan Rauf is an entrepreneur, freelancer, creative writer, and also a fountainhead of Green Hat Expert. Additionally, he is also an eminent researcher of Blogging, SEO, Internet Marketing, Social Media, premium accounts, codes, links, tips and tricks, etc.