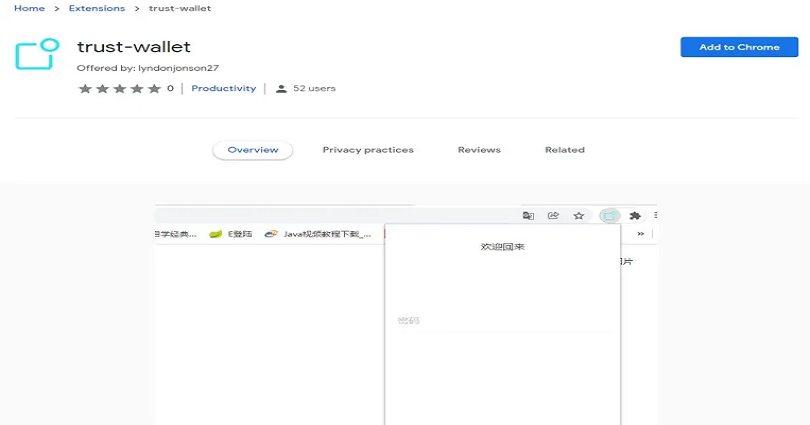 Trust wallet is a cryptocurrency wallet which stores tokens of BEP20 and ERC20.
There are more than 10 million users on Trust wallet.
Trust wallet allows you to purchase bitcoin and you can earn money from it.
The prices can be tracked through the charts on the app.
Trust Wallet is also available on both stores including App Store and Google Play Store.
However, many users are curious to know if there is a Chrome extension for it.
It is because MetaMask has a mobile application as well as a Chrome extension.
Therefore, MetaMask users can use it on both computer as well as on the mobile device.
In this post, you are going to see if there is a Trust Wallet Chrome extension and whether it is available for PC to download.
Is there a Trust Wallet Chrome extension?
No, currently, Trust Wallet does not have a Chrome addon to install on PC.
Google play store and app store do have the application of Trust Wallet and it can be downloaded from there.
Trust Wallet did not announce an update about launching or developing a Chrome extension.
Therefore, you are not going to see it anytime soon.
On the other hand, MetaMask does have a chrome extension unlike Trust Wallet.
I suggest MetaMask if you are using your PC to transact or trade cryptocurrencies because it is an ideal alternative.
Trust Wallet can also be imported to MetaMask with the help of your secret recovery phrase.
As a result, you don't have to pay transaction fees because you will not have to transfer amount from one wallet to another.
A lot of users are asking for a Chrome extension for Trust Wallet.
But they have not made any announcement for its launch, there is a chance that they may develop an extension in the future.
Editor's note: if it will happen, I'll update this article.
Currently, if you come across a Trust Wallet Chrome extension, it means that it is not legit, therefore do not try to download it.
For now, you'll have to use Trust Wallet on your android device and wait for the extension to come.
Is Trust Wallet only for mobile?
Yes, Trust Wallet is only available for mobile and can be downloaded from the App Store and Google Play Store.
Currently, Trust Wallet does not have a desktop version.
The developers have not designed a desktop version for Trust Wallet because they do not see a need for it.
In fact, Trust Wallet has become one of the most popular wallets even without a Chrome extension.
However, Trust Wallet for PC can be accessible if you use BlueStacks.
In short, BlueStacks is an emulator that enables you to run Android applications on your computer/laptop.
If you want to use this cryptocurrency wallet on your computer, MetaMask is a great alternative.
How do I open Trust Wallet on Chrome?
It is not possible to open Trust Wallet on Google Chrome.
The reason is Trust Wallet does not have a chrome extension until now.
The application is available for download on Google play store as well as on App store.
However, if you have the MetaMask Chrome extension, you can easily import Trust Wallet to it and there will be no transaction fee for it.
If you don't have the MetaMask Chrome extension you can get it from chrome extensions or simply go to this download link.
After downloading it from extensions, import Trust Wallet with the help of your secret recovery phrase and select a password.
Is the Trust Wallet Chrome extension legit?
No, the chrome extension of the Trust Wallet is not legitimate.
It is because it is not developed by Trust Wallet, but by a developer named "lyndonjonson27".
In addition, the logo of the extension is also different from the Trust Wallet's logo.
Furthermore, it contains only 52 users to the date and it has zero reviews.
That is why I highly suggest do not add the extension to Chrome as it might be harmful to your computer.
What's Next
Best Ad Block Extensions for Chrome
Arsalan Rauf is an entrepreneur, freelancer, creative writer, and also a fountainhead of Green Hat Expert. Additionally, he is also an eminent researcher of Blogging, SEO, Internet Marketing, Social Media, premium accounts, codes, links, tips and tricks, etc.