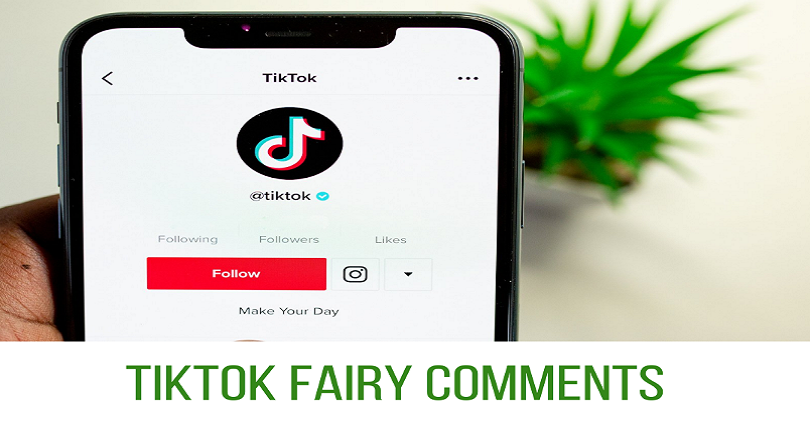 If you are a user of TikTok for while, you may have seen fairy comments under some videos.
The comment section can be an unpleasant place like other social media platforms.
However, it can be entertaining for you as well as unique too.
For example, the comment section is replete with traditions where GIFs are available in bulk.
Apart from that, the Twitch chat section has a ton of copy pastes and unique emotes.
TikTok application also supports comments and the trend of the comments is changing.
But still, fairy comments are popular throughout 2022.
In this post, you will see what are fairy comments, when to use them, and a list of best 150+ funny, freaky, dirty, fairy comments to copy and paste in the relevant section (comment).
What are fairy comments on TikTok?
Fairy comments are one-liners to provide a sarcastic tone and you can leave them in the comment section of a TikTok video.
The starting of them is innocent and the ending comes with a twist.
This is an actual figure of speech known as "Paraprosdokian" (the origin is Greek) which stands for "contrary to expectation".
These passive-aggressive comments became popular after a comment produced by @barbzz4bernie went viral in March 2020.
The comment was also made into a tweet that got more than 500k likes in a short period of time.
Since then, fairy comments have been trending on TikTok for the whole year.
These comments are mean, that is why they are not meant to be taken seriously; but as a conveyance of pleasantry.
When should you use fairy comments?
You should use fairy comments on your "enemies" or you can use them on videos on TikTok that you do not like.
You can also use them as Instagram comments under the posts.
However, the most correct method to use fairy comments is on posts that already has them.
TikTok fairy comments to copy and paste
Here is a list of TikTok fairy comments to copy and paste:
I wish you were a flower ✨ so I could step on you ✨
Love yourself!✨✨cuz we don't
Stop posting negative comments ✨⭐ I can't stop liking them
you dropped this ? put it back on your nose ✨
As dory said "just keep swimming"✨ but i think it's best if you drown
God really does be choosing favorites ✨not you tho!
imagine being that talented✨yea keep imagining❤️
You remind me of my therapist ✨✨ just without the "the" ✨
there's always room for improvement ✨but not this room get out ?
✨just put your best foot forward off a bridge
The sky is the limit ✨⛅️ stay on the ground
Helen Keller didn't chose to be blind ✨ I bet she would if she saw this though ?
Nobody's perfect especially you❤✨
i see you're using your creative outlet ✨ now stick a fork in it ⭐️
God has a plan and yours was plan b ✨
You can do anything you put your mind to ✨ just not this ⭐️
you blew me away ✨ i don't wanna come back✨
reach for the stars ✨ but I hope you fall trying
A swing ✨ But for your neck ⚡
I tried to insult you ?✨ but nature already did ❤️
Nice video! make sure to flip the camera around next time!! ✨and keep it that way ✨
Hang the painting ✨ then yourself✨
I love short videos ✨ except when they're coming from you ✨
U look tired ? sit on a chair ? just make it electric
anyone that pretty should be arrested ✨ good news is you're never going to jail ✨
I hope you're in Spain ? the s is silent⭐
My daughter said she loved your videos! ? So I put her up for adoption ?
I love cows ?✨ I just didn't know they made Tiktoks ✨
You tried your best ?✨ but it wasnt good enough ?✨
confidence is key ✨ throw the key away ?
musically said to live with passion ? But you shouldn't live at all ?
you snapped ?✨ make sure next time it's your neck
You tried your best ?✨but it wasnt good enough ?✨
You go girl! ?✨ no like seriously leave ?
Go on a cruise ✨ make sure it's the titanic ✨
? if god doesn't make mistakes ? then who the hell made you
✨Katy perry said that there's a spark in you ? pour gasoline on it✨
✨ im glad you came out of your comfort zone! ? Now go back there ?
Organ✨ but make it failure ✨
Make it cancer ?✨ but not the zodiac ?♋️
Cancer ✨ but make it ✨terminal✨
A camp ✨? but make it concentration ?
✨Are you pepper spray ? cause your face is making my eyes burn
✨racism isn't a joke ✨but you are
Sis you popped off! ? So did my eyes ?
dont listen to your haters ? agree with them ?
shoot for the stars ✨next time aim for your head ✨
here's a door for new opportunities ? i locked it just for you ?
my moms a vet ✨ she said she's gonna put you down ?
✨If you want to see something ✨pretty ✨ don't look in the mirror ❤️
❤️You are like a ray of sunshine ? You hurt people's eyes ❤️
✨? it's getting late you should go to bed,✨ but never wake up ✨
Sue ?✨but add aside✨
You aren't a clown ?⚡️You're the entire circus✨
chill its just a joke ? like your life✨
You're here for a reason ? I'm still trying to find it ✨
just hang in there ✨ then kick the chair over ?
You're going places ❤️ hopefully it's 6ft under✨
I'm catching these vibes✨next time your gonna catch these hands ?
this was fire ? now jump in ✨
Great video✨Next time turn the camera off✨❤️
I'm pro-life ✨ except for your life ✨
You dropped this ? oh wait that can't be yours, you don't have one!
Everyone has value ? you just fell short ?
Bungee jump ❤️✨ but without a rope✨
i was having a bad day ? this made it worse ?
✨bob ross always said there's no such thing as bad accidents, ✨he clearly never met you ✨
⭐️ Hahaha I died✨ your turn ✨
good morning✨ to everyone except for you✨
i love ur cotton shirt✨✨did u pick it yourself
i loved that part ❤️the part when it ended✨
everyone makes mistakes ✨ your mom made the biggest
you're on my fyp ✨ time to refresh
drop the workout routine✨seriously, drop it it's not working ?
change yourself ✨ but the c and e are silent✨?
words cant describe you ✨ but numbers can, 0/10 ?
✨everyone makes mistakes ✨but you're parents made a big one ✨
Dirty fairy comments on TikTok
✨I'm an Oreo ? Now fill me with your cream✨
I'm a wonka bar ✨❤️put your golden ticket inside of me ?
i'm no rapunzel ? but i'll let you pull my hair ❤️
Let's play rock paper scissors ✨but leave out the rock and paper ✨
you're like nike ? i'm mcdonald's ✨ you're doing it⚡️ i'm loving it ☀️
✨are you a roller coaster ✨ because the faster you go the louder I scream ✨
✨i'm the starbucks ❤ now put the straw in ✨
I heard egg plants we're good ? can I try yours ?
✨I'm a bus ? now put ur kids in me
I'm a violin ✨put your fingers on me and i'll make an amazing sound✨
✨ I'm an ice cream cone, fill me up✨
I've 206 bones in my body✨wanna make it 207 ?
✨I'm like homework✨✨slam me against the table and do me✨
Let's do some math ? add a bed ? subtract our clothes ✨divide my legs✨ and multiply
I have cake ⭐️✨ Now stick your candle in it and put ur icing on it ⭐️✨
⭐✨ i'm vegan ✨⭐ but your meat is an exception ✨⭐
you made my whole week ❤️ now make my hole weak
? I'm the waitress ❤️ now show me your tip
✨there used to be eight planets ? but now there are 7 because I smashed Uranus ✨
Are you an elevator? cuz ✨ I wanna go up and down on you ?
I'm a bowling ball?✨put 3 fingers inside of me ✨?✨
do you like to draw✨? because i would let you give me the draw ?
✨✌✨I'm ketchup now dip ur fries In me❤️✌✨
? i like ur fit ✨ but it would look better on my bedroom floor✨
Final Words
Whether you like it or hate it, TikTok fairy comments will be trending on TikTok and won't go away any time soon.
The trend has been working for several months and it has shown no signs of decline.
Which fairy comment do you like or which one is your favorite?
Or is there any fairy comment that I did not add or miss?
Either way, leave it in the comment section of this post.
What's Next
Good, Cute, and Cool TikTok Profile Pictures
Good, Cool, And Aesthetic TikTok Usernames Ideas
Arsalan Rauf is an entrepreneur, freelancer, creative writer, and also a fountainhead of Green Hat Expert. Additionally, he is also an eminent researcher of Blogging, SEO, Internet Marketing, Social Media, premium accounts, codes, links, tips and tricks, etc.