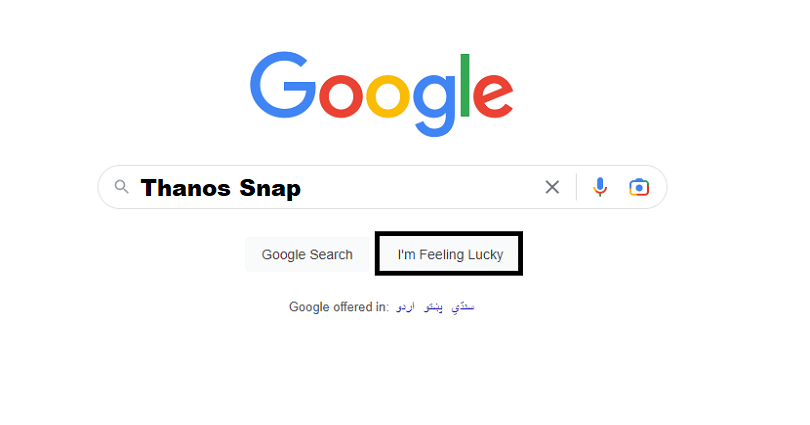 In this epoch, Google is the most popular search engine and the founder of Google are Larry Page and Sergey Brin who founded it in 1998.
The search engine is famous for containing a myriad of easter eggs.
It is replete with hidden messages, inside jokes, secret games, and more.
If you are a regular user of Google and also a fan, you might have faced one.
However, it is not a child's play to find easter eggs because they won't be included to popular searches.
Having said that, a famous easter egg is the "Thanos Snap" easter egg on Google Images.
In this article, I will tell you how to do the Thanos Snap on Google, what is it, why is it not working, and whether the Easter egg is removed.
What is the Thanos Snap on Google?
In April 2019, the Thanos Snap on Google was released as an easter egg.
After the release of Marvel movie, Avengers: Endgame, it was also released.
The easter egg has an interactable Infinity Gauntlet in an information box.
To snap it, you need to click the gauntlet, and half of the search results will slowly disappear from Google.
Did Google remove the Thanos Snap Easter egg?
Yes, Google removed the Thanos Snap easter egg and is no longer available on it.
In mid-2020, the easter egg was removed.
It was launched as a part of Marvel's Avengers: Endgame.
When the movie was in cinemas, it was there but now it is not.
How to do the Thanos Snap Effect on Google
Here are the steps on how to do the Thanos Snap on Google:
Visit Google.com.
Perform a search for "Thanos Snap".
Just click the "I'm Feeling Lucky" button.
Lastly, click on the Thanos Infinity Gauntlet visible in the right information box.
To do the Google Thanos trick, do a search for terms "Thanos Snap" on Google and hit the "I'm Feeling Lucky" button.
After clicking on the button, it will take you to the Elgoog website and the easter egg will appear.
On the other hand, you can also play the game from this link: https://elgoog.im/thanos/.
You will see the Infinity Gauntlet in the information box on the right side of search results.
To play it, you need to click or tap on the gauntlet.
The snap will begin when you click on the gauntlet, as a result, the infinity stones will shine and half of the Google search results will start disappearing slowly.
Why is Thanos Snap not working on Google?
The Thanos Snap is not working on Google because they have deleted it.
If you do a simple search for term "Thanos Snap" on Google, it will not show you the interactable Infinity Gauntlet.
The reason is that it was only available for a limited time.
It stopped working soon after Avengers: Endgame is removed from cinemas.
However, you can still Unblock the Thanos Snap on Google using our trick.
What's Next
How to Play "Zerg Rush" on Google
How to Play "Atari Breakout" on Google
How to "Do a Barrel Roll 1 Million Times" on Google
Arsalan Rauf is an entrepreneur, freelancer, creative writer, and also a fountainhead of Green Hat Expert. Additionally, he is also an eminent researcher of Blogging, SEO, Internet Marketing, Social Media, premium accounts, codes, links, tips and tricks, etc.