How to Add a Search Bar to WordPress Menu (Step by Step)
Do you want to add a search bar to your navigation menu in WordPress?
If yes, then you are in the right place.
Search form can be really beneficial for your users to find what they are looking for on your website. In this post, I shall show you how to add a search bar to your WordPress menu.
Why You Should Add a Search Bar in Menu?
A search bar allows your users to find what they're looking for with ease. They do not have to scroll to all the pages.
If you add a search bar to your top navigation menu, then it will be visible on all pages that show the menu, and your users can search and find all the content on your site with ease.
There are a number of search plugins that you can use to add a search bar to your website. Let's have a look at how to add a search bar to your WordPress menu.
Adding a Search Bar to WordPress Menu
First of all, you need to install and activate the Add Search to Menuplugin. For more details, read our step by step guide on how to install a WordPress plugin.
After activation, you need to visit the Settings > Add Search To Menu page in your WordPress admin area to add search bar to your menu.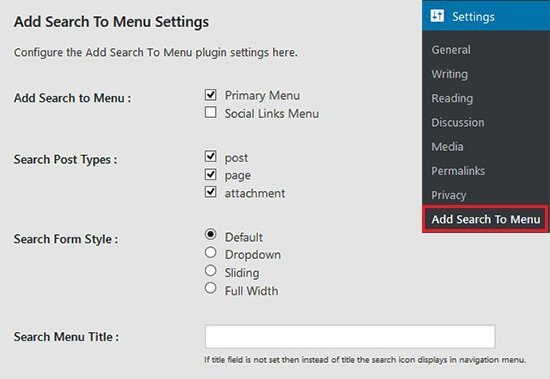 In this area, you need to choose the menu where you want to add the search bar. This list of menus (Primary Menu and Social Links Menu) is a property of your WordPress template. If you change the template of your website, then the list will be automatically upgraded with the available menus within your template.
After selecting, the search bar will be added to your navigation menu. You can define the search post types, search menu title, search form style, manage mobile display for search, and so on. These settings will also help you to control the search results for your users.
After doing so, you can go to your site to see the search bar in the WordPress navigation menu.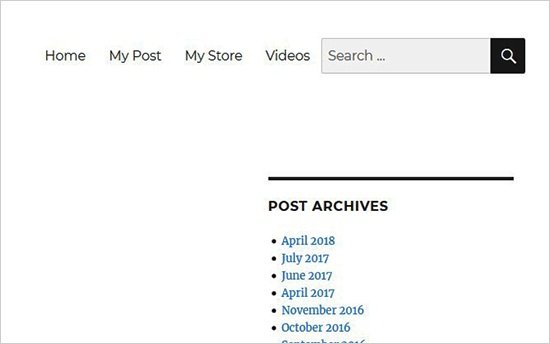 You can also add the search bar to all other available menus of your website. Simply choose the menu from plugin settings where you want to show your search form.
I hope that you liked the post on how to add a search bar to WordPress menu.
You may also want to see our guides on
Do not forget to share this post.
Arsalan Rauf is an entrepreneur, freelancer, creative writer, and also a fountainhead of Green Hat Expert. Additionally, he is also an eminent researcher of Blogging, SEO, Internet Marketing, Social Media, premium accounts, codes, links, tips and tricks, etc.