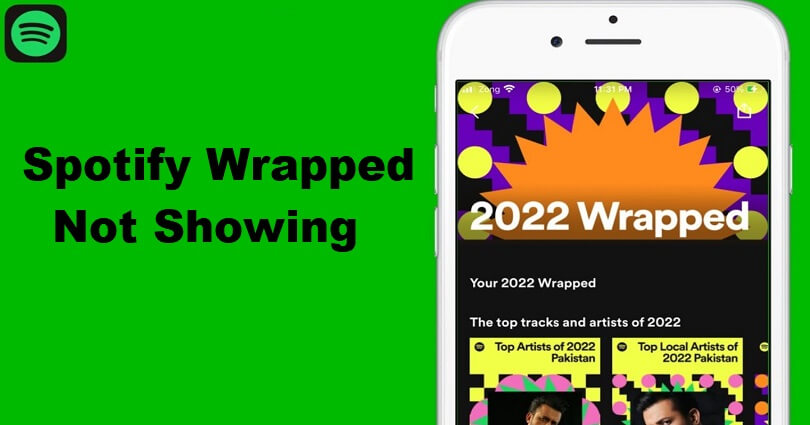 Is Spotify Wrapped 2022 not showing up or working for you and do you want to fix it?
You can view a list of your most listened songs with Spotify Wrapped.
This is the place that allows you to go through your most memorable listening moments of the year.
Due to this, you can see your top artists, songs, genres, and minutes listened to.
The link to the stories and images can be shared by you via the data story share menu.
However, your shared link will take the users to their own personalized data story or wrapped hub.
You can see the feature only on the Spotify mobile app as it is not available on the desktop app.
In this article, I will tell you why is your 2022 Spotify Wrapped not showing up or not working and how to fix it.
Why is my 2022 Spotify Wrapped not showing up?
Your 2022 Spotify Wrapped is not showing up because you have not met the requirements for it.
Otherwise, you are not using the latest version of the Spotify app.
Here is a list of requirements to see your 2022 Spotify Wrapped:
You have to be a registered user having a free or Premium account.
You need to have streamed at least 30 tracks for over 30 seconds each from 5 unique artists.
You should have a device that has an Android version above 7.6.0.
You should use the Spotify version of at least 8.7.78.
Not all markets will have all features of Wrapped because of the different criteria.
Source: Your 2022 Wrapped FAQ.
If you didn't meet any of the requirements discussed above, you won't be able to see your Spotify Wrapped.
You will not be able to see it if you didn't listen to enough artists or tracks.
In this case, you need to listen to Spotify more often and see it next year instead.
How to fix Spotify Wrapped 2022 not showing
To fix Spotify Wrapped 2022 not showing, you have to use the latest version of Spotify by updating it.
If your Android version is 7.6.0 or lower, make sure you update your version by getting a new device.
Solution 1: Update Spotify
Go to the App Store or Google Play Store.
Search for "Spotify" app and open it.
To update Spotify, select "Update".
Open Spotify > tap on the search icon > select the 2022 Wrapped Hub Tile (to view your Wrapped).
Note: If you are already using the newest version of Spotify, try to reinstall the app or clear the cache.
Solution 2: Update your device
For Android users: Go to the Settings app > System > System update > to update the version, follow the instructions on the screen.
For iOS users: Go to the Settings app > General > Software Update > Download and Install.
Note: You should have a version that is higher than 7.6.0 for Wrapped to show up.
After updating your device, open Spotify, use the search icon, and select the "2022 Wrapped Hub" tile.
In the end, visit 2022 Wrapped Hub > Wrapped entry point > 2022 Wrapped Data Stories.
If the stories are still not visible, it might be happening because you haven't listened to enough artists or tracks this year.
What's Next
How to Share Spotify Wrapped 2022 on Instagram Story
Good, Cool, and Aesthetic Spotify Playlist Names
Arsalan Rauf is an entrepreneur, freelancer, creative writer, and also a fountainhead of Green Hat Expert. Additionally, he is also an eminent researcher of Blogging, SEO, Internet Marketing, Social Media, premium accounts, codes, links, tips and tricks, etc.