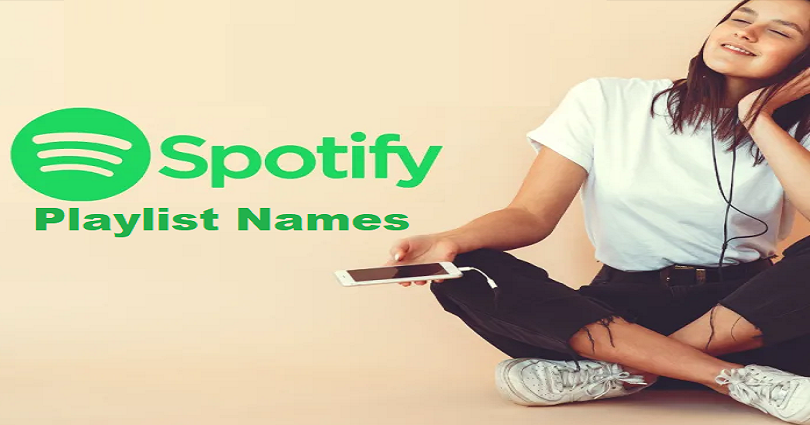 Do you want to create a playlist on Spotify but you're unable to choose a name for it?
Having a good Spotify playlist name is necessary because in order to illustrate the genre.
For instance, if you're creating a workout playlist, the relevant name for it can be "Extreme Workout".
The "Extreme" can be used and it will be ideal if the genre of the songs is metal.
Usually, it is ideal to add the genre of the songs in your playlist to name it.
At times, it is a good idea to add an adjective to your playlist too.
In order to get the ideas, you can use a Spotify playlist name generator.
However, the Spotify playlist name generators generate common names.
This post has more than 430 good, cool, and aesthetic Spotify playlist names and ideas for all genres such as pop, rock, rap, and more.
Good Spotify playlist names
Feel Good
Chilled Hits
Deep Dive
Fresh Dance
Acoustic Covers
Fast Run
Jazz Covers
Road Trip
Rock Party
Pop Hits
Pure Punk
Energy Booster
Soft Hits
Rock Classics
Pumped Pop
Pop Rising
Happy Hits
Popular Music
Calming Hits
Morning Chill
Gym Pop
2010s Playlist
Coffeehouse
Nostalgia Mix
Merry Treats
Workout Hits
Violin Covers
Rock Solid
Best of Pop
Rock Rotation
US Drill
Pop Heaven
Indie Rock Club
Big in Japan
Hip Hop 2000s
Baroque Pop
Skateboard Hip Hop
Best New Pop
Best Workout Hip Hop
Alternate Pop
For Sleep
Pop Drive
Pop Country
Rock Throwback
Hardstyle Remix
Popular Piano
Modern Blues Rock
Popular Rap Instrumentals
Punk Goes Pop
Rock This
Chinese Hip Hop
90s Pop Hits
Pop Piano Covers
City Pop
Pop Dreams
Best of 80's
Real Hip Hop
Trap Hits
Hip Hop Instrumental
Iran Tunes
Best Mellow Pop
Modern Rock
Pop Party
Relaxed Pop
Hip Hop Mix
Aussie Pop Classics
80s Pop Music
Rocktail Hour
Lofi Hip Hop Music
Pop Dance Hits
Hip Hop Charts
Pop Motivation
All Time Pop Hits
Hip Hop Run
Country 101
Decade of Pop
Classic Southern
Folk Rock
Cello Pop Covers
K-City Pop
Hip Hop Circle
Pop Gems
Pop Funk
Rap Mexicano
Radio ROck
EDM Remixes
Cardio Pop
Hip Hop Drive
Pop Punk
Slow Rock
Clean Hip Hop
Work It
Japanese Pop
Just Rock
Hot Hip Hop
Ready to Rock
Discovery Pop
Hip Hop Central
The Pop Lounge
Hip Hop Flames
Lofi Beats
Upbeat Pop Music
Hip Hop Beats
Electro Pop Hits
Hip Hop Mixtape
Tropical Pop
Lofi Remixes
Old School Hip Hop
Modern Synth Pop
Radar Pop
Hip Hop Classics
Italian Pop
Pop Smile
Modern Hip Hop
Pop Serenity
Cool Spotify playlist names
Viking Metal
Gym Rock
Never Give Up
Techno House
Workout EDM
Fight Songs
Metal Power
Dark Synthwave
Workout Motivation
No Pain No Gain
Beast Mode
Hardcore Training
One More Rep
Iron Paradise
New Alternative Rock
Mask Off
Ultimate Workout
Hungry for Success
Alternative Beats
Modern Psychedelia
Not Quite Classical
Training Hard
Symphonic Metal
Electro House
Black Magic
House Party Beats
Adrenaline Workout
Sad Core Songs
Epic Soundtracks
Dark Trap Metal
Gym Hype
Highway to Yell
John Wick Mode
Get Rowdy
Kickass Metal
Hard Workout
Heavy Metal Workout
Goth Rock
Stoner Doom Metal
New Noise
Cloud Rap
Epic War Music
Border Beats
Break Things
Grime Shutdown
Heavy Gym Workout
Big Metal Energy
Get Turnt
The End is Coming
Hardcore Metal
Orthodox Chants
Scream Hardcore
Witch House
Viking War Music
Dark Atmospheric Metal
It's Gym Time
Rock & Roll
Dark Classical Music
Raised on Rock
Medieval Dark Ambient
Metal Rock Essentials
Rock Metal Vibration
Shuffle Syndrome
Confidence Boost
Walk Like a Badass
Max Effort Workout
Motivation Mix
Born to Run
Running to Rock
Run the Track
Body & Soul
Planet Rave
Bass Arcade
Future Funk
Genre Flitch
Groove Theory
Electronic Circus
Mellow Bars
Hard Rock Training
Internet People
Most Necessary
Westside Story
Door Knockers
Top of the Core
Metalcore Classics
Thrash Metal Essentials
Epic & Melodic
Black Metal Essentials
Instrumental Madness
Northern Spirits
Power Workout
All Day Heavy Day
Trance Mission
Power Hour
Main Stage
Lowkey Tech
New Joints
Viral Hits
Hit Rewind
Singled Out
Garage Rock Revival
Best Indie Songs
Time Capsule
Aesthetic Spotify playlist names
Study & Chill
Clean Aesthetic
The Lofi Garden
Jazz Hop
Sleep Music
Productive Study
Dance Room
Instrumental Chill
Upbeat Lofi
Summer Nostalgia
Sad Aesthetic
Jazz Vibes
Sad Lofi
Hangover Friendly
Car Music Mix
Rock Vibes
Lofi Hip Hop
Rocky Mountains
Study Session
Aesthetic Lofi
Rainy Days
Soft Korean
Campfire Nights
Winter Wonderland
Folk & Chill
Late Night Drives
Soul Lounge
Coffee Aesthetic
Japanese Lofi Beats
Heart and Soul
Neon Lights
Safe For Work
Weekend Hangouts
Gold School
Dark Ethereal Classical
Deep Thoughts
White Noise
Broadway Hits
Chill Songs
Dance Chill
Night Ride
New Jams
Mind Right
Sad Indie
Walking Music
Acoustic Blues
Tear Drop
Working in Peace
Beach Volleyball
Peaceful Summer
Morning Routine
Chill Rap Vibes
Viral Dance
Feeling Myself
Country Hits
Hawaiian Dreams
The Sleep Machine
Sleep in the Rainforest
Good Times
Cozy Blend
Alone Again
Wake Up Gently
Vintage Aesthetic
Summer Chillout
Mellow Bars
Brain Food
Pool Party
Ethnic House
Out The Mud
Twilight Aesthetic
Relaxing Music
Rain For Sleep
Summer Throwback
Winder Aesthetic
Mood Booster
Sunny Morning Aesthetic Songs
Cyber Pink
Summer Hits
City Nights
Late Night Study Songs
Shower Songs
Good Vibes
Magic Forest
Summer Reading
Work From Home
Background Noise
Indie Kid
Summer Jazz
Evening Vibes
Peaceful Piano
Work Focus
Business As Usual
For Reading
Travel Songs
Sing Along Songs
Study Vibes
Feel Good Summer
Rainy Vibes
Soft Lovecore
Funky Lofi Beats
Funk Hits
Sunday Hangover
Music For a Rainy Day
Late Night Workout
Nature Noise
Jazz for Sleep
Floating Through Space
A Sudden Rainstorm
Birds in the Rain
Under the Stars
What should I name my vibe playlist?
Tropical Vibes
Vibe Central
Vintage Vibes
Country Summer Vibes
Sleepy Vibes
Happy Upbeat Vibes
High Vibes
African Vibes
Saturday Vibes
Chill Rap Vibes
Chill Vibes
Vibe Songs
Beach Vibes
Positive Vibes
Good Vibes
Morning Vibes
Dreamy Vibes
Vibe Music
Calm Vibes
Vibes Only
Coffee Shop Vibes
Chill Study Vibes
Friday Vibes
Vibes Right Now
Weekend Vibes
Riptide Vibes
Christmas Vibes
Gym Vibes
Medieval Vibes
Divine Vibes
Villain Vibes
Skiing Vibes
Rainy Day Vibes
Moon Vibes
Deep Vibes
Bad Vibes
Gaming Vibes
Island Vibes
Cozy Fall Vibes
Sad Rap Vibes
Twilight Vibes
Basketball Vibe
Drive & Vibe
Bathtub Vibes
Bathroom Vibes
Poker Night Vibes
Ratatouille Vibes
Paris Vibes
Powerful Vibes
Witchy Vibes
What should I name my chill playlist?
Chill House
Sweet Soul Chillout
Indie Chillout
Chill Tracks
Chilled Classics
Chill Folk
Chill Vibes
Chill Hits
Morning Chill
Chill Out Music
Chill Beats
Chilled Jazz
Beach Chill
Chilled Throwbacks
Clean Chill Vibes
Chill Game Music
Chill Hip Hop
Chill Mix
Chill Mood
Chill Songs
Chill Hits Mix
Electro Chill
Night Chill
Chill Playlist
Chill Dinner
Night Time Chill
Sunday Evening Chill
Factor Chill
Chill Gems
Surf Music Chill
Chill Gaming Hours
Chill Tracks
Relax & Chill
Reading Chill Out
Chilled Raggae
License to Chill
House Chillout
Just Chill
Hang Drum Chill
Winter Chillout
Chill & Play
Chilled Blues
Smooth Chill
Chill Guitar
Time to Chill
No Stress Chill
Office Chill
Bathtime Chill
Chill Classical
Afternoon Chill
Final Words
Coming up with a good Spotify playlist name is not a child's play.
You should have a decent name if you are going to share the playlist with the friends.
You might have added the best songs in the list but coming up with the name can be difficult.
Therefore, you can use the playlist names for Spotify in this post for inspiration.
There is another point that you can change your Spotify playlist name whenever you want, unlike Reddit names.
No space for regret, if you do not like the name, you can change it.
In addition, you can also add a description for it to illustrate it.
This process can be done to your playlist by clicking on the three dots, adding a description, and saving it.
What's Next
Funny, Cool, and Best Gaming Names
Good, Cool, And Aesthetic TikTok Usernames Ideas
Arsalan Rauf is an entrepreneur, freelancer, creative writer, and also a fountainhead of Green Hat Expert. Additionally, he is also an eminent researcher of Blogging, SEO, Internet Marketing, Social Media, premium accounts, codes, links, tips and tricks, etc.