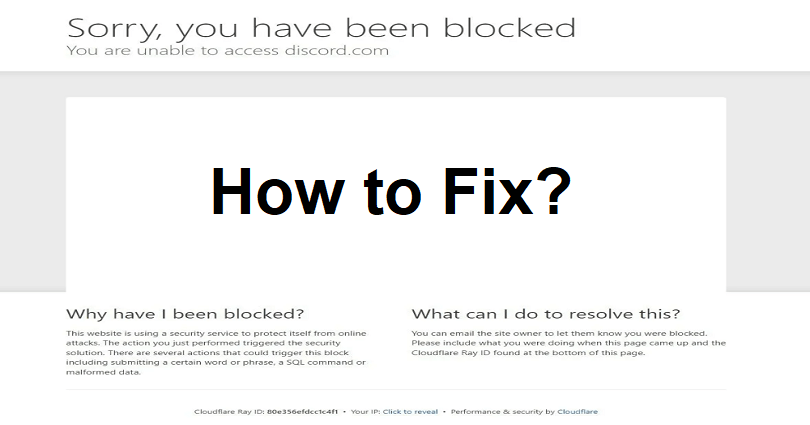 Are you facing a "Sorry, you have been blocked" error on Discord?
The next part of the error is, "You are unable to access discord.com".
And then, the Ray ID like, "[Ray ID:80e356efdcc1c4f1]".
You get this error message when Discord is down or facing an outage.
In this article, I will guide you on how to fix "Sorry, you have been blocked" on Discord (you are unable to access discord.com).
Why am I blocked from using Discord?
You're blocked from using Discord because you have done a suspicious activity in your account the system has detected it.
Another explanation can be there is an outage or Discord is down and you have to wait for the servers to fully functional again.
In order to check the Discord status, you can go on X.com or https://discordstatus.com or down detector's website.
If you are using a VPN or proxy server, the system may block you.
In some cases, a VPN, proxy server, firewall, or antivirus can stop you from accessing Discord.
How to fix "Sorry, you have been blocked" on Discord
To fix "Sorry, you have been blocked" on Discord, you can find a free VPN to use it or use Discord on the app or browser.
If you already have a VPN or proxy server and you are connected to it, disconnect it to check if you can access Discord.
Another step you can take is to remove the Chrome extensions or Contact Discord to get assistance from them.
If Discord is down, there is nothing you can do except wait for a few minutes or hours for the servers to be back up.
Solution 1: Use the browser/app version of Discord
Solution 2: Connect to a free VPN
Another way is to use a VPN extension for Chrome and some of them allow you to use it without account creation.
Connect to any of the free VPNs and try using Discord again.
Note: If you're already using a VPN or proxy server, you will do the opposite, disconnect it and try using Discord.
Solution 3: Remove unwanted Chrome extensions
If you have Google Chrome, click on the puzzle icon.
Select "Manage extensions".
Remove or disable any unwanted, suspicious extensions to fix this problem.
Solution 4: Other troubleshooting methods
Flush your DNS: Type "cmd" using Windows Search > run as administrator > type "ipconfig /flush dns" > press Enter.
Use the incognito mode of your browser and access Discord.
Clear your browser's cache and cookies (here's a helpful resource to do it on Google Chrome).
Disable your Firewall or Antivirus program temporarily as they might be preventing it from working.
Solution 5: Contact Discord support
Select "Help & Support" option.
Enter your email address and select the type of question you want to ask.
Enter the subject and description to fulfill the requirement.
Submit the request and wait to get Discord's response.
What's Next
4 Ways to Contact Discord Support
How to Fix Global Rate Limit Exceeded in ChatGPT
Arsalan Rauf is an entrepreneur, freelancer, creative writer, and also a fountainhead of Green Hat Expert. Additionally, he is also an eminent researcher of Blogging, SEO, Internet Marketing, Social Media, premium accounts, codes, links, tips and tricks, etc.