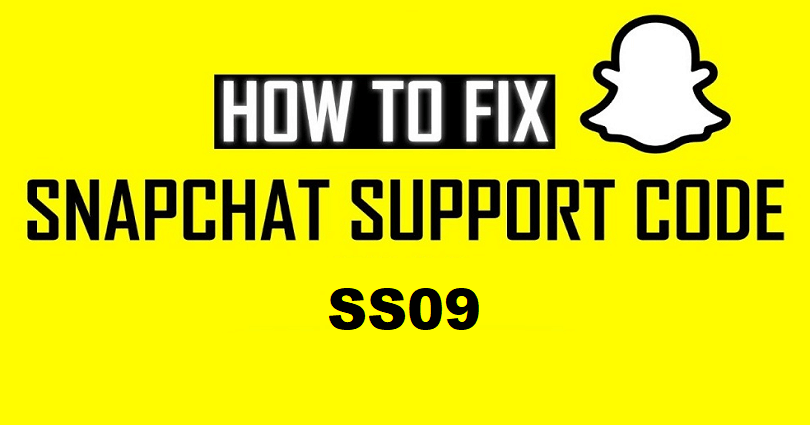 Are you getting a Support Code SS09 error when you try to log in to Snapchat and do you want to fix it?
Snapchat helps you to upload videos and photos in order to live the moments and share it with your dear ones.
The snaps can be sent to people, which can be photos and videos that can be available for 24 hours.
The photo or video will be removed after 24 hours.
The app contains different filters called as Lenses that are made by the Snapchat community.
On Snapchat, you can also chat, video chat, and express yourself with Bitmojis and Friendmojis.
The "Snap Map" feature is also available on the app that helps you to share your location with your friends.
Since Snapchat's launch, the app had faced different bugs and glitches like log-in errors.
In this post, I will tell you how to fix Snapchat Support Code SS09 when your account is temporarily disabled.
What is Support Code SS09 on Snapchat?
Support Code: SS09 can be shown when you try to make too many repeated login attempts.
It can also be due to other suspicious activity including the compromisation of your account.
Consequently, your account will be disabled temporarily from Snapchat.
The error code can develop due to the use of unauthorized apps, connecting to a VPN or a rooted android device.
How to fix Snapchat Support Code SS09
To fix Snapchat Support Code SS09, an effort can be made to unlock your Snapchat account on a browser.
You can also move to another network or you can stop using VPN if you are connected to one.
If your Android device is rooted, your task is to unroot it and uninstall any third-party apps or plugins on it.
If you consider the error a mistake from Snapchat, you need to tell them by contacting them on Snapchat support.
Solution 1: Unlock your Snapchat account
Visit this link https://accounts.snapchat.com/accounts/unlock.
Sign in to your Snapchat account.
To unlock your account, select "Unlock".
Source link: https://support.snapchat.com/en-US/article/locked.
Solution 2: Unroot your Android device
If your Android device is rooted, please unroot it.
Uninstall any third-party apps and plugins available on your device.
Uninstall and reinstall the Snapchat app (the process will remove Snapchat's cache and it will be automatically moved to the latest version).
Source link: https://support.snapchat.com/en-US/a/account-questions.
Solution 3: Change your network and switch off your VPN
If you're connected to a Wi-Fi network, move to mobile data and turn off your Wi-Fi.
If you're using mobile data, switch to a Wi-Fi network instead.
Turn off your VPN if you are using one.
Source link: https://support.snapchat.com/en-US/a/account-questions.
Note: After moving to another network or turning off your VPN, the next step is to force close Snapchat and reopen it.
Solution 4: Contact Snapchat support
Visit this link https://support.snapchat.com/en-US/i-need-help.
Choose "I think my account was compromised".
Fill up the form completely and submit it.
Wait for a few days to get a response from Snapchat via email.
Note: Just put the email address that is linked to your Snapchat account. In addition, another way to contact them is, to use Snapchat Support on Twitter (@snapchatsupport) by tagging them or sending them a direct message.
What's Next
How to Fix Snapchat Support Code SS06
How to Change Your Snapchat Wallpaper
How to Fix Temporarily Disabled Snapchat Account Due to Repeated Failed Attempts
Arsalan Rauf is an entrepreneur, freelancer, creative writer, and also a fountainhead of Green Hat Expert. Additionally, he is also an eminent researcher of Blogging, SEO, Internet Marketing, Social Media, premium accounts, codes, links, tips and tricks, etc.